Beautiful butter lettuce, fresh sliced peaches and pistachio salad with a peach pistachio vinaigrette. Top with shaved Manchego cheese for a wonderfully fresh peach salad.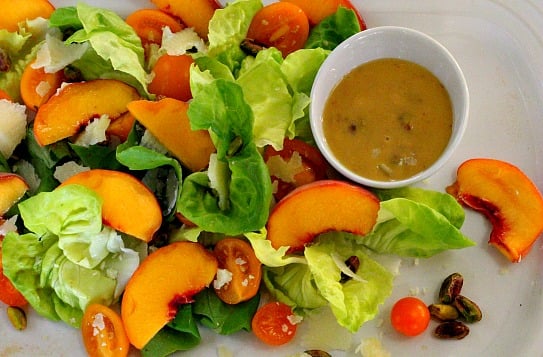 Isn't butter lettuce just gorgeous? The shades of green, the velvety soft and tender leaves. Tender enough for a delicate salad and tough enough to hold up for chicken lettuce wraps with almonds and chutne. It's perfect in my book.
I'm still up to my ears in Colorado Western Slope peaches and I happened upon this recipe from a Georgia peach website. What a great salad recipe. The vinaigrette is thick and luxurious using a peeled and pitted peach, pistachio meats, Dijon mustard, brown sugar and, of course, olive oil. The salad is fresh and colorful with sweet peaches, a few orange mini-tomatoes and topped with some nutty flavored shaved Manchego cheese. What an impressive gathering of flavors and textures.
The Certified Cheese Specialist at Whole Foods suggested I pick a younger Manchego, one aged less then three months. He advised the flavor would be saltier and nuttier and a better compliment to the flavor combination.
This salad was a perfect pair with our favorite Lemon/Lime Salmon dinner. Let's take a look.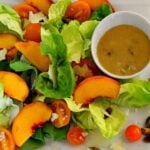 Butter Lettuce Peach Salad with Peach Pistachio Vinaigrette
Ingredients
2

heads butter lettuce

rinsed, dried, roughly chopped and chilled

½

cup

shaved Manchego cheese

1

cup

pistachio nutmeats

divided

3

fresh peaches

mini orange tomatoes

optional

1

cup

olive oil

½

cup

red wine vinegar

1 1/2

tsp

whole grain mustard

1

tsp

sea salt

2

Tablespoons

packed light brown sugar
Instructions
For the vinaigrette, peel and pit one peach and place in a blender. Add olive oil, salt, sugar, and vinegar and blend to combine. Once smooth, turn off the blender and add mustard and ½ cup of pistachio nutmeats. Pulse the blender a few times to emulsify, leaving pieces of the pistachios intact.

Place the cold lettuce in a serving bowl and sprinkle the shaved cheese and remaining pistachios on top. Pit and slice the remaining two peaches and add to the salad. Serve the dressing on the side or toss lightly just before serving, as butter lettuce will quickly wilt once dressed.
Looking for more fresh peach salad ideas? How about:
Butter Lettuce Peach Salad with Peach Pistachio Vinaigrette …It's what's for Dinner.