Avocado Shrimp Salad with Mango Dressing, a Jamaican roadside stand inspired dish with sweet shrimp simmered in a peppery broth.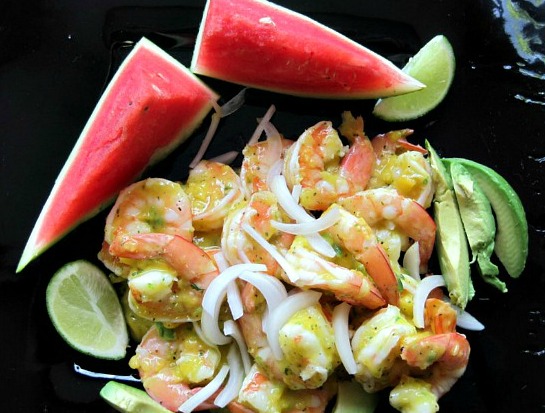 This is just flat-out  moan and groan, roll your eyes delicious. I found this recipe last summer over at Food and Wine, wrote rave reviews in my database and can't believe I didn't blog it back then.
This is a crowd-pleaser that could be served as a first course if placed on a bed of greens. Or as your main course when served with a wedge of watermelon and a side of rosemary flatbread like we did Saturday night. Pair it with your favorite frosty glass of Sauvignon Blanc and you're in heavenly business. But first let's take a look at my flatbread.
The Bread: I bought a package of Naan, sprinkled on some fresh chopped rosemary, covered with halved grapes then topped with crumbled blue cheese. A few minutes in the oven until warm and toasty and the cheese just starting to melt, sprinkle on some fresh chopped chives from the garden..it made a great side for the shrimp. Red grapes would have been better, but the market had none.
The Wine:  We paired this with a wonderful glass (or two) of Merry Edwards 2007 Sauvignon Blanc. The highest rated wine ever to come out of California, we decided to order a couple of bottles directly from the winery. Here's their tasting notes:  This compelling blend allures the senses with hints of citrus blossoms, lychee fruit and mango. Soft honey weaves its way through the sumptuous palate. Time in the cellar will allow even more richness and complexity to unfold. Pair this delightful wine with elegant raw oysters, a salad of blood oranges with yellow and red baby beets or giant prawns in Thai green curry sauce over rice noodles.  I mean c'mon, who can resist that lovely description.
The Salad:  Fresh and delicious, I urge you to take the time to give this a try. The Mango dressing is easy to whip up with the hardest part being dragging the food processor out of the cabinet. And shrimp is so easy. I really can think of no excuses not to enjoy this Summery offering.
Craving more mango salad recipes? Don't miss this one for Avocado Mango Salad with Blue Cheese. It's delightful!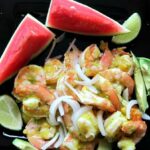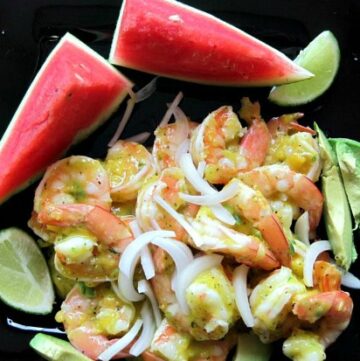 Avocado Shrimp Salad with Mango Dressing
Ingredients
FOR THE SHRIMP

1

lemon

halved

6

cups

water

1

small onion

sliced

2

Tbs

kosher salt

1

Scotch bonnet or habanero chile

I wimped out and used a jalapeno, halved

1

Tbs

grated fresh ginger

One 12-ounce bottle of lager

2

lbs

large shrimp

shelled and deveined

FOR THE DRESSING

1

mango

1 1/2 cups, peeled and finely diced

1/4

cup

rice vinegar

2

Tbs

fresh lime juice

1

tsp

Dijon mustard

1/2

cup

olive oil

1

Tbs

chopped cilantro

1/2

tsp

finely grated lime zest

1/4

tsp

minced Scotch bonnet or habanero chile

I wimped out and used a jalapeno

1/4

cup

thinly sliced red onion

Vidalia onions are here, hence a substitution

Salt and freshly ground black pepper

2

Hass avocados

sliced

Lime wedges

for serving
Instructions
Prepare the shrimp: Squeeze the lemon halves into a large saucepan then add them to the pan. Add the water, onion, salt, Scotch bonnet, ginger and beer and bring to a boil. Cover and simmer for 15 minutes. Add the shrimp and cook for 3 minutes, just until pink. Drain the shrimp and spread on a platter. Refrigerate until chilled. Halve the shrimp horizontally.

Meanwhile, make the dressing: In a food processor, combine 1/3 cup of the diced mango with the vinegar, lime juice and mustard and puree until smooth. With the machine on, add the oil in a thin stream and blend until very smooth. Add the cilantro, lime zest and minced Scotch bonnet and pulse just to combine.

Transfer the dressing to a large bowl. Add the shrimp, red onion and the remaining mango and season with salt and pepper. Toss to coat. Arrange the avocado slices around a large platter. Mound the shrimp salad in the center and garnish with lime wedges. Serve right away.
Avocado and Shrimp Salad With Mango Dressing…It's What's For A Light Meal