A little heat from diced jalapeno and a savory kick from A-1 steak sauce, a killer combo for an exciting burger. This Jalapeno Steak Sauce Burger is a must have recipe for your Summer Cookouts. 
What are your favorite flavor additions to spruce up plain old grilled burgers?  We've been experimenting and with warmer weather, our grill  has officially come out of hibernation. Just in time for these jalapeno steak sauce burgers.
As you know, with a Christmas gift of a grilling class at a local cooking school, we now have another cook in the house.  Bob has been experimenting with different grilled hamburger recipes and when talking with friend Shera she quickly shared her husband's  favorite recipe.  Sounded so delicious and we had to give it a try.
We've always been fans of A-1 Steak Sauce. And to pour a couple of tablespoons into ground beef was an easy request for us. Just take a couple of tablespoons of A-1 sauce and a pound of 80-20 ground beef and you've got one legendary burger. And with the addition of diced jalapeno and diced onion, what's not to love.
Make sure you dice those vegetables as small as you can. We referred to this as find dice in Culinary School. Larger chunks of veggies can make that burger a little looser and it can tend to fall apart.
You can most certainly stop and enjoy this burger as is, but don't hesitate to top it with some lettuce, a slice of white cheddar American Cheese, and even a lovely slice of fresh garden tomato.
Recipe for A-1 Jalapeno Steak Sauce Burger
I hope you give this A-1 Steak Sauce burger a try. And if you do, please come back and let me know how you liked it and give the recipe a star rating.
Your feedback is valuable to me for developing future recipes. And if you have a favorite recipe using A-1 Steak Sauce, let me know, I'd love to give it a try.
Jalapeno Steak Sauce Burger
A great way to kick up your Summer Grilled Burgers.
Ingredients
1

jalapeno fine diced

deseeded and deveined

1/4

onion

fine diced

2

tablespoons

A-1 Steak Sauce

2/3

pound

ground beef

white cheddar cheese and yellow mustard for garnish
Instructions
In a small bowl, mix together jalapeno, onion and steak sauce. Gently fold ingredients into the ground beef and form into patties. Place patties in the freezer for about 30 minutes to help everything to stay together on the grill. Grill 450 degrees, 4 to 5 minutes per side.
I mean really, how could it not be delicious.
Bob actually thought this might be his favorite recipe so far. Me? You could mix ground beef with sawdust and I'd love it…I just flat-out love any grilled burger.
And served up with a healthy choice of grilled zucchini topped with a zingy vinaigrette and we had a great Summer meal. This dressing is now my go to for grilled zucchini for any grilled veggies this summer.
Looking for more great burger ideas? Take a look at: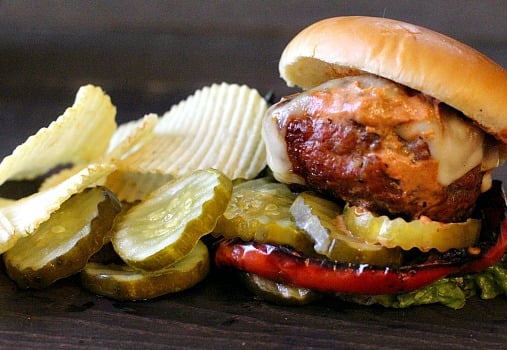 Jalapeno Steak Sauce Burgers … It's What's For Dinner.
One Year Ago: Breakfast Tacos