Next time you're in the mood for a shrimp cocktail appetizer, give this Mexican version a try. Campechana Mexican Shrimp Cocktail is a traditional Mexican appetizer chock full of tomatoes, jalapeno, cucumber and more.  
This South of the Border cocktail, with it's "usual suspect" lineup of fresh and spicy Southwestern ingredients, results in an intoxicating dish. It's similar to ceviche, however, the seafood is cooked, not brined. We loved it, and it'll have a permanent spot in my recipe database.
This was part of our Cinco de Mayo dinner last weekend, which actually took place on Sunday since we were sipping Mint Juleps and BBQ'ing chicken on Saturday for the Kentucky Derby
I subscribe to  Tony's Market "Weekend Recipes", an email series which features recipe suggestions, just in time for the weekend. Last week, Chef Mick suggested I serve Campechana, or Mexican Shrimp Cocktail. I just knew out of all the thousands of subscribers, he was surely talking to me personally, so it landed on promptly on the menu plan.
SHRIMP TIP:
What I liked about this was the method for boiling shrimp. A little different from my usual procedure, it read; once the water is boiling, add shrimp and remove from heat. Let stand for three minutes. Immediately cool. I iced them down once that three minute timer sounded, and it worked like a charm.
And how about a tip for cooking shrimp and knowing when they're done, after all, they come in about every size imaginable, and therefore recipes always estimate cooking times. Here is your general rule:
Straight shrimp are undercooked,
Shrimp that have just curled into a C-shape are perfectly cooked
Shrimp that have twisted into an O-shape are overcooked, rubbery and sad.
Main Course or Appetizer
This recipe made enough for at least six people, so needless to say, with just the two of us, we had a lot left over. Surprisingly it was just as good the next day. With just a couple of discolored spots on the chopped avocado, we were enjoying it for dinner the next night.
We had the Campechana for our main course, but served in martini glasses, this would be a festive and impressive appetizer for a party. Don't forget those tortilla chips to scoop up all that goodness.
Let's take a look.
Campechana, Traditional Mexican Shrimp Cocktail
Take your next shrimp cocktail adventure south of the border.
Ingredients
1-

pound

Wild Shrimp

2

TBS

Zatarain's Shrimp & Crab Boil seasoning

or salt (I used Old Bay)

1/2

cup

sweet or white onion

minced

1/4

cup

lime juice

1/8

tsp

kosher salt

1

medium tomato

finely chopped

1/4

medium cucumber

minced

1

stalk celery

minced

1/4

bell pepper

minced

1/4

jalapeno

minced

2

cups

Clamato

Tomato juice or V8 (I used tomato juice)

dashes of hot sauce

to taste (I used lots)

1/4

bunch fresh cilantro

chopped

1

avocado

small cubes

1/2

avocado

sliced into wedges

chile powder & black pepper

I used Ancho Chile Powder
Instructions
Peel shrimp and bring 2 quarts of water to a boil. Add 2 TBS shrimp & crab boil (or 1 TBS salt) to water, add shrimp and bring back to a boil. Remove from heat and rest for about 3 minutes – drain and chill shrimp. Chop or slice all but 4-8 of the shrimp, which are reserved as a garnish.

In a glass bowl, combine onions, lime juice and salt, stir and rest for 15-20 minutes as you chop the remaining ingredients.

Add the minced tomato, cucumber, celery, bell pepper, jalapeno, tomato juice, chopped or sliced shrimp and several dashes of hot sauce – cover and chill for 1-2 hours.

Just before serving, stir in cilantro and avocado. Spoon into four margarita glasses and place a lime wedge on the rim. Decoratively place an avocado slice and reserved whole shrimp on top as a garnish and sprinkle with chile powder and freshly cracked black pepper. Serve with saltines or tortilla chips and hot sauce on the side.
Looking for more Mexican Shrimp Appetizer ideas?  You won't want to miss: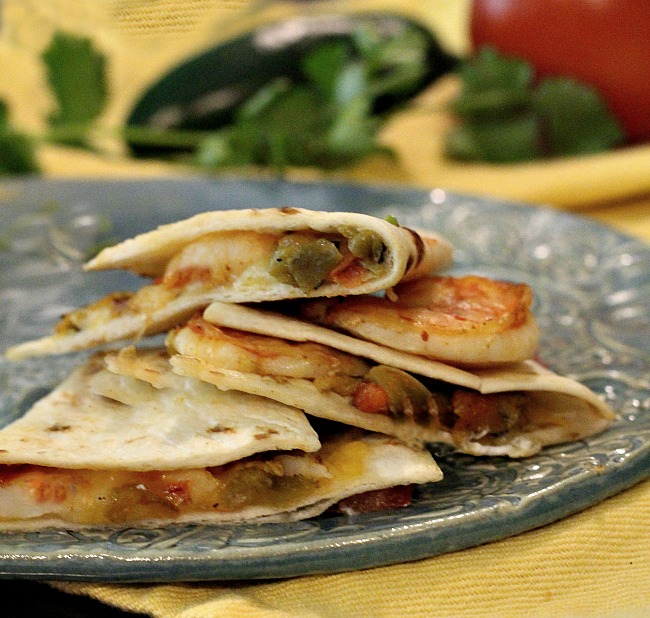 Mexican Shrimp Cocktail …It's What's for Dinner.