Man there's a lot going on in that photo. I may have used the wrong plate for this shot, ya think?
This is hands down my favorite recipe for grilling seafood. Shrimp and Mahi Mahi kabobs are marinated, skewered and grilled. In the center, you'll find my Green Rice, which will be my next recipe post.
For now, let's crop out some of that clutter and focus on these seafood skewers.  Shrimp and Mahi-Mahi marinated in lime juice, garlic and olive oil, and then grilled. The best part comes at the table.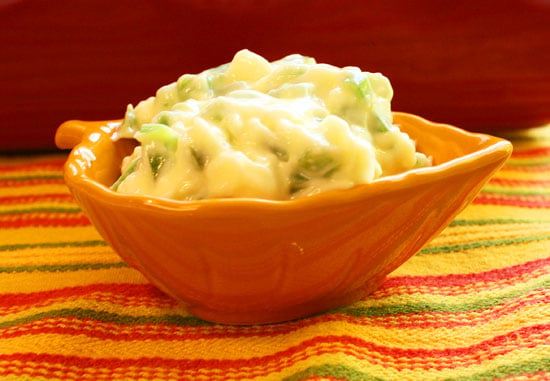 This is simply softened unsalted butter with finely chopped jalapeno added. When the seafood skewers hit the plate, just dab them with some of this butter and the sweet and spicy goodness melts into the sweet seafood meat. Divine. And incredibly easy.
Looking for more Mahi Mahi ideas? Don't miss my recipe for Mahi Mahi with Honey Mustard Tarragon Sauce. Easy and delish.
Let's take a look:
Shrimp and Mahi Mahi Kabobs with Jalapeno Butter
Easy and delicious.
Ingredients
1

pound

shrimp

deveined, shells removed, tails intact

Juice of two limes

2

Tablespoons

olive oil

2

cloves

garlic

crushed

salt and freshly ground pepper

1/4

C

softened butter

1

jalapenos

deveined, seeds removed, finely chopped

2

Tablespoons

cilantro leaves

chopped, for garnish
Instructions
Prepare the seafood. Peel and devein shrimp. Cut the Mahi-Mahi into cubes to somewhat match the size of the shrimp for even cooking.

Make the marinade: put the squeezed juice of 2 limes with the olive oil and garlic in a large bowl. Mix thoroughly to blend and add some salt and pepper. Put the prepared seafood in the marinade and stir gently until it is completely coated. Cover and chill for 1 hour.

Remove seafood from the marinade and thread alternately on skewers. Grill or broil , turning occasionally, until cooked and tender. Approximately 5 minutes. Baste with more marinade if the pieces appear to be drying out.

In the meantime make the chile butter; blend the softened butter with the chopped chiles and thoroughly blend.

Arrange the skewers on plates on a bed of rice. Pat chili butter over all. Scatter with ftorn cilantro leaves.

Scallops, tuna, or any type of seafood can be used.
Shrimp and Mahi Mahi Kabobs …It's What's for Dinner.