This shrimp remoulade recipe has just propelled itself into first place as our favorite appetizer small plate recipe. Butterflied, breaded and fried, and with a zesty Remoulade Sauce for dipping, it's a winner.
When Wine Spectator Magazine prints a feature article about food and recipes from distinguished restauranteurs and renowned chefs, one should sit up and take notice. I've found many outstanding recipes from those who are experts at pairing fine food with fine wine.
The July issue wrote about the third generation Greek-American Pappas brothers, who live in Houston. A family of entrepreneurs, the article talks about how their grandfather came through Ellis Island from Greece at the turn of the 20th Century and ended up in Dallas where he opened up restaurants. The next generation secured distribution of iceless iceboxes in East and South Texas which turned into a restaurant supply business. The current generation has grown to own 85 restaurants in seven states.
Chris and Harris Pappas guide the reader through a pictorial of a backyard Texas-themed barbeque with a menu that makes you want to decorate your outdoor table with Blue Bells and gallop to the grill to start cooking. Each course is paired with an appropriate American wine suggestion. This is where I spotted their Remoulade appetizer recipe.
The original recipe called for Fried Gulf Oysters. At the market, I was in luck as they had plenty of oysters. The fish monger gave me a quick lesson on how to use the special tool to shuck them and even though he made the whole proposition sound easy enough, I still pictured myself with injured bloody hands. And when he threw in the side note that they were still alive, I promptly announced that I'd take a pound of shrimp.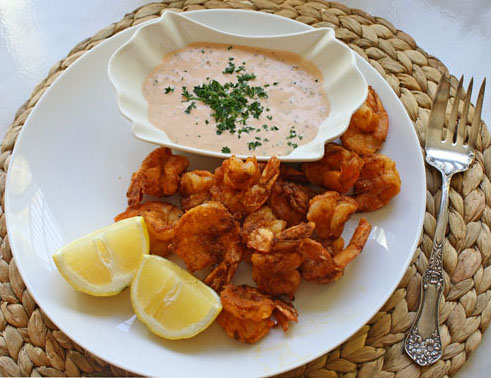 I easily removed the thin shells using my fingers as tools, butterflied the deceased and followed the recipe from there.

Ingredients
For the Breading:
3½ C. flour
3 C. plus 3 T. corn flour
2½ T. salt
1 T. black pepper
½ T. garlic powder
½ T. paprika
⅓ t. ground red pepper flakes
1 pound shrimp, shelled, deveined and butterflied
Oil for frying
For the Remoulade
½ C. mayonnaise
2 T. ketchup
1 T. whole grain mustard
1 T. capers, chopped
1 T. yellow onion, finely chopped
1 T. parsley, rough chopped
¼ t. fresh thyme
Juice of 1 lemon
Pinch of kosher salt
Pinch of black pepper
Instructions
For the shrimp:
Place flour, corn flour, salt, black pepper, garlic powder, paprika and ground red pepper in a large mixing bowl and whisk to thoroughly blend.
Heat about ½ C. oil in a fry pan, preferably cast iron, until oil is hot.
Dredge shrimp in seasoned flour, making sure they are covered good.
Fry for about 2 minutes per side or until golden and cooked through.
Drain on paper towels.
For the remoulade:
Place mayonnaise, ketchup, whole-grain bustard, capers, onion, parsley, thyme and lemon juice in a mixing bowl. Whisk until thoroughly combined. Season with salt and pepper.
Pile shrimp on a plate, serve next to a bowl of remoulade. Sprinkle all with parsley and serve with lemon wedges
Shrimp Remoulade…It's What's for Dinner
On this day..