New Mexico Chicos are made from local sweet corn. Once sun-dried, they're a staple in Southwestern kitchens. Beans and Chicos are a popular and tasty dish made from this specialty food.
Last fall on one of my annual trips to LuLu's Farm in Brighton, I ran across a peculiar bag of dried corn that didn't quite look exactly like hominy.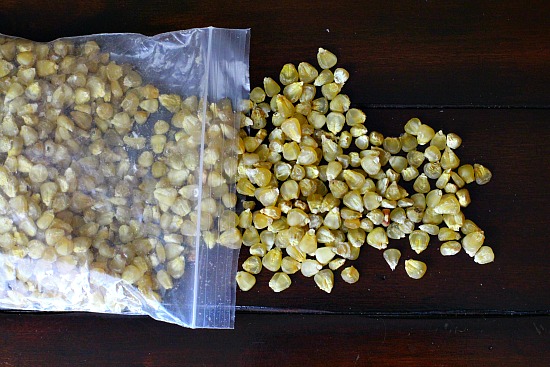 A trip to the counter to ask about my find revealed that I had a bag of Chicos in my hand.  When I arrived home, I consulted Google and thanks to New Mexico Magazine found:
We take ears of white, sweet corn that is still in the husks, and lay them in a big horno, or outdoor adobe oven, and cover them with wet potato sacks," says Shirley Martinez of Martinez Farms, which produces more than 100 pounds of chicos a year. "We make a hot wood fire, cover the horno completely with adobe and mud, and leave the corn to steam overnight, which gives chicos their smoky flavor. We take the corn out the next day, pull the husks all the way back, and hang them to sun-dry for at least a week." The fruits of this fall's labors, she says, will be sold next year.
Continuing my search for traditional ways to serve them, most of the recipes were simple dishes of chicos and beans, using pinto beans.  You'll find my version and recipe below, but first I want to talk about a challenge I've accepted.
I am joining Dogwood Photography's 52 Week Photography Challenge.  Dale Foshe, a Wilmington, NC photographer and challenge organizer says, "This challenge is designed to push your photography to the next level. Over 52 weeks, you'll alternate between shooting portraits, landscapes, and artistic assignments."
Every time I read that I get a rush of nervous adrenalin in my stomach.
The first week's assignment was to take a selfie.  And I'm not talking about sticking your phone in front of your face and figuring how to reverse the camera setting so the lense is facing you. We were to explore and learn the self timer settings on our cameras.
Narcissism isn't one of my strong points. Selfies for me are rare. So, this meant that I spent days planning and fussing. Then came the time to drag out the tripod and figure out how to turn the "camera holder thingie" so that the camera was positioned for a portrait photo instead of the only way I've ever used it…the way it came …landscape mode.  It was a saga and took much longer than I anticipated.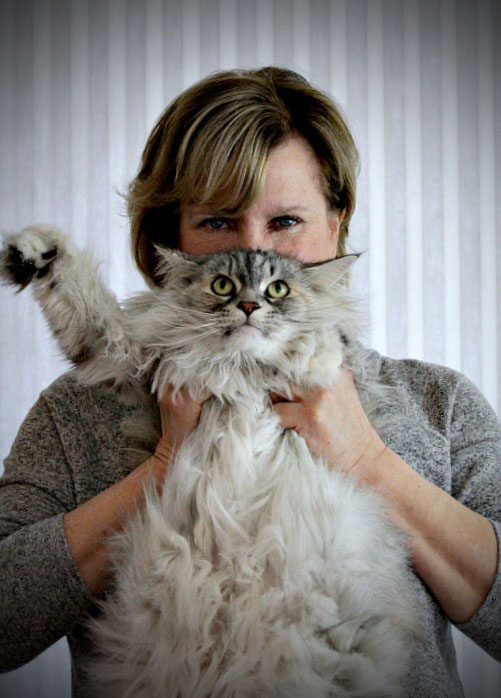 Learning the self timer was much easier. I simply read the manual. But as if the assignment weren't tough enough, I decided to involve a family member. A family member that weighs in at 20 pounds, is cantankerous as all get out, and has claws. Here's what I ended up with.  🙂
This week's assignment is a landscape. Today I'm off to our famous Red Rocks Park and Amphitheater West of Denver.
Chicos and Beans
Ingredients
2

C

. dried pinto beans

1/2

C

. chicos

1

small yellow onion

diced

6

slices

bacon

chopped and cooked until just crisp

1

T

. red chili powder (New Mexico chili

not cayenne, I used Chamayo)

2

T

. bacon grease

1

bunch Swiss chard

White rice

cooked

Salt and pepper to taste
Instructions
Place beans and chicos in a colander and rinse well.

In a fry pan, cook bacon until just crisp. With a slotted spoon remove bacon to a paper towel. Remove most of the bacon grease, reserving two tablespoons. Add onion and cook until translucent, about 5 minutes.

In a crock pot, add bacon grease, onions, bacon, chicos and beans. Cover with water by about 2 inches. Stir in chile powder. Cook on low all day or until beans and chicos are tender. Salt and pepper to taste.

Serve over wilted chard and cooked white rice.
Beans and Chicos …They're what's for Dinner.