Make your next burger a Taco Burger. Mayonnaise makes everything better. And adding it to ground beef returns a delicious juicy burger. Mix in some taco seasoning, top with salsa aioli and you've got a burger fiesta.
This post has been sponsored by Sprouts Market. I have been compensated but my opinions are my own.
I'm lucky to have a Sprouts Farmer's Market just a couple of miles from our house. And thanks to them for reaching out and asking me to create a burger with some of their sprouts brand ingredients Fun!
A trip to Sprouts Market, with their mountains of fresh fruits and vegetables, barrels of wholesome grains, a full service deli, meat and seafood counters is sure to inspire everyone to eat healthier. This isn't just a mission. It's their passion. And did I mention the prices won't break your budget. As their slogan says "Healthy Living for Less" Great store!
Grilling season is upon us and the first thing that hit our hot grates this season was a sizzling juicy burger. For this burger assignment, you'll find an assortment of Sprouts Farmer's Market South of the Border ingredients.
For my burger, I made a mixture of mayonnaise, panko bread crumbs and Sprouts Farmer's Market Taco Seasoning, blending it with ground beef and forming patties.
The biggest take away from this whole Sprouts adventure is their jarred salsas. Simply the best I've tasted. Since I can't find a jarred salsa that I love, I usually make my own salsa from fresh ingredients. Sprouts has changed that. The Mango and Black Bean is a perfect blend of sweet and spicy, the Chia, Quinoa and Flax is surprisingly a great salsa blend. And my favorite? That Kale and Vegetable. Bob and I both loved it, and felt healthy loving it.
For the Salsa Aioli I blended Sprouts Kale and Vegetable Salsa with creamy mayonnaise for a creamy kicked-up burger sauce.
And in my opinion, there are few foods better than a burger! To build my taco burger I started with some beautiful curly green lettuce, the taco seasoned meat, a healthy drizzle of the salsa aioli, a beautiful slice of tomato and a couple rings of sweet onion. Just a few slices of avocado was all we needed for a side.
The beef was creamy and Southwestern-worthy seasoned with the taco blend. The aioli was a divine compliment. Thanks to Sprouts Farmer's Market for the inspiration for a great burger.
Taco Burger with Kale and Vegetable Salsa Aioli
Make your next burger a fiesta. With taco seasoned ground beef and a salsa aioli.
Ingredients
For the burger:

2

pounds

ground beef

1

package taco seasoning

1/2

cup

mayonnaise

1/2

cup

panko bread crumbs

6 - 8

hamburger buns

For the salsa aioli:

1/4

cup

salsa

1/2

cup

mayonnaise

To build the burger:

Green curly leaf lettuce

slices

tomato

slices

sweet onion
Instructions
Place ground beef in a bowl and break up the meat slightly. Add the taco seasoning, mayonnaise and bread crumbs and gently mix until ingredients are blended. Shape in burger patties. 6 - 8 depending on the size. Grill or broil until done, about 5 minutes per side.

For the aioli. In a small bowl, mix the mayonnaise and the salsa with a fork until well blended.

To build the burger: place lettuce on the bottom bun. Top with a hamburger patty, a good dollop of the salsa aioli, a slice of tomato and a couple slices of sweet onion.
Need another Mexican Burger recipe? How about: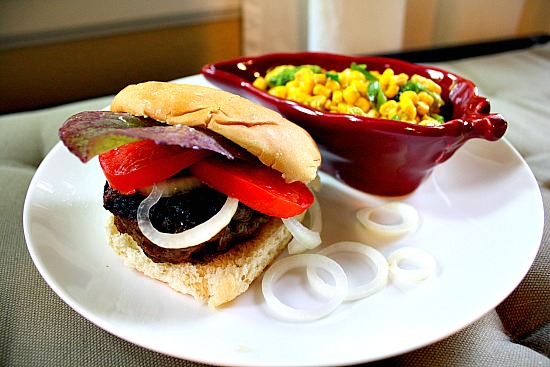 Taco Burger with Kale and Vegetable Salsa … It's what's for Dinner.
You can find every single ingredient for this recipe at Sprouts Market. This post has been sponsored by Sprouts Market. I have been compensated but my opinions are my own.