This rosemary potato strudel recipe is a great potato recipe for any holiday. Thin sliced potatoes coated with sour cream and seasoned with rosemary, chives and garlic are nestled and baked steamy in a golden puff pastry. Rosemary Potato Strudel is clever show stopper side dish … and popular.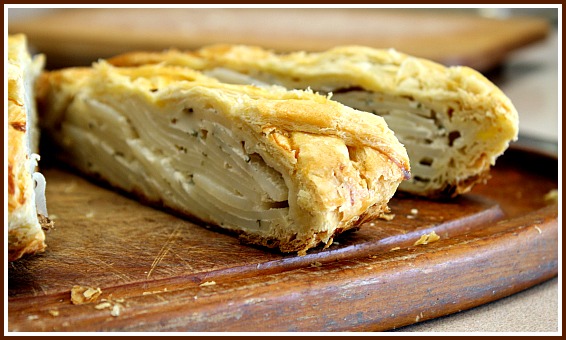 I'm usually not one of those bloggers who is organized enough to cook, create and blog about a holiday recipe in time to capture the Google traffic looking for ideas. But last weekend found us snowed in with a foot of snow swirling about and I was able to make this potato strudel recipe that I've had my eye on for sometime.
An absolutely the best holiday potato recipe I've found. Perfect dish for our upcoming Easter meal and for once I'm not blogging in arrears.
You'll find a video on how to build this potato strudel below.
Building that Potato Strudel
I was a little apprehensive, after all there is dough involved and you know my doughaphobia, but I've used frozen puff pastry before and so I decided to charge right in with ears tucked back.
And as far as I'm concerned, there's never enough potato recipes to experiment with, and this one turned out delicious.
Just thaw a box of puff pastry sheets. Lay them out end to end and press them together with damp fingers to seal the seams. Using your mandolin, slice the potatoes and in a large bowl mix them with the sour cream and seasonings.
Starting at one end of the dough, pile up the potatoes and then take the close end of the dough and drape over the potatoes just to cover them. About half of the remaining dough is left exposed. With scissors cut the exposed dough into strips at an angle.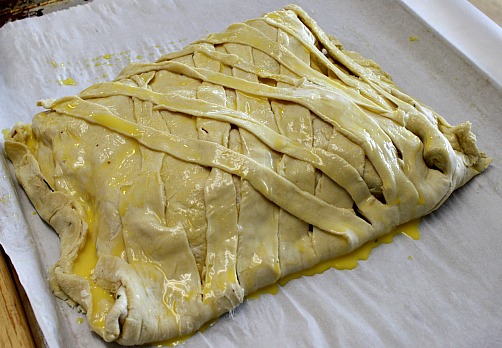 Wrap the strips over the packet of potatoes, seal all edges and then coat with a milk and egg mixture for a nice golden crust.
Pop it into the oven for this bundle of potato joy.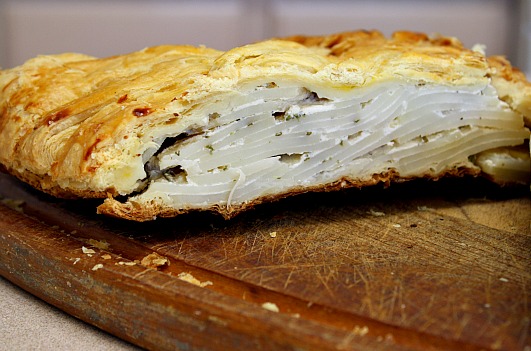 With a serrated knife, slice and serve.
Recipe for Rosemary Potato Strudel
I hope you give this potato strudel recipe a try, and if you do, please come back and give the recipe a star rating. And please leave a comment about your experience with the recipe.
And if you have a recipe that you consider to be a best holiday potato recipe, please let me know, I'd love to give it a try.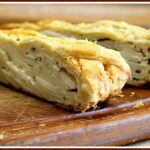 Rosemary Potato Strudel
Ingredients
1

package frozen puff pastry

2

pounds

potatoes

thin sliced on mandolin

1

C

. sour cream

1

t

. sea salt

1

T

. fresh rosemary

chopped

1

T

. fresh chives

chopped

1

T

. garlic

minced

fresh cracked pepper

Glaze:

1

egg yolk

1

T

. milk
Instructions
Preheat oven to 350 degrees.

Roll puff pastry on a sheet of parchment paper and seal the two sheets together with damp fingers to create one piece of pastry.

Peel and thin slice potatoes using a mandolin. Toss with sour cream, salt, pepper, rosemary, chives and garlic.

Place potatoes on the puff pastry and seal, leaving a piece of the pastry exposed. Cut the exposed pastry in thin strips on a diagonal.

Wrap the pieces across the packet of potatoes. Seal all edges to form a packet.

Beat the egg yolk and milk together to make an egg wash. Brush over the top of the strudel and sprinkle with sea salt.

Transfer to oven and bake 45 minutes, rotating the pan a few time to ensure even browning.
Rosemary Potato Strudel …It's What's for an Easter Side Dish.