Crock pot beef tacos. This simple old fashioned pot roast morphs into tasty tacos. Crock pot beef tacos are beautifully flavored with Southwestern seasonings and finished with a crunch of cabbage. And what about that flavor? It definitely shows up for the party. And tips on how to heat corn tortillas for a steamy warm taco.
Just What Do I do for a living?
I've had many readers ask about my career. I work in the Real Estate Industry as a Sales Executive for Heritage Title. What's a title Insurance company?
We do a lot of important things to insure against fraud, but we're most famous for our end result where we gather Realtors, Lenders, Buyers and Sellers around a closing table and make everyone sign documents until their hands cramp and then we hand over the keys to the American dream, a new home.
It's either feast or famine in our business, and let me tell you it's a feeding frenzy feast right now. Buyers are standing in line to preview homes, multiple offers are flying into seller's hands which results in bidding wars with sellers getting $20 to $30 thousand over the listing price.
What does all this boil down to? It's a great time to sell a home and with interest rates still so low, it's also a good time to buy. And all of us in the industry are running so fast to keep up that we're out of breath. That's a good thing. And yes, I need easy weeknight meals.
With that out of the way, let's make some crock pot beef tacos.
Update: As of 2017, I have retired from the corporate world, attended and graduated from Culinary School and am now focusing full time on my food blog.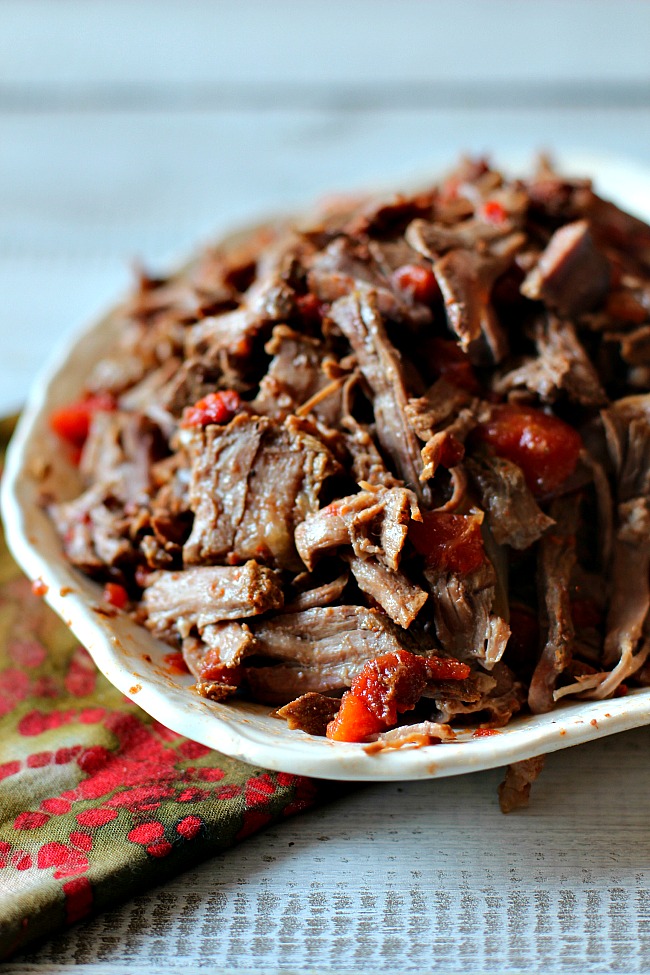 Easy Weeknight Meals
This crock pot roast beef taco recipe was a life saver this week. So very easy and with plenty of leftovers for a couple of quick dinners. Simple with seasoning and big on flavor, the meat went into the crock pot before I went to work and I arrived home to an aromatic party that filled every nook and cranny of our house.
I used a good 'ol chuck roast, and as with any slow cooked meat, it was fall apart, melt in your mouth wonderful. This recipe is popular in this house because we're fans of ancho chili powder. And simply adding cumin, cayenne and bay leaves, I knew the flavors would be to our liking.
HOW TO WARM AND SOFTEN CORN TORTILLAS
You could take the time to fry and shape your own corn tortillas into tacos. But to keep things weeknight easy just heated up soft white corn tacos.
With a microwave oven: Drizzle about three tablespoons of water over a clean kitchen towel. Wrap your corn tortillas in the towel. Slide the package into a gallon sized plastic bag. Don't seal the bag. Microwave the tortillas at 50% power for four minutes. This creates a steamy packet. Let sit 2 -3 minutes inside package before using.
Once this meat is cooled and the beef shredded, just serve with your favorite taco toppings. A crunch of shredded cabbage, a slice of avocado and a salsa. We served this with my homemade Roasted Tomatillo Salsa. Or a tomato based salsa like this Essential Mexican Restaurant Style Salsa would be fabulous. Whatever you choose, give this slow-cooker shredded beef pot roast taco recipe a try. So easy, so big on flavor.
Recipe for Crock Pot Beef Tacos
I hope you give this one a try and if you do, please come back and let me know how you liked it and give the recipe a star rating. Your feedback is valuable to me for developing future recipes.
More Shredded Beef Taco Recipes
Crock Pot Beef Tacos
Ingredients
2

pounds

Chuck Roast

Kosher salt

Freshly ground black pepper

Extra-virgin olive oil

2

cloves

garlic

smashed

1

large onion

sliced

28

ounce can

diced tomatoes

(recommended: San Marzano)

1

tablespoon

New Mexico or Ancho Chile Powder

1

tablespoon

cayenne pepper

1

tablespoon

ground cumin

3

bay leaves

Vegetable oil

for deep frying

6

fresh medium corn tortillas

Kosher salt

3

cups

finely shredded white cabbage
Instructions
Season all sides of the beef with a fair amount of salt and pepper. In a large Dutch oven, or if your crock pot has a stove top insert, heat 2 tablespoons of olive oil over moderately high heat. Add the garlic and the beef to the pot, browning the meat on all sides, taking the time to get a nice crust on the outside. Add the onion and allow to lightly brown, about 3 to 4 minutes.

Add the crushed tomatoes, 1 cup of water, spices, season with salt and pepper to taste. Cook in crock pot on low for 6 - 8 hours. Let meat cool in the liquid. Shred meat and set aside.

Warm corn tortillas by dampening a clean kitchen towel with water. Place the corn tortillas on the wet towel and fold the towel over the tortillas. Place the package in a gallon zip lock bag, but do not seal.

Place them in the microwave and cook for two minutes at 50% power. Let them steam in the bag for 4 minutes before removing.

In the meanwhile, make the Tomatillo Salsa.

Toppings for tacos: Shredded Cabbage, Avocado, guacamole, Sour Cream, sliced radishes, cilantro
Looking for more beef taco recipe ideas? You won't want to miss:
Tyler Florence's Crock Pot Roast Beef Tacos … It's What's for Dinner.