Homemade is always better. And less expensive. And healthier. Don't reach for another jar at the store until you try making your own Homemade Roasted Tomatillo Salsa.
Make Your Own
Where would we be without salsas? Game day would be less zesty, and our corn chips sad and lonely.
I've started making my own Salsas. About time don't you think? As much Mexican and Southwestern meals that come out of this kitchen, it seems silly to reach for those jars at the store. Plus, it seems I'm always trying a new brand every chance I get to find a flavor profile that I love. They always come up short handed, with something not being quite right.
So I've taken to my own test kitchen, researched recipes and ideas and after a few experiments have come up with a Homemade Roasted Tomatillo Salsa. One that I think tasted like it should. One can call this Salsa Verde or Green Salsa using fresh tomatillos.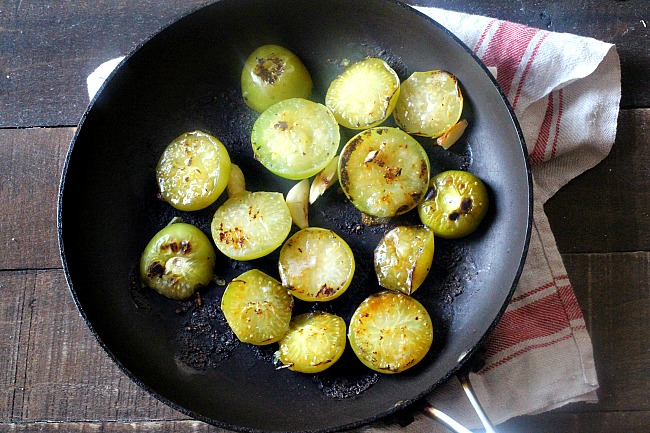 What's a Tomatillo?
It's a small round fruit that's encased in delicate paper husk. Indigenous to Mexico and Central America, they're also known as husk tomatoes or tomatoes verdes. They're related to the tomato and widely used in Mexican cooking lending a tart zesty flavor to sauces and salsas. Their tangy citrusy flavor turns slightly sweet when cooked. To prepare, just remove the paper husks and rinse.
I can readily find tomatillos at my local Safeway or King Soopers, I hope you can too.
But What Do I Use Tomatillo Salsa For?
Everything! Ok, well maybe not on cereal. It's delicious on Chorizo Potato Shiitake Mushroom Tacos, Scrambled Eggs, Burritos, a grilled steak … anything Mexican or Southwestern that comes out of that kitchen. It's basically just a different flavor profile than your favorite red tomato salsa.
Besides a dip for tortilla chips, here are some recipe I've used this green salsa for:
Homemade Roasted Tomatillo Salsa
Make your own zesty fresh Homemade Roasted Tomatillo Salsa. Your tortilla chips, tacos and burritos will thank you. Easy recipe loaded with flavor.
Cuisine:
Southwestern Mexican
Ingredients
6

tomatillos

peeled, halved and pan roasted

2

garlic cloves

peeled

1

jalapeno pepper

stemmed, seeded, cut in half

1/3

cup

cilantro

rough chopped

1/4

teaspoon

sugar

1/2

teaspoon

red wine vinegar

1/8

teaspoon

Pickapeppa Sauce

or Worcestershire

1/4

cup

water

1/2

medium

onion

fine chopped
Instructions
Remove the stem, seeds and veins from jalapeno pepper. Or leave the seeds and veins in for some good heat. Cut the jalapeno and half and with skin side up, with your hand flatten the pepper so it will roast in the fry pan.

Heat a 10 inch non-stick skillet over medium high heat. Lay in the garlic, jalapeno and the halved tomatillos. The tomatillos should be cut side down.

When the tomatillos are well browned (3-4 minutes) with tongs, turn everything over and brown the other side. The tomatillos should be soft.

Scrape the tomatillos, jalapeno and garlic into a food processor and let cool to room temperature.

Add the cilantro, sugar, vinegar, Pickapeppa and water. Blend to a coarse puree, easily spoonable consistency.

Pour into a salsa bowl and add the diced onion. Note, Once the onion has been diced, put it in a strainer and rinse under cold water. This will temper the onion flavor.

Add and season with a little salt and a little more sugar if you wish.
Recipe Notes
Pickapappa sauce is a great condiment to have in your pantry. Great for soups. A flavorful substitute for when any recipe calls for Worcestershire.
Looking for more homemade salsa recipes? You won't want to miss: