Gifts from the Kitchen are very special for the Holidays. Take a look at this Blackberry Merlot Wine Jelly Recipe.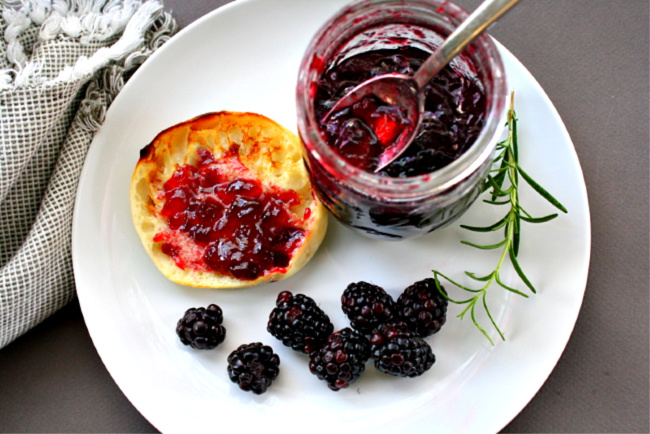 I don't know about you, but I love being on the receiving end of homemade gifts from the kitchen. This Blackberry Merlot Wine Jelly is a very special gift.
There's so many possibilities; jams, jellies, chutneys, mustards, salsas, sauces, pickled anythings, breads, cookies, cakes, candies. So far, I've whipped up a batch of sweet and spicy mustard, pickled beets and this wonderful Blackberry Merlot Jelly Recipe. I'm thinking my wine loving friends will enjoy a fun wine jelly.
Actually, I pre-gifted one jar for quality control purposes to my friend Maralee, the jelly/jam queen. Her comments were: "Too good for toast…I could smell the wine when I opened the jar and I loved that…I'm thinking brie and a cracker for serving". Then she promptly demanded the recipe.
This recipe comes from the folks over at Robert Mondavi Wines. Fruit forward Merlot and dark succulent blackberries…I'm smitten. Let's take a look.
Recipe for Blackberry Merlot Wine Jelly
I hope you give this wine jelly recipe a try, and if you do, please come back and give it a star rating and leave a comment with a review. I value opinions from my readers.
And if you have a wine jelly recipe, please let me know, I'd love to give it a try.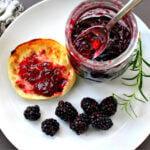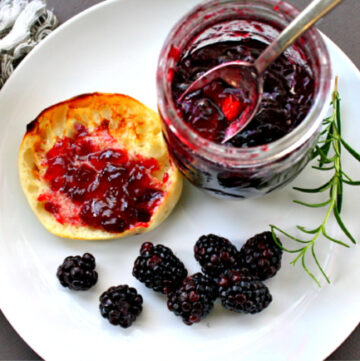 Blackberry Merlot Wine Jelly
A jelly recipe that is great for gifts, made with wine.
Ingredients
3 1/2

cups

Woodbridge by Robert Mondavi Merlot wine

1

package

certo

4 1/2

cups

white sugar

4

ounces

blackberries
Instructions
Blend berries and add to wine. Bring to a boil and then strain wine to remove blackberry seeds and pulp.

In a large sauce pan add the sugar to the blackberry infused wine and bring to a boil, stirring frequently. Let it boil one minute. Add certo, stirring until dissolved. Remove from heat. Skim foam off top, if necessary.

Ladle hot jelly into hot, sterilized jars, leaving 1/2 inch head space. Tighten 2 piece lids. Process for 5 minutes in boiling water bath.
Wine Jelly using Sure-Jell
I've made two batches of this. The first, following this recipe above, took one week to jell. For the 2nd batch I used these ingredients and one package Sure-jell low sugar pectin and followed their directions on the insert for the process. The 2nd batch jelled within a couple hours. Sure-jell has you mix 1/4 cup sugar with a packet of their powdered pectin. You bring that mixture and the wine and berries to a boil and then add the rest of the sugar. Bring to a boil for one full minute then pour into jars and water bath.
Blackberry Merlot Wine Jelly…It's What's for Holiday Gifts for Wine Loving Friends.