I hope everyone had a satisfying stuffed Thanksgiving and that you're ready to take the leap into the Christmas festivities. Holiday entertaining is on us and is all about family, friends and neighbors gathering around lots of food, drink and cheer. Besides the formal sit-down prim and proper dinners, fun and casual cocktail and appetizer parties are my favorite way to bring folks together. Small bites, dips, spreads, chips and crackers are about all you need. Something about the informality of eating with your hands, or from a skewer on a small plate alongside a glass of wine or cocktail is a great formula for comfortable conversation.
Today I'm posting a simple and delicious hors d'oeuvre that is made with sliced apples, cheese and prosciutto, Apples on Horseback. Spear them with a stalk of fresh rosemary and you've got an appealing presentation.
"On Horseback." There are lots of variations to this simple appetizer. Angels on Horseback are oysters wrapped in bacon. Some recipes include dates wrapped in bacon and are baked. Some recipes stuff a prune with mango chutney, cheese, almonds or smoked oysters. But all are wrapped in some sort of bacon and are riding on the stick of your choice. I always associate them with the Christmas season.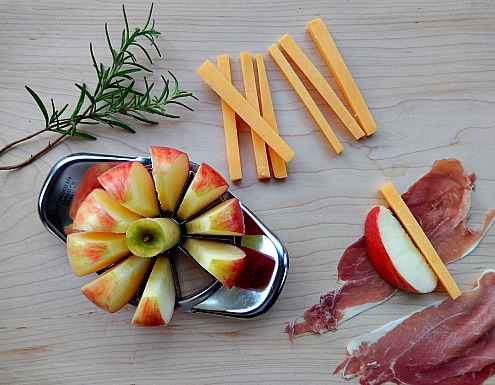 Using an apple slicer, I sliced the apple into easy wedges. You can cut those wedges in half if you'd like them smaller. Just place an apple wedge and a stick of cheese on a piece of prosciutto.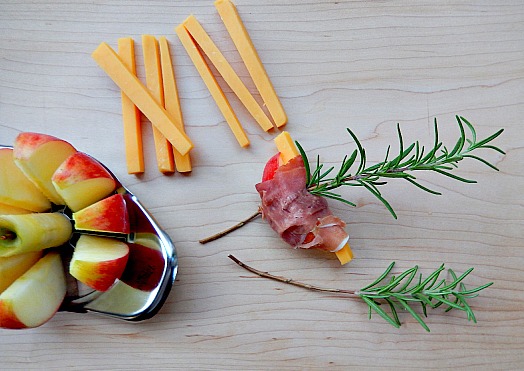 Roll them up nice and snug, pulling the meat around the cheese and apple. Secure each by spearing it with the stick end of a cleaned stalk of rosemary, making sure it goes through the cheese and apple. Preheat a grill pan that has been sprayed with cooking spray. Saute the Apples on Horseback until the prosciutto is slightly browned and the cheese is melting. Delicious and ready in thirty minutes, I adapted this from Food and Wine Magazine. Their recipe is below.
So here's a toast to the season :::clink. What's your favorite quick appetizer to serve at parties?
Apples On Horseback
Ingredients
16

slices

thin of pancetta

1

Pink Lady apple—peeled and cut into 16 wedges

3

ounces

Manchego cheese

sliced 1/4 inch thick and cut into 2-by-1/2-inch sticks

inch

Sixteen 2- rosemary sprigs or toothpicks

for skewers
Instructions
Preheat a grill pan. Arrange the pancetta slices on a work surface and place an apple wedge and a cheese stick in the center of each slice. Wrap the pancetta around the filling and secure with a rosemary sprig or toothpick.

Grill the skewers until the pancetta is golden and crispy and the cheese is melted, 5 to 6 minutes. Serve hot.
Apples on Horseback…It's what's for a Holiday Appetizer.