Of course Mom didn't use a recipe and I remember when I first started cooking, it was difficult to get the combination right for a perfect pan of scalloped potatoes. When I saw this recipe come over from Saveur, I had to give it a try. It's spot on.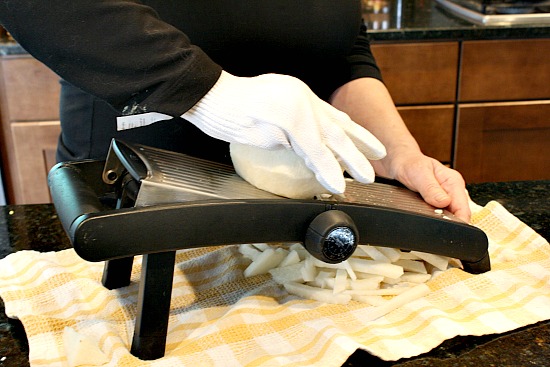 If you have a mandolin, get it out for this recipe. Evenly sliced thin potatoes make this  melt in your mouth even creamier.
If you don't have a mandolin and are thinking about a purchase, I've had my OXO Good Grips Mandolin Slicer
for years and it's been worth every penny of the $99 I paid. It works beautifully. Prices have come down a bit. It's now available on Amazon for around $70. And thanks so some very clever designers owning a mandolin has become an even less inexpensive proposition. This past week at a Sur la Table cooking class, we used two smaller versions. I thought the Kyocera Advanced Ceramic Adjustable Mandolin Slicer
worked just fine, and with its smaller size would be easier to store. $18.
I've never found the guiding tools that come with any mandolin easy to use. I wouldn't use my mandolin without my Victorinox Cutlery UltraShield Cut Resistant Glove 
you see in the photo above. It protects your hands from cuts and guiding the food with your palm makes mandolin use much more manageable. I'm slicing fibrous jicama in the photo for a Jicama and Orange Salad. When pressing hard to get that jicama to slice well, that glove worked like a charm and with no worry about slicing my hand in the process. I love this glove.
Now for this killer Scalloped Potato recipe. Enjoy!
Old Fashioned Scalloped Potato Casserole
Ingredients
4

tablespoons

unsalted butter

plus more for greasing

3

cloves

garlic

finely chopped

1

medium yellow onion

thinly sliced

1/4

cup

flour

1 1/2

cups

heavy cream

1/2

cup

milk

3

tablespoons

finely chopped thyme

Kosher salt and freshly ground black pepper

to taste

1 1/2

lb

Yukon gold potatoes

peeled and very thinly sliced

1/4

teaspoon

paprika
Instructions
Heat oven to 350°. Grease an 8" square baking dish with butter; set aside. Melt butter in a 6-qt. saucepan over medium-high heat. Add garlic and onion; cook, stirring occasionally, until golden, 8–10 minutes. Add flour; cook, stirring, until smooth, 2 minutes. Add cream, milk, thyme, salt, and pepper; bring to a boil. Add potatoes; cook, stirring occasionally, until potatoes are just tender, 8–10 minutes. Transfer mixture to prepared baking dish. Using a spoon, press mixture down; sprinkle with paprika. Bake until golden brown and a knife inserted into middle of potatoes slides in easily, about 40 minutes.
Old Fashioned Scalloped Potato Casserole…It's what's for a Side Dish.

And of course no self respecting spoon full of scalloped potatoes would not be served without a slice of ham and a spear or two of asparagus. Take a look at this Honey and Thyme Glazed Ham Recipe.