This is recipe for Make Ahead Mashed Potato Casserole. Sour cream, chives and plenty of butter make this a popular side dish. Save yourself time the next time your hosting guests. A great potato dish for entertaining or pot lucks.
I used to be such a mashed potato purist. Surely there couldn't be any reason to fiddle with such a perfect side dish. Potatoes that have simply been mashed to a fluffy delight, topped with a pat of butter or better yet gravy. Perfection.
Cue this Make Ahead Mashed Potato Casserole. What I love about this recipe, is that it's great for entertaining. The make ahead factor frees up a burner on the stove, and you're not laboring over a big pot of potatoes and a potato masher while your guests are waiting for dinner.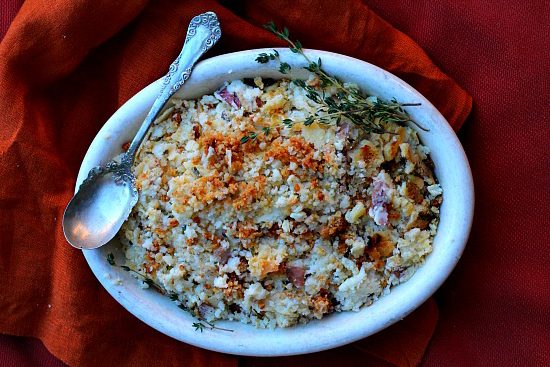 It gets even more genius. Besides its deliciousness, it can be made the day before, or even two. Cook the potatoes, assemble the casserole, wrap tightly and store it in the refrigerator. When dinnertime comes, dust it with the cheese, butter and bread crumbs and toss it in the oven.
Speaking of the Holidays, got a foodie in your life that you'll be shopping for? Besides yourself? Did you know Anthony Bourdain has a new cookbook out? His first in over a decade. And it's not what you expect from Bourdain.
Now back to this great make ahead side dish. Sour cream, chives and a wonderful parmesan topping.
Recipe for Make Ahead Mashed Potato Casserole
I hope you give this mashed potato casserole recipe a try. And if you do, please come back and let me know how you liked it and give the recipe a star rating.
Your feedback is valuable to me for developing future recipes. And if you have a favorite mashed potato casserole recipe, please let me know, I'd welcome the opportunity to give it a try.
More mashed potato recipes:
More Potato Casserole Recipes
And if you're looking for more side dish recipes don't miss my Side Dish Category. You'll find lots of supporting actor ideas, including the most popular side dish recipe on my site, Broccoli Cheez Whiz Casserole.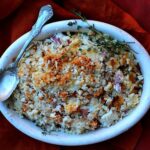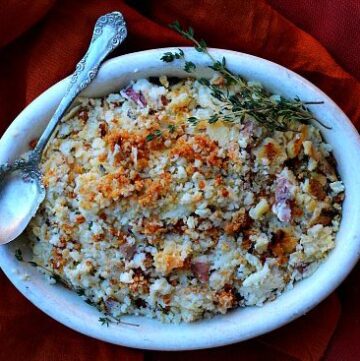 Make Ahead Mashed Potato Casserole
A make ahead mashed potato casserole for the holidays or for entertaining.
Ingredients
14

tablespoons

unsalted butter

softened, and more for the pan

6

pounds

Yukon Gold potatoes

peeled and cut into chunks

2

tablespoons

plus 1 teaspoon kosher salt

1 ½

cups

sour cream

1

teaspoon

black pepper

6

tablespoons

finely chopped chives

⅔

cup

bread crumbs

⅔

cup

grated Parmigiano-Reggiano cheese

milk if needed for consisency
Instructions
Lightly grease a 9-inch-by-13-inch baking pan.

In a large pot, bring the potatoes, 4 quarts water and 2 tablespoons salt to a boil. Boil potatoes until fork tender, about 20 minutes. Drain.

Mash potatoes with 10 tablespoons butter, sour cream, 1 teaspoon salt, and pepper. Mash in the chives. Taste and adjust seasoning, if necessary. Spread potatoes into the prepared pan. Cover and refrigerate for up to three days.

In a small bowl, combine the remaining 4 tablespoons butter, bread crumbs and cheese. Mix together until it forms coarse crumbs. Crumbs can be refrigerated for three days.

Heat the oven to 400 degrees. Sprinkle crumbs over the top of the potato casserole and bake until golden and crisp, 30 to 40 minutes.

Add milk if you need to if consistency is too dry.
Mashed Potato Casserole …. It's Whats for a Side Dish