You'd almost swear there was pudding in this Easy Super Moist Jalapeno Buttermilk Cornbread recipe. Using creamed corn and Munster cheese is one of the secrets to this family favorite.
When I was growing up, my father's signature dish was his Chili Soup. On cold dark windy evenings in the middle of Kansas he would combine fried hamburger meat and chopped onion, pinto beans, tomatoes and seasonings of cumin, chili powder and oregano into a delicious bowl of soup. Simply topped with hand-crushed saltine crackers, it was certainly a treat.
Over the years I've enjoyed it with flour tortillas, corn tortilla chips, topped with cheese, sour cream or chopped green onions, even chocolate shavings and just recently served with cornbread. And you can bet there was a Texan involved to steer me in the cornbread direction.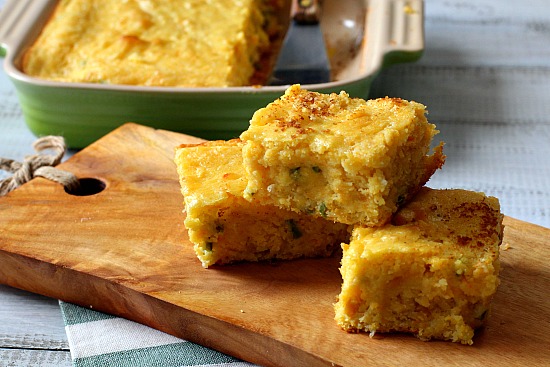 My love affair with corn bread got off to a very long, dry, grainy, stick in the throat start. Jiffy, Marie Calendar's, and even homemade found me wondering what the big attraction was. I'm very well aware that any of my friends that are from Texas, live in Texas, or even are married to a Texan wouldn't hear of having a bowl of  chili soup without it. So started the search for a recipe that wasn't dry.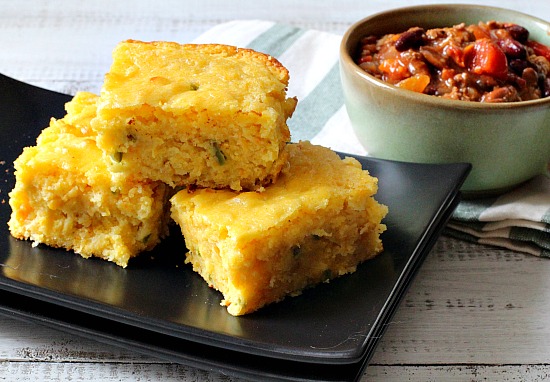 One day, out of the blue,  my good friend Linda, who is married to David from Texas, unwittingly brought over a pan of the most delicious and moist homemade buttermilk cornbread that I have ever tasted. I was an instant fan and finally understood what all the fuss was about. I have taken her recipe and with a couple of tweaks, made it even moister, creamier and more Southwestern. Making this cornbread with creamed corn rather than kernels is one of my secrets. The type of cheese is another. I'm a big fan of Muenster for any Mexican, Southwestern recipe. Give it a try. If you don't like the creamy results, you can always switch to cheddar or Monterey Jack for your next batch.
Move over crushed saltines.  🙂  This is what belongs next to every bowl of chili you serve up! I don't know what I'd do without my Le Creuset square baking dish for this recipe. It's study enough for the oven and pretty enough for the table. I've included an affiliate link for your convenience.
In leu of flour tortillas, this Cornbread recipe is also great served alongside my recipe for Hatch Green Chile with Pork. What a great combo.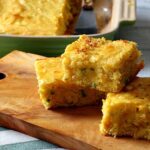 Super Moist Jalapeno Buttermilk Cornbread
You'd almost swear there was pudding in this recipe. Using creamed corn and Munster cheese is the secret to this super moist cornbread recipe.
Ingredients
1

cup

yellow corn meal

1

cup

unbleached all-purpose flour

1/3

cup

sugar

1

Tablespoon

baking powder

1/2

teaspoon

salt

1/8

teaspoon

New Mexico Red Chile Powder

(optional)

2

large eggs

beaten

1

cup

buttermilk

3

Tablespoons

canola oil

1-14 1/2

ounce

can creamed corn

a little of the liquid drained

1

cup

shredded muenster cheese

2

medium

jalapenos

deseeded, chopped
Instructions
Preheat oven to 375. Combine the cornmeal, flour, sugar, baking powder and salt in a mixing bowl. Also add chile powder if using. (Use a pure chile powder, not chili seasoning as you would put in a pot of chili)

In a separate bowl, whisk together the eggs, milk, and oil.

Gently fold the liquid ingredients into the dry ingredients until a batter is formed. Fold in the corn, cheese, and jalapenos.

Pour batter into a lightly greased 8-inch square baking pan. Bake for 20-25 minutes, until the crust is light-brown and a toothpick inserted in the center comes out clean. Remove from the heat and let cool a few minutes.
Recipe Notes
Remove seeds and most of veins from the jalapeno. This will control the heat level.
You can also use cheddar or Monterey Jack Cheese instead of the Muenster.
Looking for other Southwestern recipe ideas? You won't want to miss:
Speaking of Southwestern Inspired: This is my friend Linda and our little Z. Zia is our little Yorkie, whose name, soon after joining our family, was abbreviated to simply Z.  Zia hails from New Mexico, and as her sun symbol name implies, is a ray of sunshine in our life. This photo is Linda holding puppy Zia the day LeRoy delivered all 2 pounds of her to Colorado.