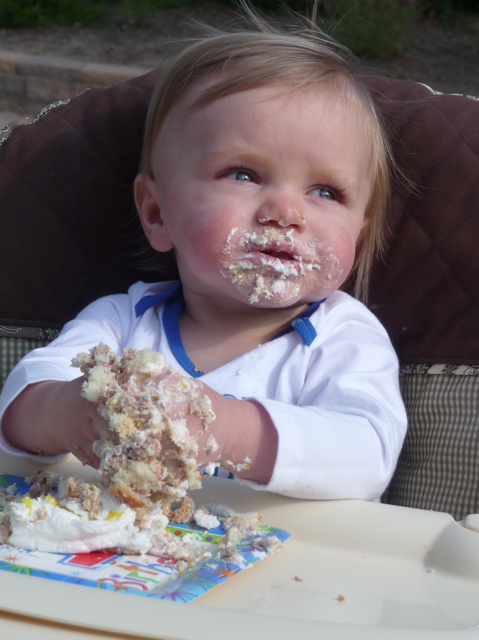 A couple of weekends ago we attended Connor's 1 year birthday party. As you can see, our guest of honor got to have his cake and smear it too. He was sporting a Bronco's Jersey, but that was removed to reveal his cake-smearing shirt. Parents Greg and Cauleen rented the Pavillion at Northridge Park in Highlands Ranch and along with an unbelievable buffet of food, gorgeous fall weather, balloons, and lots of friends, we celebrated the first year of Connor's life.
Greg uncovered a large tray of the most delicious looking pulled pork. I immediately asked "did you make that?"  He said "yes".  Not only did it look scrumptious, it was scrumptious, the most melt in your mouth, tender, wonderful tasting pulled pork that I have ever had. So full of many different flavors. Being the opportunistic blogger that I am, I asked for the recipe.
Greg is in the hotel management business. It seems he was in Vail visiting one of their properties, the Manor Vail Resort. He mentioned to the chef about cooking for Connor's birthday party crowd and this recipe was offered up.  This dish is compliments Executive Chef, Richard Bailey, at Manor Vail Resort, Vail, CO. I did get permission from Chef Bailey to reprint this recipe and share it all with you. Thank you Chef  Bailey.  Take a look at their website:  http://www.manorvail.com/vail-colorado-dining.php , bookmark it, and the next time you're planning a trip to Vail plan to stay at the Manor Vail.
Safeway had pork shoulder roasts on sale for 99 cents per pound, so let's prepare Chef Richard Bailey's pulled pork.
We start with the brine process.  I brined two 4 to 5 pound pork shoulder roasts in this mixture.  Use bone-in roasts for more flavor.
2 gallons water
2 c. brown sugar
1 c. salt
12 T. black pepper
6 cinnamon sticks
8 t. sage
2 carrots
1 onion
2 celery
8 bay leafs
2 oranges
2 limes
2 lemons
In a huge soup kettle bring the brine mixture to a boil, turn down heat and simmer for 10 minutes.  Remove from heat and let stand until liquid is at room temperature. This took over an hour to cool.  Chef tells us that if you place the meat in the hot brine, it will toughen. When the brine has cooled, add the roasts, refrigerate and let cure for 24 hours.
The next morning at 0 dark thirty, preheat oven to 225 degrees. I ladled two big scoops of the brine in the bottom of the roaster pan, just to create a little steam bath (Greg's idea, I'm telling ya, he's not just another pretty face).  Sear the roasts on each side.  Place roasts in roasting rack, cover with foil and bake 10 hours.
Shred meat as soon as it is cool enough to touch.
I prepared some Cole Slaw and made up some little pulled pork sliders. I like to use Sara Lee dinner rolls for sliders. Served with a nice green salad, it made for a delicious little meal.
I call my cole slaw:  Sarge's Slaw. Years ago, I found a recipe for the The Original Colonel's Kentucky Fried Chicken's cole slaw. I tinkered with it and renamed it.
I used my mandolin to shred the carrots and cabbage.
Add lemon juice to the mayo and buttermilk mixture.
I didn't have celery salt, so used celery seed.
Pour creamy mixture over the shredded slaw and carrots. At this point I don't even taste test the mixture. Just fold all ingredients, cover and refrigerate for a couple of hours to let the flavors marry. Then I taste test to get it  just like I want it. Adjusting sugar, vinegar, salt, pepper or whatever it needs to be to your liking.
Sarge's Cole Slaw
8 cups shredded cabbage
1/2 cup shredded carrots
2 Tbs onion — finely chopped
1/4 cup sugar
salt/pepper
1/4 cup milk
1/2 cup mayonnaise
1/4 cup buttermilk
2 Tbs vinegar
1 Tbs lemon juice
1/2 tsp celery salt