I'll never forget inviting the in-laws over for dinner and my mother-in-law exclaiming, "This chicken is pretty good for being burnt".  Yup, cooked too much on the outside to make sure the inside was done. Thus started my quest for a recipe that would produce perfectly grilled chicken .. EVERY time.
Don't you just get flat out grumpy when you've slaved over the hot grill, turning, moving, babying each piece of chicken only to bite into a thigh to find that pinkish, not quite done, odd texture thing going on? Shudder. And the darn think looks cooked on the outside.
This grilled chicken recipe turns out great every time, and it's wonderful, and I mean "eat like a starved wild animal" good.  Let's take a look!
I always buy a whole fryer and with a good sharp knife, cut it in half. To do that simply remove the back bone. This avoids grilling different sized pieces of chicken. Result will be even grilling. My prayers answered.
Next I use a dry rub that doesn't contain sugar. I like that to avoid burning. Spread the dry rub in every nook and cranny and on the skin of the chicken.  Do this three hours before grilling.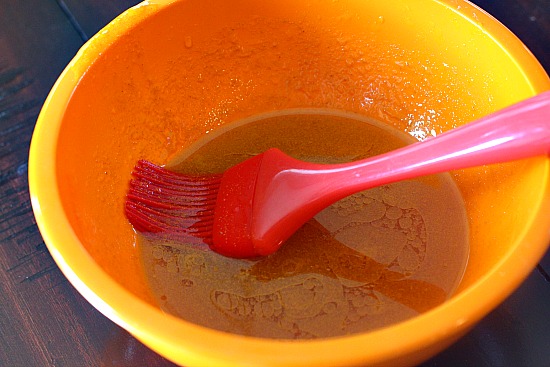 And finally a good basting sauce with vinegar, oil, turmeric for color, lemon juice and a drop of liquid smoke. Bring the chicken to room temperature and grill and baste according to directions below. Finish with your favorite BBQ Sauce and dig in.
We happen to prefer Stubbs BBQ Sauces. Also great for this Grilled Country Style Pork Rib recipe, Campfire Ribs. 
We served this chicken with Bobby Flay's Grilled Sweet Potatoes.

The Best Grilled Chicken Ever … It's what's for Dinner.