Orange Spiced Pork Tacos. Pork roast that's been sprinkled with a chile-lime seasoning, slow roasted, shredded and then tossed in a spicy orange tomato sauce. So flavorful, all it needed was a dollop of sour cream and a slice of avocado.
With temperatures over a hundred degrees for days on end, I just couldn't bring myself to stand over a hot grill on the blistering back deck, so chose to stay cooped up in the air conditioned kitchen with blinds pulled to keep out any sliver of sunshine, ceiling fans at warp speed and a pork shoulder roast in the oven.
My friend Cauleen has been raving about a spice she bought over at Savory Spice Shop, Peruvian Chile Lime seasoning. She's been stirring it into ground beef dishes, rubbing it on chicken and what not, so naturally I had to give it a try. And sprinkling it over a pork shoulder roast sounded just right.
I'm a recipe follower, so when I actually come up with an original recipe, and one that's this edible, I'm pretty darn tickled. I wanted to use up ingredients on hand rather than run to the store in the searing heat. I had a can of tomato sauce, an orange that needed to be used, banana leaves in the freezer and some lingering Vidalia onions in the basement. Newly purchased corn tortillas from the weekend farmer's market, and sour cream, avocados and limes are always found in our kitchen. We were in business.
The banana leaves were just a bonus. Snugly wrapped around the roast before putting the lid on steams everything together wonderfully. If you don't have them, just roast the pork as you normally would. And no Savory Spice Peruvian Lime Seasoning? Just use your favorite chile seasoning and blend in the zest of one lime.
The savory pork was delicious infused with the zest of one orange and a few drops of orange oil. And spicy with red pepper flakes and chile seasoning, we loved it. And earthy red in color next to the bright green avocado and white cream, it was easy on the eyes.
More Pork Taco Recipes
Orange Spiced Pork Tacos
A citrus twist on pork tacos
Ingredients
1 3-4

pound

pork shoulder roast

3

Tablespoons

vegetable oil

2 – 3

tablespoons

Peruvian Chile Lime Seasoning

1

large

onion

sliced into rings

1/4

Cup

water

1

14 ounce can

tomato sauce

1/2

teaspoon

red pepper flakes

zest of one orange

1/8

teaspoon

infused orange oil

leaves

Banana

optional
Instructions
If using banana leaves place them in a Dutch oven or crockpot which has been lightly sprayed with Pam.

In a skillet heat oil until hot and brown pork roast on each side. Place pork roast on banana leaves and sprinkle the top with the Peruvian Lime Seasoning. Top with onion slices. Wrap leaves around pork. Pour water over the leaves. Cook pork roast in 350 degree oven for 3 hours, or 8 hours on low in crockpot.

When cooked, remove roast and let cool enough to shred meat with forks.

In the meantime, heat the tomato sauce, orange, orange zest and red pepper flakes in a skillet. Add the cooked pork and coat well.

Heat corn tortillas. Spoon some of the meat mixture on the tortillas. Simply place a dollop of sour cream on each taco and a slice of avocado. A squeeze of fresh lime is always welcome.
Looking for more classic Southwestern Pork Recipes, don't miss this award winning green chili with pork recipe: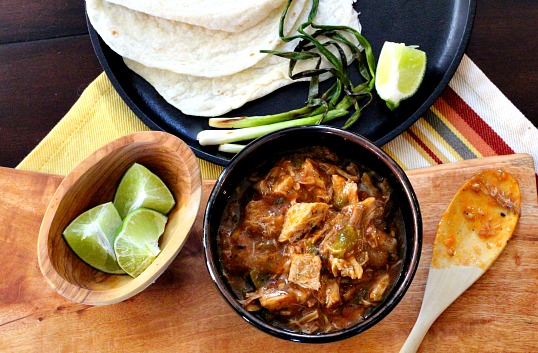 Orange Spiced Pork Tacos …It's What's for Dinner.
From the kitchen of Lea Ann Brown, Cooking On The Ranch