Maple Syrup and Candied Pecan Ice Cream.  Wonderful flavors.
My favorite dessert, hands down,  is ice cream.
Usually I'm a plain vanilla girl, but with the resurrection of my ice cream maker this summer (which has been sequestered in the basement for the last 5 years – another story, for now let's just say it was a case of ice cream maker behaving badly and leave it at that)  I've really enjoyed testing some new flavors.
About a month ago, I found a blogger up in Canada, Closet Cooking (that's the size of his kitchen). Kevin notes that he became bored of making the same things all the time.  Well, he has taken "trying new things" to a whole new level.  Take a look at his blog:  www.closetcooking.blogspot.com    "Kevin in Toronto" (as I call him) turns out recipe after recipe, day after day, week after week – he's a test kitchen poster child.
Our friends Dan and Teri came over Sunday night for some chili, some soup, some corn bread and some wine.  I served this for dessert and Dan said, "This is the best ice cream I've ever had".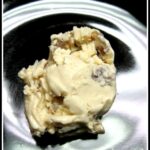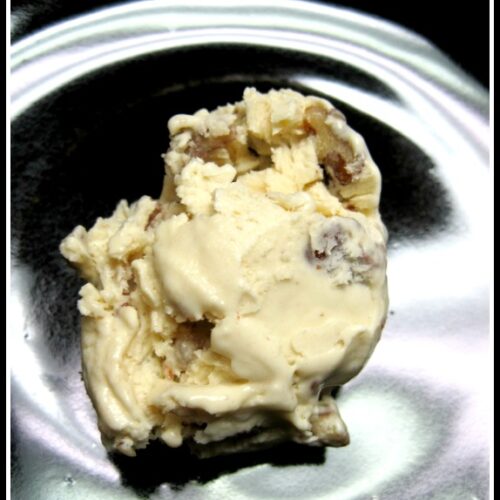 Maple Syrup and Candied Pecan Ice Cream
Ingredients
3/4

cup

pecans

roughly chopped

2

tablespoons

butter

2

tablespoons

brown sugar

3/4

cup

maple syrup

1

cup

heavy cream

1

cup

milk

4

egg yolks

1

splash bourbon

optional
Instructions
Melt the butter in a pan.

Add the pecans, toss to coat, sprinkle on the sugar and heat until the pecans are nice and toasted, about 3-4 minutes.

Remove the pecans from the heat and let cool completely.

Heat the maple syrup, cream and milk in a sauce pan until it almost boils, about 5 minutes.

Reduce the heat to low.

Temper the eggs and stir them into the cream.

Cook at low heat until it thickens and can coat the back of a spoon.

Remove from heat and stir in the bourbon.

You may want to strain the mixture at this point to remove any bits that may have formed while warming.

Chill the mixture in the fridge.

Freeze the maple custard and toasted pecans according to the instructions for your ice cream machine.
Maple Syrup and Candied Pecan Ice Cream…It's What's For Dessert.