French Cocktail Sauce. A French Version of a classic. This recipe tames your favorite Cocktail Sauce into a creamy treat for Shrimp Cocktail. A recipe from the famous Broadmoor Hotel and Resort in Colorado Springs.
We in Colorado seem to be living up to our reputation as a state that enjoys its weather on the wild side.
But even I, a diehard snow fan, have taken exception to our Spring blankets of white. Blanket after blanket…white…white…white. It seems like we're caught in a snow globe and some mean little kid just keeps shaking it. C'mon kid, I need some vitamin D.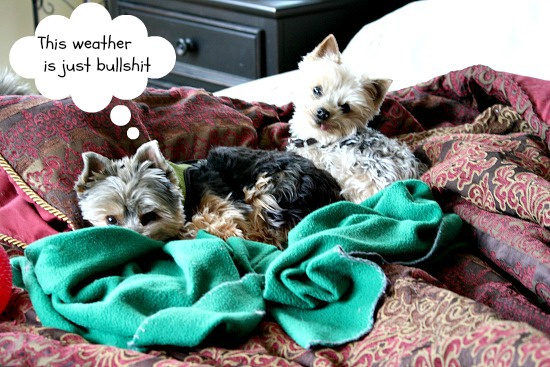 I've got dogs to walk…
Flowers to plant…
Burgers to grill. Actually there was a brief ray of sunshine last weekend that allowed me to grill up some taco burgers. Stay tuned for that recipe.
Once upon a time there was a sunny day in April and we celebrated my birthday with brunch at the Broadmoor. This is a great takeaway recipe from that buffet.
After interrogating the server about the ingredients, I made it successfully at home. I had asked her twice just to make sure I got the same story. It appears, as she said, that it's just shrimp cocktail sauce with the addition of creme fraiche and brandy. Thanks to The Broadmoor for sharing this popular brunch recipe.
I used my favorite Shrimp Cocktail Sauce recipe and you should use your favorite. Just add some brandy that's been simmered and reduced on the stove top and some creme fraiche. Blend well with a fork and …voila!
I served it at our monthly neighborhood wine tasting gathering and received many favorable comments and requests for the recipe.
Note: creme fraiche is a European soured cream. And less sour and thicker than our American sour cream. I can readily purchase it at King Soopers and Whole Foods. If you can't find it, you can substitute sour cream thinned with a little heavy cream.
French Cocktail Sauce
A creamy version of classic Shrimp Cocktail Sauce.
Ingredients
1

cup

traditional shrimp cocktail sauce

1/2

cup

brandy

1/2

cup

creme fraiche
Instructions
Prepare shrimp cocktail sauce recipe. Set aside. In a saucepan, add 1/2 cup brandy. With heat set on medium, bring brandy to a simmer and let cook until reduced to half. Watch closely because this can burn quickly.

In a bowl, add shrimp cocktail sauce, reduced brandy and 1/2 cup creme fraiche. Blend well and serve with chilled cooked peeled shrimp.
French Cocktail Sauce…It's a sassy Appetizer Sauce.
See that little bowl holding the French Shrimp Cocktail Sauce?
I bought these fabulous and inexpensive bowls during my last trip to Sur la Table. I swear I use them 2 – 3 times per week. They've become my current favorites. Slanted and adorable they're perfect for dips, sauces, olives or any appetizer you're looking to serve. If you're interested, you can purchase them from Amazon.
I have recently been approved to be an Amazon Affiliate partner. I do receive a small commission from your purchase, but at no additional cost to you.