Every August when Hatch Chiles are roasting in our markets, I make a couple of large batches of Hatch Green Chili to pack away in freezer containers to keep us warm until Spring. From what I read about Green Chili, no surprise that the dish originated in New Mexico. Traditional New Mexico Hatch Green Chili is a simple sauce or soup with seasonings and roasted Hatch Green Chile peppers. Heading North, it transforms into a thicker soup or stew with the addition of pork. Which is the only way I've ever made it.
Back in 1979 I had my first introduction to this incredible Southwestern treat when a coworker, petite, blond and Polish brought a crockpot full to an office pot luck. I hounded her for at least a year for her recipe but she would never give it to me. All I knew was that it was full of pork and green chiles. Keep in mind this was before computers and the wealth of resource we have at our fingertips…thanks Google.
With all that said, this recipe has developed into my own with many tweaks since 1979. And Joan Ceranowicz, wherever you are, thanks for the introduction.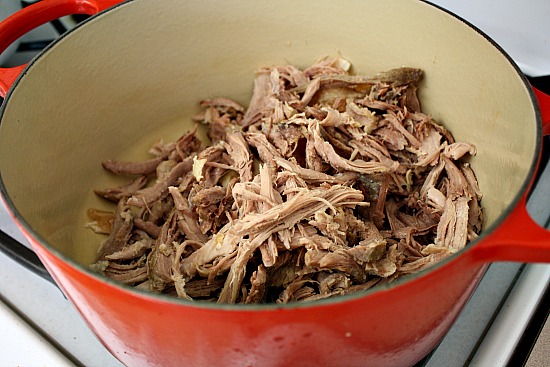 I start by roasting a four-pound pork shoulder roast in the oven, 350 degrees, three hours, simply seasoned with salt and pepper. When the roast is cool enough to handle I remove the fat, shred the meat, and place it into a large Dutch oven.
I chop the tops off fifteen roasted Hatch Green Chiles, remove some of the blistered skin and chop. Most of the seeds come out when you chop the top off. If you want to take the time to clean the peppers by removing the veins and all of the seeds, you'll have to split them open and scrape. I don't do that.
From here I add chicken broth and a can of (or fresh) tomatoes and my lineup of spices and let it simmer on low for at least an hour.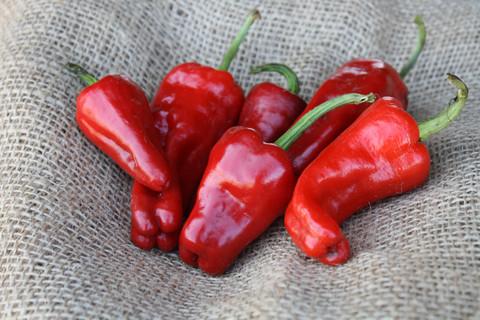 One of my recent additions has been a teaspoon of hot Chamayo Chili Powder for some additional excitement. The Native American Chimayo chile is a small chile, about five inches  long.  The lower part of the pod is bent and its stem top indents like a royal crown. The growing conditions in Chimayo New Mexico contribute to this chile pepper's distinct flavor and identity.
Make sure you're getting authentic Chimayo Chili Powder. If you read the ingredients, the package may indicate "New Mexico" chiles rather than Chimayo chiles which are grown in the village of Chimayo.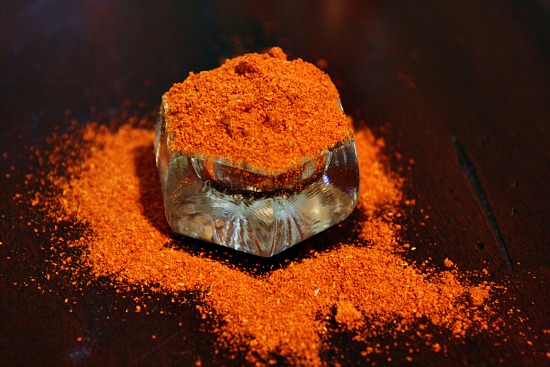 One way to identify authentic Chimayo Chili Powder is by its distinct pottery red-orange color. Native Chimayo chiles have medium heat and a smooth robust flavor with chocolate-like base tones.  The remarkable thing about the real Chimayo chile is the ability to age the chile under controlled conditions. When aged properly, the chiles flavor is refined like a fine wine. If you're interested, Saveur Magazine writes a great article about the village of Chamayo, it's history and it's culture.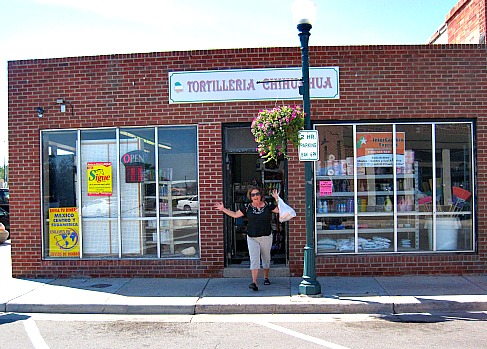 Simply serve the green chili with warm flour tortillas. If you're a local, my friend Heather and I discovered a great place to purchase freshly made flour tortillas. They're the best I've ever had. You can watch them making the tortillas behind the cash register and grabbing one of the warm bags of soft, fluffy fresh tortillas is a wonderful promise of goodness. Make sure you eat one while it's still warm on your drive back to Denver. The store is very small yet offers Mexican Spices, some canned goods, Coke in a bottle and Piñatas. Located in Brighton, it's worth the drive to Tortilleria Chihuahua.
Hatch Green Chili with Pork, Colorado Style…It's What's for Dinner.