A marinade of apple juice, cider vinegar and rosemary makes this the best and easiest grilled flank steak recipe ever. Tangy Flank Steak with Horseradish Cream Sauce = killer.
About 15 years ago I jumped on the flank steak bandwagon and this was the first recipe I tried using this "new to me" cut of meat. It turned me into an instant flank steak fan.
Hardly a day goes by that I don't cook, and even on the busiest of days, flank steak is a quick and delicious dinner fix. Flank steak is so versatile and it seems to soak up every delicious flavor morsel of any marinade or seasoning you toss its way. Even when the snow flies, if you own a grill pan, a flank steak is easily seared for about 5 – 7 minutes per side and dinner ready in a flash.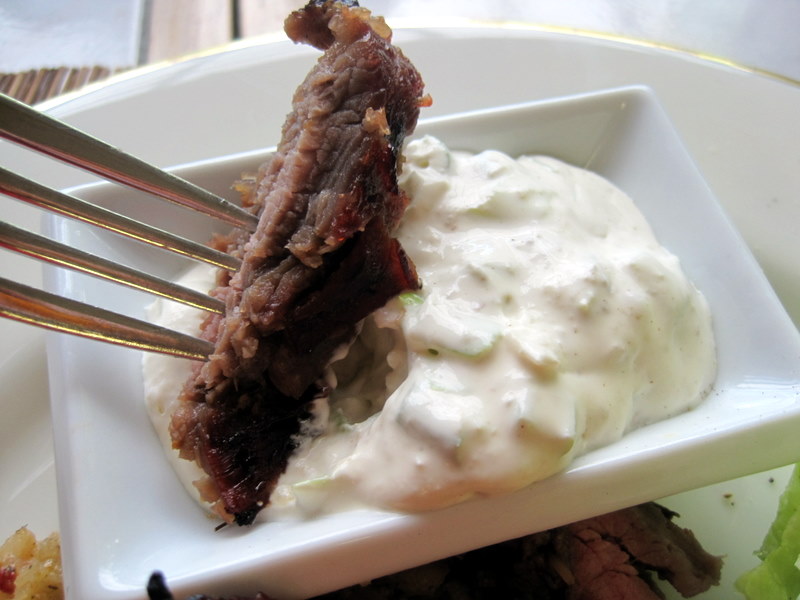 This recipe has such striking flavors. The marinade of cider vinegar, apple juice and rosemary brings a tangy treat to each bite, and when that flavor meats the cool creamy flavor of the creamy horseradish sauce, it's a wonderful sensation to the palate.
For this meal, I served the steak with a Wedge Salad drizzled with the best Creamiest Blue Cheese Dressing Recipe I've ever tasted.
Cool and refreshing and perfect with blue cheese flavor.
To keep things easy, the side dish is a box of  Lundberg's Tuscan Risotto.  I really like their products and always have a couple of boxes in the pantry. (I've included an affiliate link for your convenience)
Here are the recipes:
Enjoy…
Tangy Flank Steak with Horseradish Cream
The diamond scoring pattern on the steak allows more surface area for the marinade. To bring out the flavor even further don't forget the Horseradish Cream.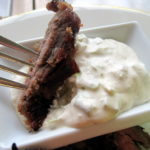 Tangy Flank Steak with Horseradish Cream Sauce
Easy and delicious, this is my go to flank steak recipe.
Ingredients
1

lean flank steak

1-pound

1/2

cup

cider vinegar

1/2

cup

thawed apple juice concentrate

undiluted

1

Tbs

chopped fresh or 1 teaspoon dried rosemary

3

Tbs

prepared horseradish

1

Tbs

Worcestershire sauce

Vegetable cooking spray

Horseradish Cream:

1/2

cup

sour cream

2

Tbs

chopped green onions

1

Tbs

prepared horseradish
Instructions
Trim fat from steak. Score a diamond pattern on both sides of steak. Combine steak and next 5 ingredients (steak through Worcestershire sauce) in a large heavy-duty zip-top plastic bag. Seal bag, and marinate in refrigerator 8-12 hours, turning bag occasionally. Remove steak from bag; discard marinade.

Prepare grill or broiler. Place steak on grill rack or broiler pan coated with cooking spray, and cook 7 minutes on each side or until steak is desired degree of doneness. Cut steak diagonally across the grain into thin slices. Serve steak with Horseradish Cream.

For the horshradish cream sauce: Mix all ingredients and refrigerate until ready to use.
Looking for more Grilled Flank Steak Recipes?  Take a look at:
Flank Steak With Horseradish Cream…It's Whats For Dinner.
One Year Ago:  Grilled Watermelon, Curry Shrimp and Mache Salad