Orange Ginger Flank Steak, a great citrus inspired meal. Easy flank steak dinner recipe. With orange and ginger you have a fresh flavored steak.
Grab a trusty flank steak and get to work. The end result is a wonderful fresh flavor and the orange and ginger really shine for a simple steak meal. A side of creamy poblano and chive mashed potatoes and you've got a wonderful dinner.
I've also served Smoked Paprika Home Fries with this flank steak and that makes a great combo.
I absolutely love cooking with flank steak. This long, flat steak comes from the belly-side of the steer. Lean and muscular. This means lots of flavor without much fat. But it also means you have to know a few tricks to make it tender and tasty. Most flank steak recipes call for a marinade to help tenderize. But even without a marinade, a flank steak is still a great choice. Usually a thin cut, it doesn't take long at all to cook. Just sear it over high heat about 5-7 minutes per side and then a 10 minute rest under foil.
The most important thing to know is how to cut it. Against the grain!  It creates shorter strands of tender meat instead of longer and chewy.
Let's take a look.
Orange Ginger Flank Steak
Course:
beef, Main Course
Ingredients
1/2

cup

maple syrup

2

cloves

garlic

zest and juice of 1 orange

1/2

inch

of grated ginger

1/4

cup

walnut oil

1

tsp

of crushed chili flakes

1

pound

flank steak
Instructions
Combine all ingredients and place in a gallon sized Zip Lock bag. Let marinade for at least 4 hours. Remove steak from bag and broil about 7 minutes per side. Remove steak from oven and tent with foil for 10 minutes before slicing.
For more tasty Flank Steak Recipes, Check These Out:
Grilled Flank Steak with Charred Caramelized Sweet Corn
Flank Steak with Chimichurri Sauce
Pan Seared Flank Steak Topped with Onion Marmalade
And my all time "go-to" favorite: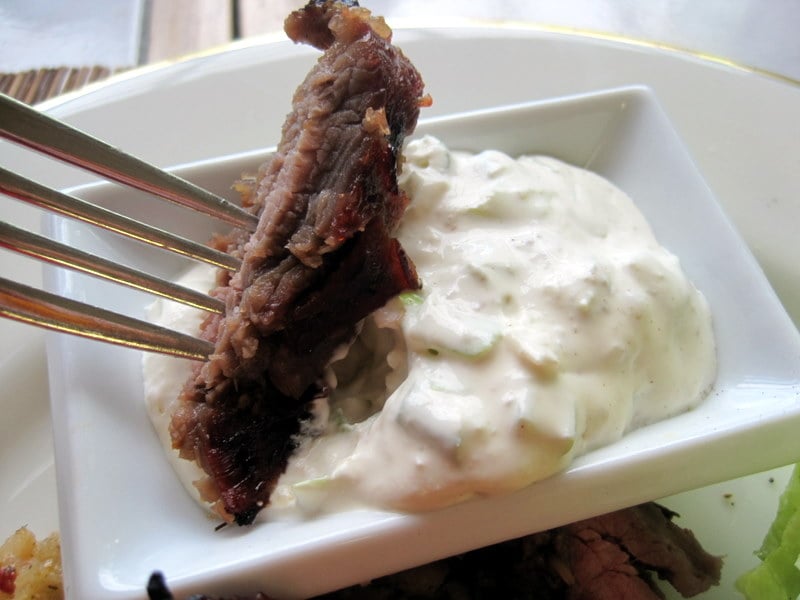 Orange Ginger Flank Steak …It's What's for Dinner.