Buffalo Burgers with caramelized onions.  The ground buffalo is flavored with onion, rosemary, thyme and Worcestershire sauce.  And with a dressing of BBQ sauce, ketchup and mayo, you've got a delicious version for a lower cholesterol burger.
I've always said that if I had to kill my own food, I'd be a vegetarian.
I've also always claimed that if I were a vegetarian I'd miss hamburgers so much that I'd kill a cow to get one, if I had to.
For Buffalo burgers???  I'll leave the killing of a bison to the experts.  I don't even think a konk on the head with my cast iron skillet would cause them to blink an eye.  Have you ever seen one of those things in real life?
They snort and they're big as all get out.  They're the bulldogs of the bovine world.
Did you know that there are about 500,000 bison in the United States and many thousands of them are right here in the Rocky Mountain region of Colorado, Utah, New Mexico and Wyoming?
Yes, I live in the Wild West and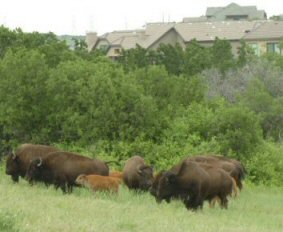 we have a small herd just a few miles south of Highlands Ranch and here's a picture of my neighbors.
I'd like to introduce you to (from left to right) that's  Bill, Joe and little Joey Jr….
Did you know that buffalo is lower in fat and cholesterol than beef, pork and chicken and even half the fat of turkey?
Ground buffalo is so lean you may need to turn your skillet down or spray it with non-stick spray.
4 tips for cooking buffalo:
Lower heat
Cook slower
Think Pink
Don't overcook
I rarely eat buffalo and honestly am not all that crazy about the idea of killing these majestic animals.  I did buy ground buffalo meat for this recipe.  If you've never eaten Buffalo, the taste is very similar to beef.
This recipe is a combination of great flavors that would work well for turkey burgers or hamburgers and the sauce would work in many situations.   I also liked the Marsala Wine method for the caramelized onions.  These burgers would be best grilled, but my Weber is still in hibernation, so I pan fried them in my cast iron skillet.
So with all that said here's the recipe:

Beer Pairing:  Lightly malted Colorado Golden Ale
Wine Pairing:  Malbec from Argentina would have the red and black fruits and the body to go well with the buffalo burger.
I'm certainly not an expert on cooking buffalo meat.  Did a little research and  here are my sources:
National Bison Association
Colorado Classique Cookbook
Maverick Ranch
Buffalo Burgers…It's What's For Dinner