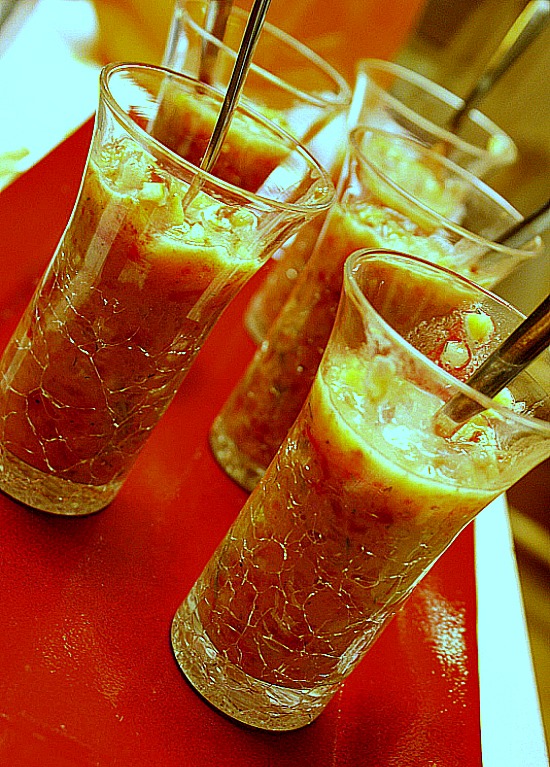 As you can see, the sun is mercifully setting on my back deck tapas dinner party.
I'll conclude this series with the last offering of these Spicy Gazpacho Shooters. I've never made gazpacho or for that matter never ordered it in a restaurant. I just can't wrap my arms around cold soups, I  like them hot, steamy and wafting with wonderful spices and aromas.
With all that said, I thought these little cold soup shooters would make a fresh and summery addition to the menu. And when I carried them out on my tomato red platter in my cute little crackly-glass shot glasses, I felt so clever and smug and could have cared less what the soup tasted like.
I Googled Gazpacho and the returns were all similar variations that included fresh vegetables, and always cucumber, tomato and bell peppers. I knew I wanted to kick mine up a bit and added jalapeno and a few shakes of Tabasco.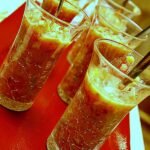 Spicy Gazpacho Shooters
Ingredients
Spicy Gazpacho Shooters

2 1/2

pounds

vine-ripened tomatoes

chopped

1

medium green bell pepper

chopped

1

medium red bell pepper

chopped

1

jalapeño

seeded and chopped

1

small onion

chopped

1

medium cucumber

peeled and chopped

3

large garlic cloves

minced and mashed to a paste with 3/4 teaspoon salt

hand full of crusty croutons

3

tablespoons

red-wine vinegar

3

tablespoons

olive oil
Instructions
Place all ingredients in a food processor and pulse a few times to blend. Chill until ready to serve.
Spicy Gazpacho Shooters…It's What's for a Summer Tapas Dinner.