Hand-pulled light and dark chicken, layered with spicy sausage and drizzled with Oatmeal Stout Barbeque Sauce. The sauce, is made with molasses, mustard and chili sauce. Add some Breckenridge Brewery Oatmeal Stout, with it's bold, full-bodied, dark coffee oozing aroma and you've got an unforgettable Beer-B-Q sauce.

It seems we love our craft beer in Colorado and it appears these small breweries won't be going away anytime soon. I read a 2016 report from the Denver Post that there are more than 350 breweries in the state who employ 7,776 people in 94 cities with industry sales at $882 million.
Craft beer hit my radar early in the game, thanks to Breckenridge Brewery. Breckenridge Brewery opened its doors in 1990 in the mountain town of Breckenridge, Colorado. It is the third-oldest craft brewery in the state. They then expanded to a location in Downtown Denver and then another south of Downtown on Kalamath Street.
Post update April 2017: Since I wrote this post in 2009, a lot has changed with Breckenridge Brewery. In the summer of 2015, a 12-acre stretch of land that was once a carnation farm became their new production home. Also, they've sold to Anheuser-Busch. Located on South Santa Fe, their new campus happens to be right in my back yard. It's a great place to visit, especially with out of town guests. You can tour the brewery, taste the beers, then have dinner in the adjacent Farmhouse restaurant.
This Kickin Chicken BBQ Sandwich was on the menu at their old location on Kalamath Street. I haven't seen this on their menu at the new location on Santa Fe. The BBQ Sauce made with their Oatmeal Stout beer is a true treat. With molasses, mustard and chili sauce = yum. Add some Breckenridge Brewery Oatmeal Stout, bold, full-bodied that oozes dark coffee aroma for an unforgettable BBQ sauce.
Kickin Chicken Sandwich with Spicy Sausage and Oatmeal Stout Beer-B-Q Sauce
Ingredients
For the sauce

1/2

cup

molasses

1/4

cup

mustard

1/2

cup

chili sauce

1

teaspoon

Worcestershire sauce

1/4

cup

powdered onion

1/2

teaspoon

salt

1/4

teaspoon

pepper

1/2

cup

Breckenridge Oatmeal Stout

1

pound

Cooked chicken

white and dark meat, hand shredded

1/2

pound

Spicy ground sausage

crumbled and cooked. Jimmy Dean works good here.
Instructions
Roast bone in, skin on chicken breast and chicken thighs in oven until cooked through. When done, let cool. Remove skin and meat from bones. Hand shred the meat. Add to the sauce, and mix until well coated.


For the sauce: Combine all the players in a small saucepan and bring to a boil. Reduce heat and simmer for 15 minutes.

To build to sandwich, place chicken on buns. Top with cooked sausage and don't forget that dill pickle.
The photos you see below are from their old location on Kalamath, which is now closed. Loved that place.
I know I've written alot about restaurant visits lately, which is not my planned focus for this blog.  I'm suppose to be talking about good recipes!  It seems we can go 6 months without eating out, then all of a sudden we're everywhere!  Not to worry,  we'll get over it soon and back in the kitchen.
When Bob and I scheduled lunch with Sean, we decided on Breckenridge Brewery (5th and Kalamath) since it's a short walk from Sean's Studio, Studio 12.
I was expecting a commercialized chain restaurant feel like Champs…..I'm not at all interested in that type of restaurant.   I was pleasantly surprised to walk into a cozy "local joint" feel brew pub.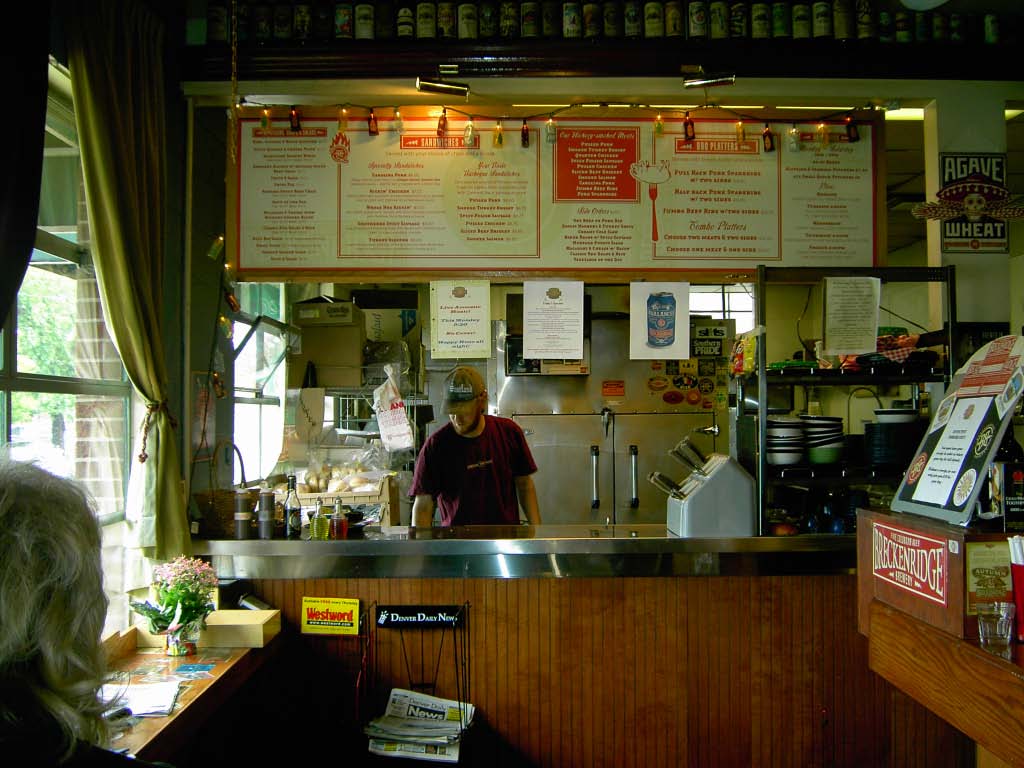 When you walk in the door, you make an immediate left to order at the counter.  The menu includes fun sounding selections such as: Kickin Chicken Sandwich, Whole Hog Kickin.  The "kickin" in these dishes referred to the addition of spicy sausage.  Sounds great.
Wanting to forego the "white bun" in my lunch, I ordered the very reasonably priced combo, one meat and one side for $5.50.  Bob and I opted for the Carolina Pork.   Talk about an explosion of flavor.  Hand pulled pork marinated in a vineager and spicy based sauce drizzled with their Oatmeal Stout Beer and topped with a serving of Cole Slaw.  Delicious and different than anything I've ever tasted.   Sean ordered the turkey with barbeque sauce and sides of green beans and macaroni cheese with bacon.  The mac and cheese looked wonderful…..it all looked very tasty.
I will return and next time I'll order the Kickin Chickin Sandwich, which is described as:  Hand-pulled light and dark chicken, layered with spicy sausage and drizzled with Oatmeal Stout Barbeque Sauce.  $7.00   Sean was also raving about their Friday special; signature smoked wings just 30 cents each.  Sean said he doesn't even like chicken wings but loves Breckenridge Brewery smoked wings.
I surprisingly liked Breckenridge Brewery.  A neighborhood barbecue restaurant featuring meats smoked daily in small batches to ensure freshness, using hickory soaked wood that's been soaked in their Oatmeal Stout.    And, a brew-pub with award winning beers.  I couldn't tell you anything about the beer, since I don't know the difference from lager and ale!  🙂
Looking for more recipes using Colorado Craft Beer?  How about this:
Kickin Chicken Sandwich with Breckenridge Brewery Oatmeal Stout BBQ Sauce … It's what's for Dinner