This Bacon Wrapped Shrimp Stuffed with Jalapeno appetizer is always a show stopper for any gathering.  And with a special dipping sauce, you've got to try this one.  AWESOME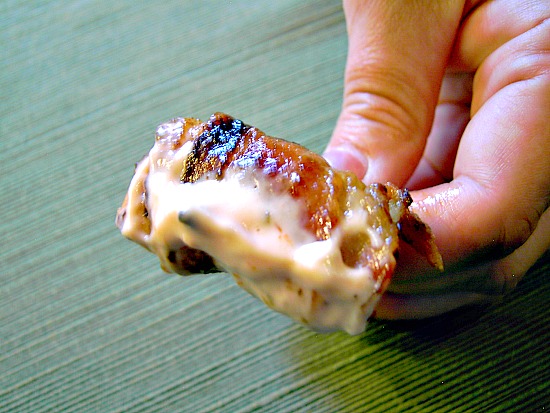 We all met up over at Tom and Kathy's house for a typical Highlands Ranch All-American backyard BBQ. To preface a great meal of beef kabobs, there were a couple of non-typical culinary highlights that merit mention.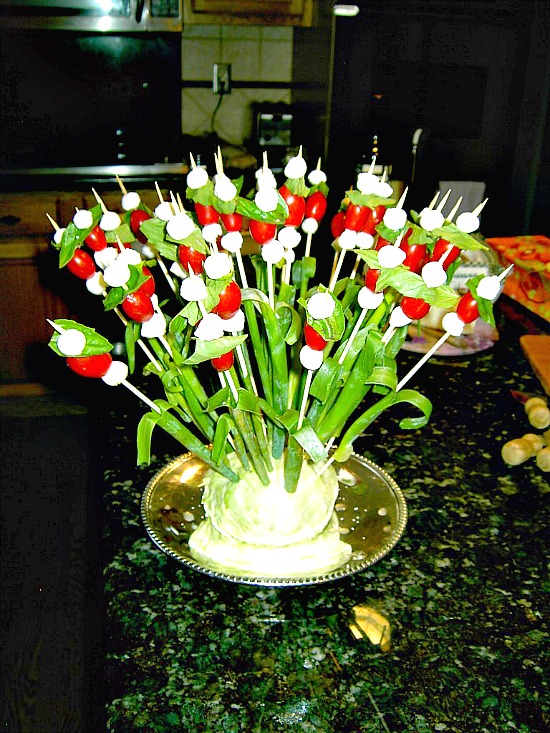 Honorable mention goes to the Caprese Skewers.  Ever since Tom and Kathy returned from a vacation in Italy a couple of years ago, Kathy has been the Caprese Queen.  She served her latest creation;  a head of cabbage cut in half and placed flat side down on a silver platter. Alternate small balls of fresh mozzarella, cherry tomatoes and basil leaves on long wood skewers. Pierce green onion stems with the skewers to make leaves for a great finishing touch.  Stick the skewers uniformly in the cabbage and serve with a bowl balsamic vinegar on the side for dipping, this is a great idea and a beautiful display that guests will love.
First prize also goes to Kathy for her consistently delicious Bacon wrapped Jalapeno Shrimp appetizer.  These can either be grilled or prepared in the oven.
We all agree we could eat these things every day, every meal.  I've made them and they're easy,  just a little time consuming to assemble, but well worth the effort. And they are a great make ahead shrimp appetizer. Just keep warm until ready to serve.
Looking for more appetizer recipes wrapped in bacon? Don't miss this one for Apples on Horseback.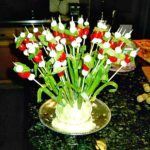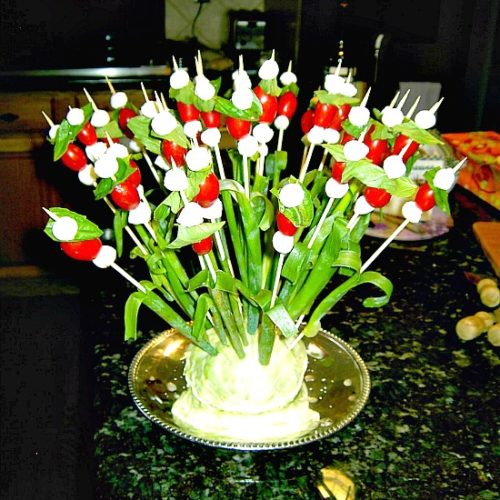 Bacon Wrapped Shrimp Stuffed with Jalapeno
Our favorite appetizer
Ingredients
24

medium shrimp -- shelled

deveined

1/3

cup

balsamic vinegar

24

wood toothpicks

12

slices

bacon

24

pickled jalapeno slices

1/2

cup

mayonnaise

1

Tbs

chili sauce

1

Tbs

sweet pickle relish

1

Tbs

minced red pepper
Instructions
Place shrimp and balsamic vinegar in a large resealable plastic bag. Refrigerate for about 15 min. Soak toothpicks in water while shrimp is marinating. Cut bacon in half, crosswise. Remove shrimp from marinade, reserving marinade. Put 1 piece of bacon on work surface, place on shrimp at the end, place one slice of jalapeno in the crook of the shrimp, roll and secure with toothpick.

Stir together mayo, chili sauce, pickle relish, red pepper and 1 T. water. Refrigerate until ready to use.

Broil or grill shrimp brushing with marinade 2-3 minutes. Turn, marinade again and cook another 2-3 min.
Looking For More Shrimp Appetizer Recipe Ideas?  How About:
So now more about this back yard BBQ:
Check out the Mourning Dove.  This little bird has chosen for her nest, a planter mounted on the side of the house,  right next the sliding glass doors that lead to the deck where we were having our party!  She didn't seem to mind all the grilling and party activities that were taking place right next to her.  Amazing.
The evening concluded with an ice cream cake to unofficially celebrate Brian's birthday.  Brian and Melanie were in Rome on his official birthday.  Kathy served it with some delicious ice cold Homemade Limoncello.   I don't know why I didn't take a picture, the bottle of Limoncello looked so deliciously frosty just out of the freezer.
Below you'll find a gallery of attendees.