Because we all need a perfect macaroni salad recipe!
This one will get you through every Summer pot luck and BBQ thrown your way.
We've been enjoying Summer-like temperatures for a couple of weeks now and before July melts into August, I wanted to share a recipe I found over at Pioneer Woman. She calls it the "best macaroni salad ever" and to me, it just may be perfect.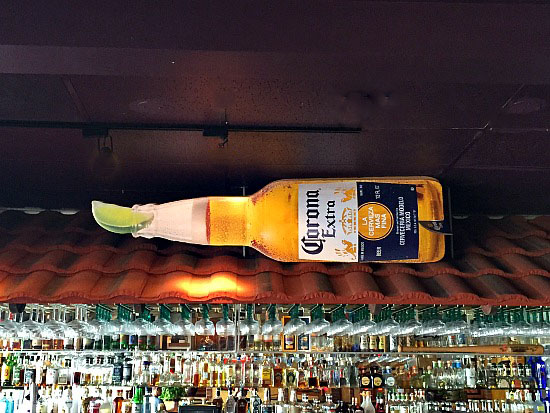 Summer food! Burgers, tomatoes, steaks, cucumbers, kabobs, sweet corn…what am I missing? How about a cold beer to swill it all down with?
Last week I was picking up lunch for our office at everyone's favorite Denver Mexican Restaurant, Los Dos Potrillos and while waiting on the order, couldn't resist taking a photo of Corona bottle lording over the bar area. This room sized Corona just might be the perfect quantity for those hot summer days.  And good news, Potrillos is moving soon to Highlands Ranch in the old Native New Yorker location. I sure hope the massive Corona bottle makes that move with them, along with that impressive collection of tequila bottles. 🙂
Back to Pioneer Woman's Best Macaroni Salad Ever. Why is it so good?
Not too heavy with mayo
Just right with red-wine vinegar
Tangy, sweet and spicy in a perfect way
There are black olives involved
There are pickles involved
Elbow macaroni – perfect Summer comfort pasta
I've tweaked her recipe every so slightly, substituting green onions with Vidalia, reducing the vinegar and adding a little it back in until it tasted right to me.
Pioneer Woman's Best Macaroni Salad Ever
Ingredients
4

cups

elbow macaroni

3

wholes roasted red peppers

chopped

1/2

cup

diced sweet and spicy pickle

1/2

cup

black olives

sliced

1/2

cup

sweet onion

diced

1/2

cup

mayonnaise

1

tablespoon

red wine vinegar

adding more to taste, up to 3 tablespoons

3

teaspoons

sugar

1/4

teaspoon

salt

plenty fresh ground black pepper

1/4

cup

half and half or milk

2

t

. pickle juice
Instructions
Cook macaroni in lightly salted water till done. Drain in a colander. Set aside.

Mix mayonnaise, vinegar, sugar, salt, pepper, milk and pickle juice in medium sized bowl.

In large bowl place cooked macaroni. Add about 3/4's of the mayonnaise mixture to the macaroni.

Next add the peppers, pickles, olives and onions. If needed, add the remaining dressing.

Add a splash of pickle juice to the salad. The salad dressing will thicken up after refrigeration.

Refrigerate for at least two hours before serving.
Pioneer Woman's Best Macaroni Salad Ever…It's what's for a Perfect Summer Side.