Bolita Beans simmered in red wine, smoked paprika, sweet bell pepper and garnished with crisp rings of fresh jalapeno. A delicious side dish for a Mexican Dinner.
Out of sheer curiosity I purchased a package of Bolita Beans at LuLu's Market in Brighton. Once home with my mysterious bag of beans, I Googled and found this out about the Bolita Bean.
Spanish settlers to the northern New Mexican region initially presented the Bolita Bean to North America. The bean was incorporated into much of the American Indian food traditions in the Four Corners region. With its high protein content and its general ease on the stomach, the Bolita Bean became an important crop, quickly becoming extensively cultivated throughout the American southwest. The beans are deep, pinkish-beige, almost salmon in color, and boast a taste richer in flavor than the Pinto bean, to which it is often compared. Unfortunately, because of this easy association, the Bolita Bean often looses out to the pinto bean in sales.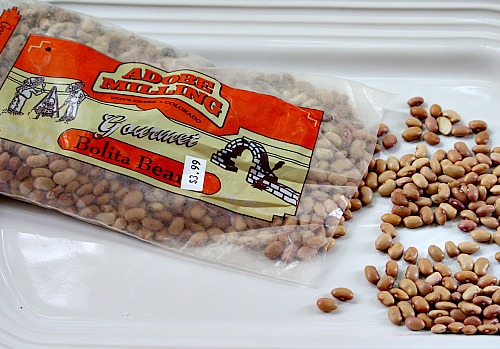 The beans are packaged by Adobe Milling, here in Dove Creek, Colorado. But where the heck is Dove Creek anyway?  Well come to find out it's the county seat of Dolores County in the Southwestern corner of our state. With a population 698 it's also the most populated town in Dolores County. Dove Creek is the self-proclaimed Pinto Bean Capital of the World. Well who knew!
So what to do with these beans? Treating them like my Cowboy Beans, I simply rinsed one cup of beans, picked out the misfits and dumped them in the crockpot. I covered them with two cups water and turned them on low for an all day cook.
Odd for our house, we had a partial bottle of red wine leftover, so when I arrived home, I added about 1/2 cup full-bodied red wine, one teaspoon smoked paprika, 1/2 onion chopped, one clove garlic chopped, 1/2 chocolate bell pepper chopped (or any sweet bell pepper), one jalapeno pepper chopped, one teaspoon, or more, of cumin, one teaspoon chopped fresh thyme, a dash of cinnamon and nutmeg.  After about an hour more of steeping in the crockpot, I gave them a good dose of salt before serving.
I found these rich colored Chocolate Bell Peppers at Berry Patch Farms in Brighton. Sweet, juicy, heirloom, just as the sign says, "who can resist?"
Incredible with flavor, the beans were creamy and the end result was an earthy pungent side dish that we loved. With the paprika, red wine and the chocolate bell peppers, the color was stunning.
Bolita Beans with Red Wine, Smoked Paprika and Jalapeno
A wonderfully seasoned dried bean side dish for any steak, or Mexican Meal.
Ingredients
1

cup

dried bolita beans

1

Tablespoon

lard

2

cups

water

1

teaspoon

cumin

1

teaspoon

smoked paprika

1

clove

garlic chopped

chopped

1

teaspoon

fresh thyme

chopped

1

dash

cinnamon

1

dash

nutmeg

1/2

cup

full-bodied red wine

1/2

onion

chopped

1/2

chocolate bell pepper

chopped, or any sweet bell pepper,

1-2

jalapeno pepper, divided

chopped. Stemmed and seeded if you wish to reduce heat.

salt to taste
Instructions
Rinse and pick through beans to remove any misfits.

Place beans, lard, and water in crockpot. Cover and cook on low 6-8 hours. Tenderness will depend on the freshness of the bean.

Add cumin, paprika, garlic, thyme, cinnamon, nutmeg, wine, onion and bell pepper. Remove stem and seeds from jalapeno (only if you want less heat) Chop half and add to beans and save the other half to garnish beans. Cover and continue to cook in crockpot for one hour.


Add salt and stir well. To serve plate and garnish with rings of jalapeno pepper.
Recipe Notes
Don't add salt when cooking any style of dried beans in the crockpot.  It can keep them from becoming tender. Add salt at the end to season.
Bolita Beans with Red Wine, Smoked Paprika and Jalapeño …It's What's for a Side Dish.
Looking for more ways to use Bolita Beans?  How about this: