Try this all-star, easy-to-follow Grilled Sweet Potatoes with Lime and Cilantro recipe from Bobby Flay. A great summer grilled side dish.
I just discovered grilling potatoes last summer and am loving every crispy smoky slice I've plated. Wanting to try grilling sweet potatoes, I Googled and the top recipe was this Bobby Flay Sweet Potato recipe grilled with Lime and Cilantro recipe.  I saw absolutely no reason to look any further.  Bobby Flay recipes never disappoint and I thought the lime and cilantro were a perfect combination for the sweet flavor.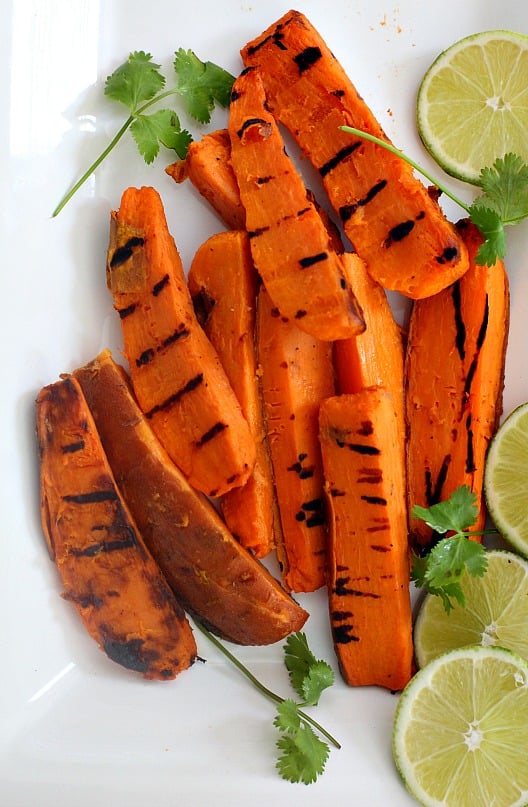 This somewhat put me in mind of one of the delicious Mexican snow cones I had in Tucson.  Sweet, salty, spicy and limey. How can you go wrong with that combination? We found these to be a delicious side dish for grilled chicken thighs and a fresh salad.  A wonderful summer meal.  The only thing I would change is to at least double the lime zest and the cayenne. Seemed like there wasn't enough to go around, and I only used one large sweet potato.  I'd also take the time to wedge and pre-cook before grilling.  That big orange paddle wasn't as attractive as the white potato paddles I grilled last week.  Let's take a look.

Bobby Flay's Grilled Sweet Potatoes with Lime and Cilantro…It's What's for a Summer Side Dish.