The best grilled chicken recipe ever. A delicious rub, a fabulous basting sauce and a fool-proof method for grilling chicken. And grilling chicken so it cooks evenly. This is your go-to Summer grilled chicken recipe. Just finish with your favorite BBQ Sauce and dig in.
I'll never forget inviting the in-laws over for dinner and my mother-in-law exclaiming, "This chicken is pretty good for being burnt". Yup, cooked too much on the outside to make sure the inside was done. Thus started my quest for a recipe that would produce perfectly grilled chicken .. EVERY time.
Don't you just get flat out grumpy when you've slaved over the hot grill, turning, moving, babying each piece of chicken only to bite into a thigh to find that pinkish, not quite done, odd texture thing going on? Shudder. And the darn think looks cooked on the outside.
This grilled chicken recipe turns out great every time, and it's wonderful, and I mean "eat like a starved wild animal" good. Let's take a look!
I always buy a whole fryer and with a good sharp knife, cut it in half. To do that simply remove the back bone. This avoids grilling different sized pieces of chicken. Result will be even grilling. My prayers answered.
Next I use a dry rub that doesn't contain sugar. I like that to avoid burning. Spread the dry rub in every nook and cranny and on the skin of the chicken. Do this three hours before grilling.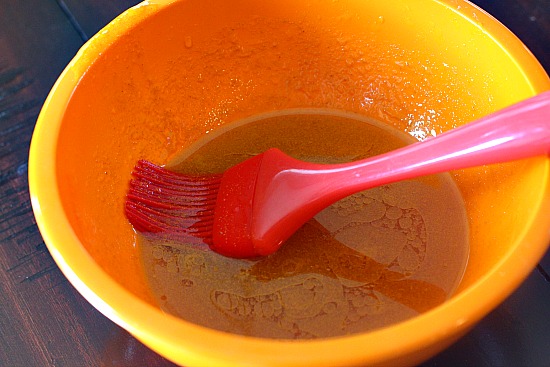 And finally a good basting sauce with vinegar, oil, turmeric for color, lemon juice and a drop of liquid smoke. Bring the chicken to room temperature and grill and baste according to directions below. Finish with your favorite BBQ Sauce and dig in.
We happen to prefer Stubbs BBQ Sauces. Also great for this Grilled Country Style Pork Rib recipe.
We served this chicken with Bobby Flay's Grilled Sweet Potatoes.
The Best Grilled Chicken Recipe
I hope you give this grilled chicken recipe a try. And if you do, please come back and let me know how you liked it and give the recipe a star rating.
Your feedback is valuable to me for developing future recipes. And if you have a recipe that your have labeled the best grilled chicken, let me know, I'd love to give it a try.
More grilled chicken recipes
And take a look at the most popular chicken recipe on my site; Easy Baked Chicken Parmesan. It's easy and it's fab.
And if you're looking for more chicken recipes, you won't want to miss my Chicken category. Lots of great ideas.
If you like this recipe and make it, snap a photo and share it on INSTAGRAM! Tag me @cookingontheranch so I can check it out and leave a comment!
The Best Grilled Chicken Recipe Ever
The best grilled chicken ever.
Course:
Main Course Chicken
Keyword:
Best Grilled Chicken
Ingredients
1

whole chicken

cut in half (backbone removed)

For the dry rub:

1

Tablespoon

seasoning salt

any brand

1

teaspoon

paprika

1/2

teaspoon

kosher salt

1/4

teaspoon

onion powder

1/4

teaspoon

chile powder

1/8

teaspoon

ground black pepper

1/8

teaspoon

ground turmeric

1/8

teaspoon

garlic powder

1/8

teaspoon

ground cumin

For the basting sauce:

1/2

cup

apple cider vinegar

1

Tablespoon

oil

1/2

teaspoon

kosher salt

1/4

teaspoon

turmeric

Juice of one lemon

1

drop

liquid smoke

no more than a drop, it's concentrated, optional

1

cup

BBQ Sauce

your favorite brand
Instructions
Cut the chicken in half by removing back bone. Your butcher can do this, or cut along side each side of the back bone and remove. This will avoid trying to grill different sized pieces of chicken.

Next take your fingers and loosen the skin in as many places as you can. Take the dry rub and rub all over chicken and under the skin. Do this three hours before grilling. And bring the chicken to room temperature before grilling.

Heat grill to 500 degrees. Lower heat to 350. I turn off the middle burner and cook chicken in the middle of the grill. Place both sides of chicken on grill. Using a grill brush, baste with basting sauce. Cover grill and cook for 15 minutes. Repeat this step 4 times for total cook time of 1 hours. Turning the chicken each time you baste.

When the hour is up, generously coat one side of chicken with your favorite BBQ or grilling sauce. Close lid and cook for 2 minutes, turn chicken and repeat. Cook two more minutes with grill lid closed.

Remove from grill and let sit 5 minutes before serving.
Nutrition Facts
The Best Grilled Chicken Recipe Ever
Amount Per Serving
Calories 573
Calories from Fat 297
% Daily Value*
Fat 33g51%
Cholesterol 143mg48%
Sodium 3198mg139%
Potassium 559mg16%
Carbohydrates 30g10%
Protein 36g72%
Vitamin A 710IU14%
Vitamin C 3.5mg4%
Calcium 45mg5%
Iron 2.4mg13%
* Percent Daily Values are based on a 2000 calorie diet.
The Best Grilled Chicken Ever … It's what's for Dinner.