This is a recipe for an elegant and easy chicken dish for entertaining. Baked Chicken Cordon Bleu with Apricot Brandy Sauce is fit for royalty.
If you're a regular reader, you'll remember that before Christmas I went to high tea at Cherokee Castle and Ranch. What a lovely experience and I came home with a great little cookbook written by Tweet Kimball's Chef and Butler. Tweet was Colorado's First Lady in cattle ranching, successfully introducing Santa Gertrudis Cattle to Colorado.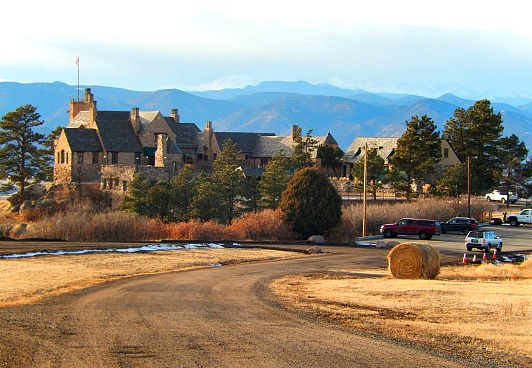 She loved to entertain and she happened to live in the stately Cherokee Castle just a few miles south of what is now Highlands Ranch.  You can read all about the property in my first post about the castle and our tour of the castle. I featured her recipe for Deviled Ham Canape Appetizer. High society locals were regularly invited to join her for dinner with world famous people like Winthrop Rockefeller and Princess Anne. I can even remember the news coverage when Princess Anne came to town.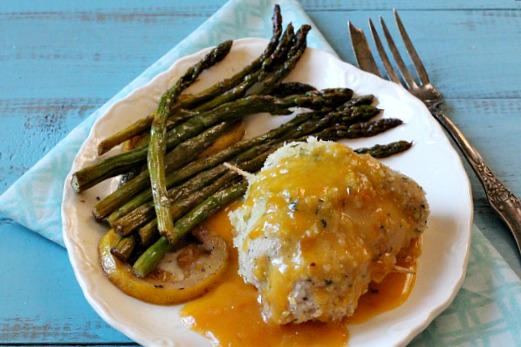 My latest adventure in cooking from this Colorado cookbook, which I've come to adore, is this recipe for Chicken Cordon Bleu with Apricot Brandy Sauce.
What an outstanding treat this is. And such an easy recipe for dinner party entertaining. Especially if you have a good source for pre-made Chicken Courdon Bleu. Which I do. My local specialty and meat market, Tony's Market on Dry Creek always has it, ready to bake. If you're going to make it at home I would always trust Tyler Florence and his recipe, or even Taste of Home always seems to a reliable source.
An easy sauce takes this classic Swiss recipe to a new level.  On the stove top, simply simmer some:
Good Quality Apricot Preserves
Brandy
butter
Lime Juice
That's all it takes for the big wow factor. The flavors compliment each other so well. The sweet, tangy, boozy apricot sauce is a nice partner for the salty ham, cheese and chicken. And how fun to tell your dinner guests that Tweet Kimball served this for Princess Anne. With a simple side dish of sauteed asparagus with lemon, we thought this was a very nice meal. Let's take a look:
Recipe for Baked Chicken Cordon Bleu with Apricot Brandy Sauce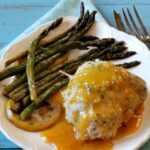 Chicken Cordon Bleu with Apricot Brandy Sauce
A beautiful recipe for dinner party entertaining. And easy if you have fresh ready to bake Chicken Cordon Bleu available for purchase.

Course:
Main Course Chicken
Ingredients
8

bundles

Prepared Chicken Cordon Bleu Bundles

1

small jar

Apricot Preserves

6

Tablespoons

butter

1/3

cup

brandy

regular, peach or apricot flavored

2

tablespoons

lime juice
Instructions
Cook Chicken Cordon Bleu according to instructions.


Meanwhile, in a small saucepan, melt butter and the rest of the ingredients. Cook until hot and well mixed.


Drizzle the cooked cordon bleu's with the hot apricot brandy sauce and serve immediately.

Chicken Cordon Bleu With Apricot Brandy Sauce …It's what's for Dinner.
Looking for other chicken recipes that are entertaining worthy. My guests always rave about this Galliano Liqueur sauced baked chicken dish. With Prosciutto and Boursin Cheese wrapped inside, this is a delicious recipe.