Swiss and Mushroom mac and cheese will become one of your favorites. If we could eat happiness, it would be Mac and Cheese. This easy stovetop recipe made creamy with a Swiss Cheese Sauce and Savory with Mushrooms. 
Swiss Cheese. I hold this hole-ridden treat in adoration as it's given me many great pots of fondue, added the perfect compliment to a simple turkey sandwich and has caused me to swoon when combined with mushrooms as a topping for a burger.
Not to mention a fabulous partner for cauliflower for this Creamy Swiss Cheese Cauliflower side dish. It's mild and sweet and offers a lot to love.
Best Swiss cheese to use for Macaroni and Cheese
And my favorite brand? Jarlsberg of course. Jarlsberg is marketed as Swiss cheese because of it's characteristics, but it tends to be sweeter and stronger. And it melts wonderfully.
So grab a package of Jarlsberg Swiss Cheese from the deli, pick up a pint of mushrooms, and all you need is some butter and milk and your favorite mac and cheese pasta.  And you'll stir up one of the best mac and cheese dishes you've ever had.
Mushrooms and Swiss, classic partners, combined with a white sauce and pasta was a perfect side dish for our floured and fried boneless skinless chicken thighs …which are an indulgent story all their own.
Pasta Water … It's Gold
I credit the creamy consistency of this dish to reserved pasta water which was added to the white sauce. Why? This soupy water that you throw down the drain is a miracle ingredient. It contains essential starch that can be used to adjust sauce or gravy, to thin or thicken. I learned this trick years ago from my Mother. She also used reserved water from boiled potatoes to make the most delicious fried chicken gravy.
Recipe for Swiss and Mushroom Mac and Cheese
I hope you give this Swiss and mushroom mac and cheese recipe a try. And if you do, please come back and let me know how you liked it and give the recipe a star rating.
Your feedback is valuable to me for developing future recipes. And if you have a favorite macaroni and cheese recipe, let me know, I'd love to give it a try.
>> Follow me on Pinterest, Facebook and Instagram for latest recipe updates!
If you like this recipe and make it, snap a photo and share it on INSTAGRAM! Tag me @cookingontheranch so I can check it out and leave a comment! 
Buttery Creamy Swiss and Mushroom Mac and Cheese
Ingredients
2

T

. unsalted butter

1

T

. Olive oil

1

pint

container of sliced mushrooms

1/2

t

. salt

2

T

. butter

3

T

. flour

1

cup

milk

4

ounces

Jarlsberg Swiss cheese

reserved pasta water

1/2

pound

elbow macaroni
Instructions
For the mushrooms: In a fry pan, melt 2 tablespoons butter over medium heat. Add sliced mushrooms, sprinkle with salt and saute until the moisture evaporates and mushrooms are just starting to brown. Remove from heat and set aside.

For the white sauce: Combine olive oil and butter in a sauce pan over medium heat. When butter is melted and starting to bubble add the flour and cook stirring constantly. Sprinkle in a little more flour if needed to make a thick roux. Cook for about a minute and a half. Add the milk and stir until the sauce thickens. Add cheese and blend well. Season with salt and pepper.

Cook pasta according to package instructions. Right before draining the pasta, reserve about a cup of the hot pasta water. Drain the pasta and mix it with the white sauce. Add the mushrooms. Mix everything together well while drizzling in some of the reserved pasta water until you reach that perfect creamy consistency.
Looking for more Creamy Mac and Cheese recipes?  Take a look at:
Beer Mac and Cheese with Red Chile Buttermilk Ranch Dressing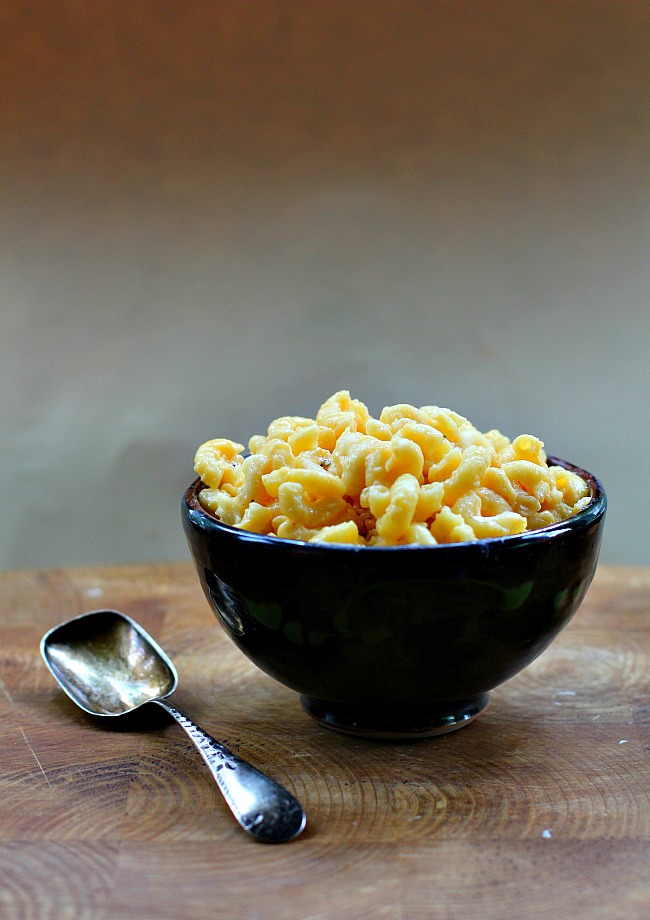 Creamy Swiss and Mushroom Mac and Cheese …It's what's for a Side Dish.