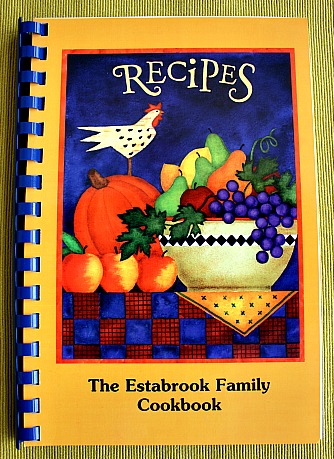 I compiled The Estabrook Family Cookbook over ten years ago. I nagged my Mother's side of the family; aunts, uncles, 1st, 2nd and 3rd cousins until I had enough recipes to create a respectable sampling of the food that graced our family tables while we were growing up. It was also a mission to capture some of my mother and aunts' dishes. You know the ones. When you ask how they made it, the answer was that recipe had never been written down.
I'm surprised at myself that I've only blogged about a couple of recipes from this book. Well, that's going to change as I'll be posting a series of recipes from our family cookbook. First up is this Hearty Pea Salad. It's one of the recipes that my cousin Chuck submitted. Chuck was the son of my Aunt Lena and Uncle Frank. They farmed land near Abbyville, Kansas, (population 87). It's about eight miles from our family farm. Our families spent a lot of time together when I was growing up.
Chuck now lives in  Kremlin, Oklahoma where he and Kim live and farm their family ranch/farm.
I didn't remember this dish at family gatherings, so I sent a message off to Kim to inquire about it's origin. She said they found it in some old church cookbook and tweaked it to their liking. I published this cookbook in 2003. Being a pea fan, I sticky noted it immediately. And now ten years later, I'm just now getting around to giving it a try. My loss for the lapse in time. It's delicious and it went straight into my permanent database.
Growing up, the term "Salad Dressing" in our family, always referred to Miracle Whip. I usually have some on hand, but used mayonnaise for this batch. Creamy with mayonnaise, crunchy with bacon bits, and chewy with small cubes of sharp Tillamook Cheddar Cheese, seasoned with celery and sweet pickles, this is a great side dish for any entree.
And you can't go wrong serving it with a grilled burger. Thanks Chuck and Kim for this recipe.
Hearty Pea Salad, Kansas Cook'n
Ingredients
16

ounces

frozen peas

cooked, drained

6

ounces

small cubed Cheddar Cheese

mild or sharp

3

hard cooked eggs

chopped

1

C

chopped celery

1/2

C

chopped sweet pickles

2

slices

bacon

cooked and crumbled (my addition)

2

T

Cream

1/2

C

Miracle Whip

Salt and Pepper to taste
Instructions
Combine first 6 ingredients, (peas through bacon). Mix cream and salad dressing. Stir dressing and salt into salad mixture. Chill overnight.
Hearty Pea Salad…It's What's for a Side dish.