Keeping the stew simple and savory, you can pass chopped tomato, onions, cilantro, jalapenos and lime wedges at the table to add an array of fresh flavors to finish.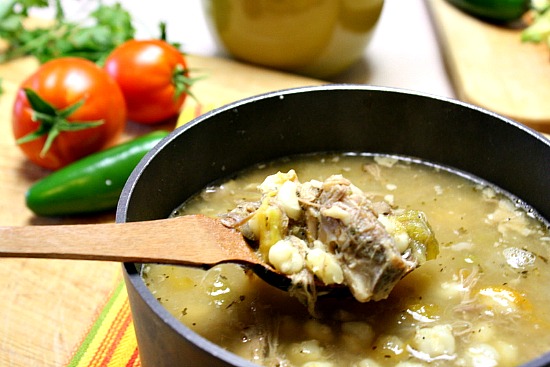 Elk Jam. Definition:
— noun
A large number of vehicles stopping alongside a road to view elk, becoming so obstructed that they can scarcely move
Elk-jammed
— adjective
The definition is just in case you read the title and visualized me preparing something really odd using ground elk meat, pectin, sugar and cute little canning jars.
We've just returned from a few days in Estes Park, which is 2-1/2 hours northwest of Denver and  just a few miles from the East Entrance to Rocky Mountain National Park. This time of year the population of rutting elk outnumber the population of tourists…but just barely. This is a photo of an elk jam along a roadway in Rocky Mountain National Park. As you can see, they can stop traffic and draw a crowd. Abandoning vehicles, vying for position, cameras clicking, we are officially the Elk Paparazzi.
 Remember this guy?  Less than a month ago,  I posted a photo of this male elk lazily grazing the tundra high above timberline in Rocky Mountain National Park.  He seems innocent enough, doesn't he?
He and thousands of others have now migrated to lower montane meadows, and are are now aggressively involved in the mating season called "the rut".  They often gather alongside roadways in the park offering us excellent close-up views of their yearly ritual…which can certainly be described as a spectacle.
It was interesting to watch this bull show off his impressive herding expertise. Proudly displaying antlers, bugling, and keeping a watchful eye on the females, he was clearly in command. If a female wandered a bit too far for his comfort level, he would lower his head and charge at her. She would calmly saunter back to rejoin the group, acting as if the drama were totally unnecessary. Mission accomplished, harem was closely gathered.
I've never seen it, but competition between males can occur. Wannabe studs will challenge another male for his herd resulting in a fierce match, each charging the other using their huge antlers for an intense sparring match. Park Rangers told me they had not seen any conflicts yet this season. I was secretly hoping for a front row seat for a rip-snorting conflict.
The typical bugle of the bull elk is a surprising, distinctive sound that begins deep and resonant, and becomes a high pitched squeal before ending in a succession of grunts. These calls can be heard from just before dusk to dawn.
The elk even invade the town of Estes Park. We came across this small herd grazing along the golf course. It was a little unnerving trying to navigate the walking path in route to a nearby nature preserve.  And did I mention we had two small dogs in tow, who thankfully watched in amazement without one growl or bark. We gingerly edged by the group without incident, even though signs warn they can be aggressive if approached too closely and that they "DO NOT TOLERATE DOGS". I did watch this male charge a fast passing bicyclist. That certainly got our attention and we quickly moved on.
We stayed at a cabin complex, Sunnyside Knoll, just a few miles from the park entrance and enjoyed three days of nature watching, relaxation and scenery.  The cabin was nestled up against an impressive rock outcropping called Marmot Ridge. Nestled in the pines, it seemed like the perfect mountain retreat.
And food?  You bet! I wouldn't think of celebrating the season without a steamy bowl of soup. I prepared a big pot of Posole at home for travel to the cabin. A perfect meal for a cold crisp mountain evening.  Let's take a look.
I'll leave you with this shot of Morraine Park in Fall.
Simple Posole…It's What's for Elk Watching in Rocky Mountain National Park.