Earthy and Wonderful with flavor. Homemade Red Chile Sauce made from dried chile peppers Perfect sauce for Tamales or Enchiladas.
My love for Mexican food is always elevated to a new level when a recipe like this is shared. Rosa is my former next door neighbor and an excellent source for Mexican specialities and authentic Mexican food. So, I'm taking her lead and my intuition for this New Mexico Red Chile Sauce recipe.
Made from three kinds of dried chile peppers this is her recipe that she uses for homemade Tamales. It can also be used for enchiladas. I've added some New Mexico flair to her version, to make my versiojn.
I'll never forget when Miguel, Rosa's husband popped up over the fence and offered us fresh grilled Carne Asada that was simply placed in a warm flour tortilla alongside a grilled jalapeno. Heaven. That's when the food conversations started. I've been to two of Rosa's Tamale making demonstrations and so much appreciate her knowledge of authentic recipes like this one.
This sauce is amazing. The flavors of the dried chiles amaze the palate and bring ground meat to life, and the color is a vibrant brick. The sauce alone is a very strong flavor, but once combined with your tamales or enchiladas, it's a beautiful thing.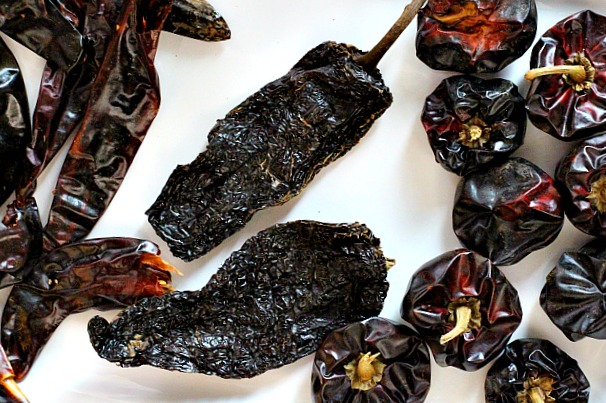 What Dried Chile Peppers Are Used for New Mexico Red Chile Sauce for Tamales?
I use Dried Guajillo Peppers. As this is what Rosa uses. Guajillo are the most commonly used peppers in Mexican Cuisine. They are dried Mirasol chiles. The heat is considered to be mild to medium. PepperScale outlines the flavor profile perfectly.
And it wouldn't be New Mexico Red Chile Sauce without New Mexico Dried Chile. Most famous are Hatch Chile, a variety of peppers grown in the Hatch Valley. Dried Chile Peppers can come from anywhere in New Mexico. I like to describe the heat of a New Mexico chile as crisp and clear, and the flavor earthy and sweet.
The last time we visited Taos and Santa Fe, I brought home a passel of dried chiles.
A note, this recipe calls for dried Pasilla Chile Peppers. Those are hot, so you may want to only use a couple. I've included affiliate links for your convenience.
I've also thrown in a couple of Buena Mulatas and few Nora Peppers. All bringing a bit if difference in the end flavor result. And all bring a deliciousness of their own.
Recipe for Homemade New Mexico Red Chile Sauce For Tamales
I hope you give this homemade New Mexico Red Chile Sauce recipe a try. And if you do, please come back and let me know how you liked it and give the recipe a star rating.
Your feedback is valuable to me for developing future recipes. And if you have a favorite recipe dried chile peppers, let me know, I'd love to give it a try.
Homemade Red Chile Sauce for Tamales
Earthy and Wonderful with flavor. Homemade Red Chile Sauce made from dried chile peppers Perfect sauce for Tamales or Enchiladas.

Ingredients
15

dried

Guajillo Chile

15

dried

New Mexico Dried Chile

2-3

dried

Pasilla Chile

1

small

onion

rough chopped

3

garlic cloves

1

Tablespoon

whole cumin seed

toasted

2

teaspoon

Mexican Oregano

1/2

teaspoon

salt

3

cups

chicken broth

1

cup

water from boiled chile
Instructions
Remove the tops of the chiles and shake out as much of the seeds as possible. In a large pot, add chiles, spices, onion and garlic cloves Add enough water to cover. Cover and cook on low for about an hour.

Once the chiles have cooled some, and are soft, in batches transfer to a food processor. Use a slotted spoon to make sure you get the spices and the garlic. Puree until smooth adding some of the chicken broth and the chle water to each batch.

Place a strainer over a large bowl. Pour the pureed chile sauce into the strainer and with the back of a wooden spoon, push the mixture through the strainer to remove skins, remaining seeds and any chunks of spices.

Once the chile mixture is strained, adjust seasonings. I'm a cumin fan, so I always add ground cumin and salt. I like to add in 1/8 cup cider vinegar 1 tablespoon sugar to balance flavors.

In place of the New Mexico Dried Chile, you can use an assortment. Nora peppers are nice, and I've used Mulata dried peppers. Each combo will add a different nuance of flavor to your sauce.
Recipe Notes
Most times I'm braising a pork shoulder BUTT at the time I'm making this sauce. For enchiladas, or tamales. Don't hesitate to add a couple big spoonfuls of the pork broth to this sauce. It will add some great flavor.
If you're not using right away, divide into 1 cup servings and freeze. This will last for nearly a year.
Looking for more homemade Mexican sauces? Take a look at this:
Homemade New Mexico Red Chile Sauce … It's What's for Tamales and Enchiladas