Spectacular. Seared Scallops with Pinot Butter Sauce. Restaurant quality, elegant and pretty e-a-s-y. Serve this for a special dinner for two, or for a dinner party and your guests will think you've just graduated from culinary school.
It's not all buffalo burgers, elk steaks and Rocky Mountain oysters out here in the wild wild west..We can plate up an elegant dinner with the best of 'em and especially if beautiful sea scallops are available. Let's take a look at this delicious recipe I found over at Food and Wine.
We thought this dish was spectacular. Restaurant quality, elegant and (shhhh)…pretty e-a-s-y. Serve this for a special dinner for two, or for a dinner party and your guests will think you've just graduated from culinary school.
First let's address the scallops by giving my cast iron skillet a standing ovation. A few years ago when I purchased it from the Army Surplus store down on South Broadway, I never imagined it would be my most prized kitchen tool. You can throw a five-pound pork roast in this thing and it tosses back a beautifully seared piece of meat in minutes and then trust it with a most delicate sea scallop and it rewards you with a perfectly crusted cube leaving the tender meat inside juicy and sumptuous. Bravo, cast iron skillet!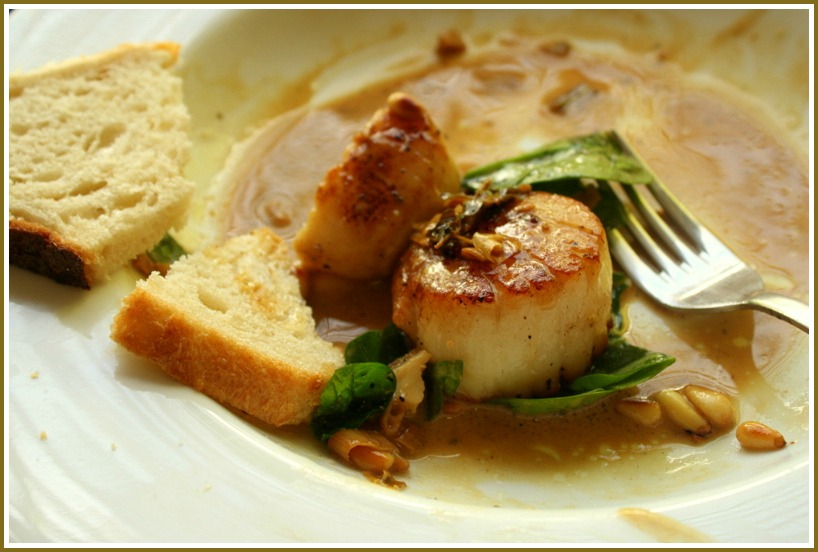 There's no other adjective I can think of to describe this sauce other than divine. The all-star lineup of ingredients including shallots, thyme, cream, butter and Pinot Gris turn this dish into a delightful experience.  Throw in some buttery toasted pine nuts for a soft crunch to compliment the slight crunch of the sear on the scallops and you've got an out of this world dish.
Make sure you have a slice of rustic Italian bread to get every single drop.
Cheers! The recipe comes from Hugh Acheson (an F&W Best New Chef 2002) of Five & Ten restaurant and Gosford Wine in Athens, Georgia. Suggested wine was a Pinot Gris from either Oregon or California. Our choice was a bottle we've been saving for a special meal from Noble Pig winery in the McMinnville AVA in Oregon.  Cathy's Noble Pig blog was one of the first food blogs I started following a couple of years ago and I've followed her journey of completing  her degree in oenology from Davis College in California, moving her husband and two children to Oregon, and purchasing land to hone their skills as winemakers. Needless to say, when they proudly offered their first bottling, we quickly ordered 4 Pinot Noirs and 2 Pinot Gris. Cathy, your Pinot Gris tasted so good in the sauce and drinking the remainder with the meal, paired beautifully. A match made in heaven for scallops.

Seared Scallops with Pinot Gris Butter Sauce
Author:
www.highlandsranchfoodie.com
Ingredients
2 tablespoons pine nuts
4 teaspoons extra-virgin olive oil
2 medium shallots, minced
2 cups Pinot Gris
2 thyme sprigs
1 cup fish stock (I used chicken stock)
1 tablespoon heavy cream
1 stick unsalted butter, cut into ½-inch pieces and chilled
1 tablespoon minced chives
Salt and ground pepper
1 packed cup baby spinach
1 teaspoon lemon juice
2 tablespoons vegetable oil
16 large sea scallops
½ teaspoon Aleppo pepper flakes (optional)
Instructions
In a skillet, toast the pine nuts over moderate heat until golden, 2 minutes; transfer to a plate and let cool. Lightly crush the nuts.
In a medium saucepan, heat 1 teaspoon of the olive oil. Add the shallots and cook over moderate heat, stirring, until browned, 4 minutes. Add the wine and thyme; boil until reduced to ¼ cup, 15 minutes. Add the stock and boil until reduced to ¼ cup, 9 minutes longer. Add the cream, bring to a boil and remove from the heat.
Strain the wine sauce into a clean saucepan. Whisk in the butter, 4 pieces at a time, until the sauce is thickened and smooth; set the pan over low heat as necessary to help melt the butter. Stir in the chives and season with salt and pepper. Remove from the heat.
In a medium bowl, toss the spinach with the lemon juice and the remaining olive oil; season with salt and pepper.
In the skillet, heat the vegetable oil. Season the scallops with salt and pepper, add to the skillet and cook over high heat, turning once, until browned but barely cooked through, 2 minutes per side. Transfer the scallops and spinach to plates. Garnish with the pine nuts and pepper flakes. Gently reheat the sauce, spoon on top and serve.
Crazy about scallops like we are:  How about this
Seared Scallops with Pinot Gris Butter Sauce…It's What's for Dinner.