Did anyone notice this  basket of Italian Sweet Frying Peppers that appeared in my Pete Polombo slide show? This is the first time in my life I remember seeing them available for sale. When I googled "Italian Frying Peppers", one entry indicated that these peppers are the same as Cubanella peppers.  Any experts out there?
Whatever they are, I love them. Offering a sweet yet intense "pepper" flavor, something about them screams "It's Amore". I wish I could find these peppers year round, they'd definitely amp up my Italian recipes. From what I read about them, being medium fleshed makes them an excellent candidate for frying.
A sack full of these delicious sweet peppers made their way home with me and voila, the next day I opened up Food and Wine Magazine and saw this recipe for Stuffed Italian Sweet Frying Peppers. It was meant to be.  🙂
This recipe comes together easily and is simply delicious. The peppers are so unique in flavor that I will not try this recipe with regular green bell peppers, but will wait to prepare this until when I can get my hands on some more Italian Sweet Frying Peppers.  Thank you Grace Parisi of Food and Wine for a great and savory combination.
The only variation I made was to tear off some small chunks of fresh mozzarella and insert here and there into the stuffed peppers. I liked the addition and will alter the recipe for my database.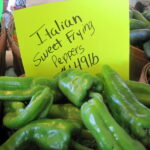 Spinach and Sausage Stuffed Italian Sweet Peppers
A wonderful sausage and spinach filling for Italian Sweet Peppers
Ingredients
1-5 ounce

bag baby spinach

2

slices

white sandwich bread

finely chopped

1/4

cup

milk

1

large egg

2

tablespoons

freshly grated Parmigiano-Reggiano cheese

2

tablespoons

pine nuts

2

tablespoons

chopped red onion

1

pound

sweet or hot Italian sausage

, casings removed

Salt and freshly ground black pepper

8

small or 4 large Italian frying peppers—halved lengthwise and cored

, stems left intact

1/4

cup

extra-virgin olive oil

1

cup

canned tomato sauce

1

cup

low-sodium chicken broth

A few chunks of fresh mozzarella cheese to poke here and there into the stuffed peppers
Instructions
In a very large skillet, cook the spinach over high heat just until wilted, about 1 minute. Drain and press out all of the water. Coarsely chop the spinach. Rinse out and dry the pan.

In a large bowl, knead the chopped bread with the milk, egg and cheese to form a paste. Knead in the pine nuts, onion, sausage and spinach and season lightly with salt and pepper. Using lightly moistened hands, divide the mixture among the pepper halves and lightly pack it in. Add chunks of fresh mozzarella gently pressing into the stuffed peppers.

In the skillet, heat the olive oil until shimmering. Add the stuffed peppers, filling side down, and cook over high heat until well-browned, about 4 minutes. Turn the peppers and cook until the skins are browned and blistered, about 4 minutes longer. Add the tomato sauce and chicken broth, cover and simmer until the sausage filling is cooked through and the peppers are tender, 5 to 6 minutes. Transfer to plates and serve right away.
Looking to stuff more peppers?  How about this Mediterranean version for:
Stuffed Italian Sweet Frying Peppers…
It's What's For Dinner.