I've been hearing a lot about Marczyk Fine Foods lately, so talked the hubby into leaving our suburban bubble for a Saturday morning field trip  into the city for a visit. The mission?… to make their Sticky Lips Chicken.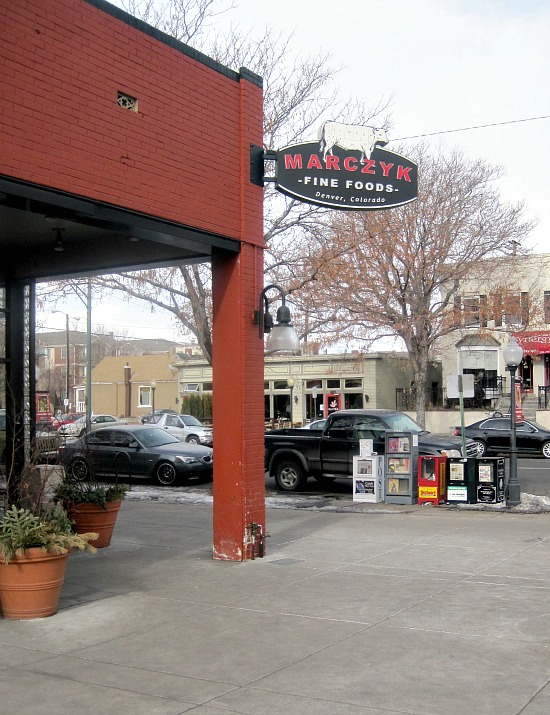 Marczyk Fine Foods is at Clarkson and 17th  just east of Downtown Denver.  With easy parking, a fine wine department and the smells of exotic spices and simmering  foods wafting as we went in the front door, I knew I was going to love this place.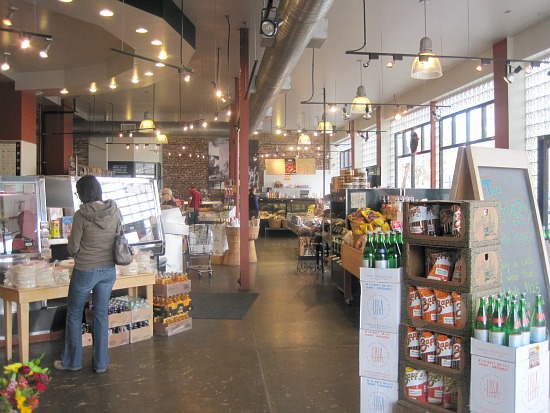 A stack of beautiful corn tortillas made just for the store stacked in front of the meat counter. The label indicates these were not made by gringos. I bought some.
We found this small neighborhood market filled with specialty gourmet food items,  fresh seafood, organic produce, gourmet cheeses, exotic stuffed olives, an impressive meat counter that includes Niman Ranch products and a deli area offering house made sandwiches and prepared food items.
Every item in the store is obviously chosen for quality.  If I hadn't already been on a Sticky Lips Chicken mission,  I would have purchased some delicious looking crab stuffed sole that I watched one of the chefs sprinkling with vibrant red smoked paprika.
I had seen this recipe for Sticky Lips Chicken in my new Colorado Classique Cookbook.  The recipe called for a slice of frozen veal stock which I had never seen anywhere and was available at their market.  With my sack filled with items I have never seen, such as wild boar sausage, New York style split buns, and that frozen veal stock,  we headed back South to prepare that chicken for dinner.
This is simply, and surprisingly delicious and I fully credit the impressive flavors to good quality chicken,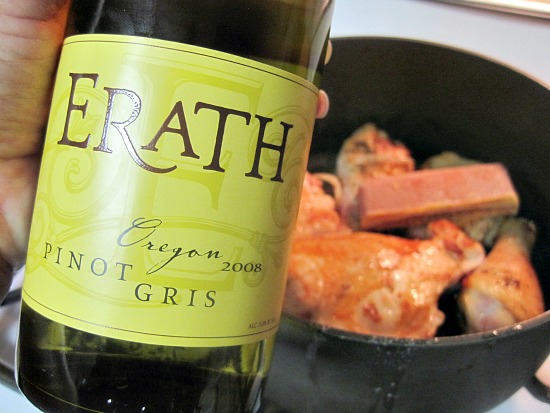 Oregon Pinot Gris, hinting of melon and peach,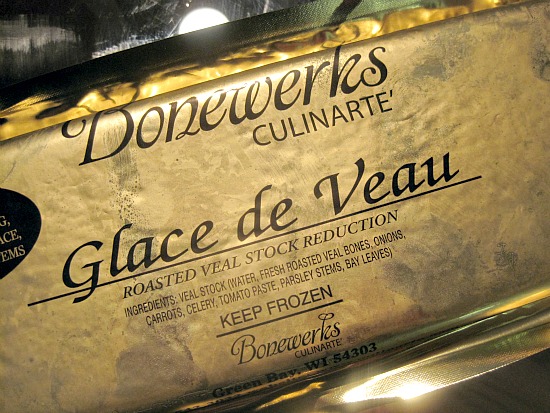 and that rich flavored frozen roasted veal stock
So here's the recipe for Marczyk's Sticky Lips Chicken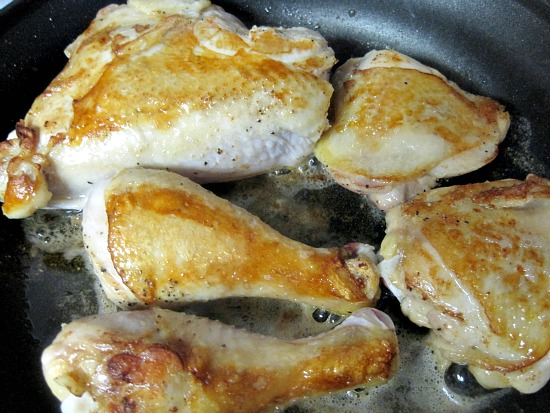 Salt and pepper chicken pieces and brown in a heavy pan in butter.  Remove and set aside.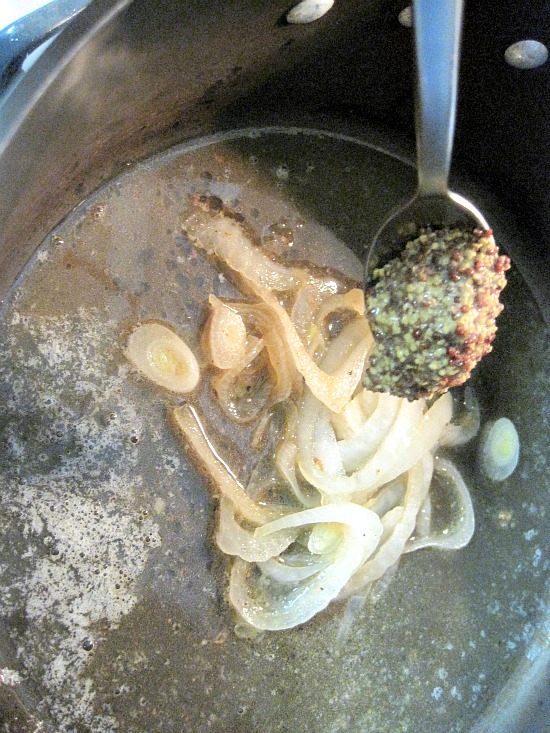 Sweat 2 sliced shallots in the pan and deglaze the pan with a dry white wine.   Add a dollop of good brown mustard and several sprigs of tarragon.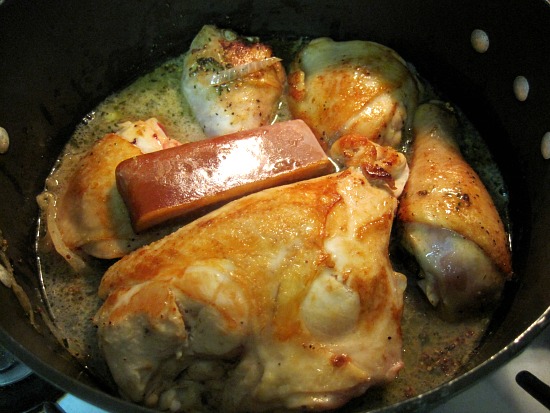 Add chicken back in along with a little more wine, a slice of frozen veal stock and some sherry vinegar to make a nice braising liquid for the chicken.
Bake at 300 degrees for about an hour.  Serve over buttery egg noodles.
Marczyk owner, Pete says this delicious braised chicken gets its name from the veal demi used in the sauce, adding that the collagen makes your lips stick together.
Sticky Lips Chicken
Ingredients
3

pounds

skin-on chicken legs

thighs and drumsticks separated

3

large shallots

peeled and sliced

½

cup

brown mustard

1

cup

white wine

2

tablespoons

sherry vinegar or any other wine-based vinegar

¼

pound

veal demi-glace

Bonewerks CulinArte is recommended

2

tablespoons

fresh tarragon

chopped

Salt and pepper
Instructions
Liberally salt and pepper the chicken. In a large dutch oven or enamel pan, brown the chicken in butter over medium heat, about 12 minutes per side. The fat from the chicken will keep it from sticking, and the enamel pan can go straight from oven to stove.

Set the chicken on a platter, and drain off all but about 2 tablespoons of fat. Add the 2 tablespoons of fat to the same pan and lightly brown the shallots over medium heat. Add the mustard, wine, sherry, veal demi-glace and fresh tarragon leaves, and stir. Add the chicken to the pan. Cover with enough water to bring the liquid about halfway up the sides of the chicken. Stir once, cover and cook in a 300ºF oven for 1 hour until chicken is golden. Serve with mashed potatoes, rice, noodles or polenta.
 Marczyk Fine Foods Sticky Lips Chicken…It's What's For Dinner.