Our weekend camping trip at Turquoise Lake in Colorado. Read all about Camping Turquoise Lake and the food that went along.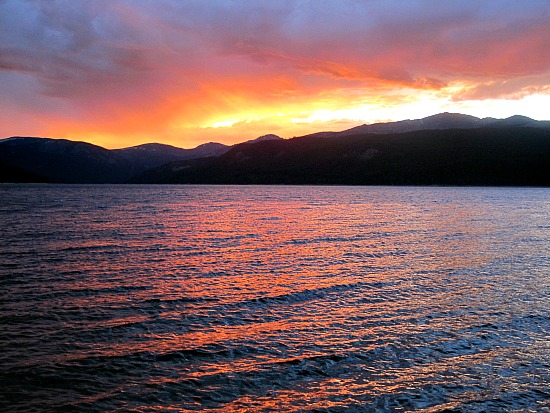 Sunset over Turquoise Lake. One of Colorado's premier camping destinations. And our menu for camping food ideas.
Thursday, June 25:  We've been looking forward to and  planning for our first camping trip for weeks. Our plans were to head to Turquoise Lake early Friday morning with the car packed with camping food so we could eat well.  Picturesque Turquoise Lake is about 2 1/2 hours west of Denver, near Leadville.  An every summer destination for us.
If you're interesting in camping food ideas, you'll find some great ideas in this post.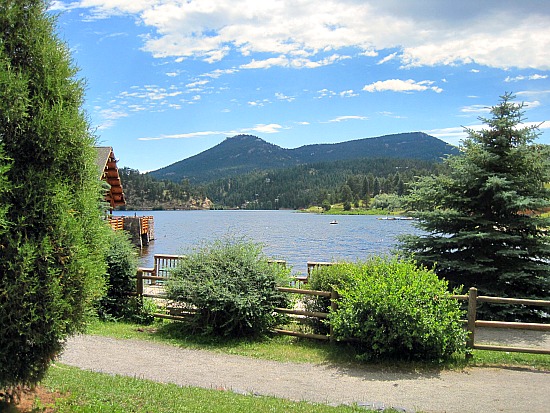 We love the trails for hiking, and the area is unique to add a couple of birds to our year list.  Most years we find a  Fox Sparrow in a marshy area on the North side of the lake and regular campground flyovers of Red Crossbills are always a treat. This photo is taken from the May Queen Campground, a great spot for bird watching ta Turquoise Lake. A carefully planned menu, a couple of hours of pre-cooking camping food for travel and lots of packing found us stranded in Denver.  The state is a quagmire.  Rain….rain….rain.  We've decided it too risky to pack up the dogs and tent camp in this weather.    We even had visions of sliding down the mountain in a huge mudslide.  All dressed up and no where to go. RAINED OUT.  I even have a new camera ready to photograph the beautiful scenery and the culinary events of the trip to share on my blog.  So guess what!  I'm going to pretend we're camping and report in anyway.   I might be rained out, but I'm not blogged out.
Enjoy photos from past trips and our camping food plans.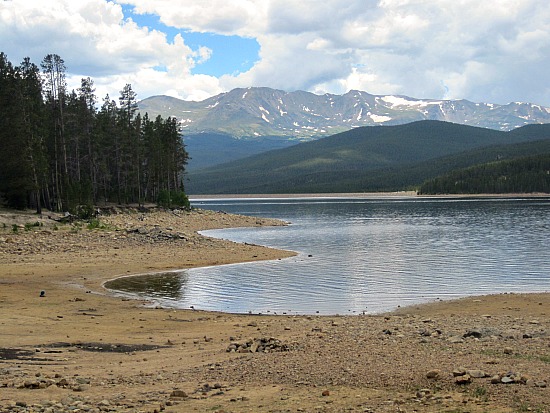 Easy hiking trails around Turquoise Lake bring beautiful views of our Rocky Mountains.
Friday:  June 26:  We've been pouting all day, feeling sorry for ourselves because we're not frolicking in our beautiful majestic Rocky Mountains.   By now we would have had the tent up, a long hike under our belts and settling into our camp chairs looking at the view over the lake with Mt. Massive as a back drop. (pictured above)
We just watched the Denver weather report and now feeling much better after seeing a report of flash flood warnings until midnight for the exact area we had planned to go.  Overnight low 39 degrees.  Whew, we made the right decision to stay home.  We're also feeling the high country flavor with a news report of a Black Bear found in a tree today in Highlands Ranch.  Who needs the high country!  🙂 Since I've prepared meals for three days, we'll be cooking these at home and reporting what I would have done at the campground.  So for some great camping menu ideas and recipes, please click on the "read more" for the whole story.
Friday evening's plans were for this easy recipe for Sirloin Steak Kabobs.  I purchased a good quality sirloin steak at Whole Foods, cubed the steak and prepared the killer marinade.
EASY to transport to the camping site. Just pack the steak cubes in a large zip lock baggie and let it steep in the wonderful flavors until ready to cook. I also pre-cubed some orange bell pepper and cut some green onions. Those can travel together in a smaller baggie. Save some of the pieces of vegetables for a side salad to go with the kabobs. When you're ready to cook, just skewer and cook over the open fire or grill.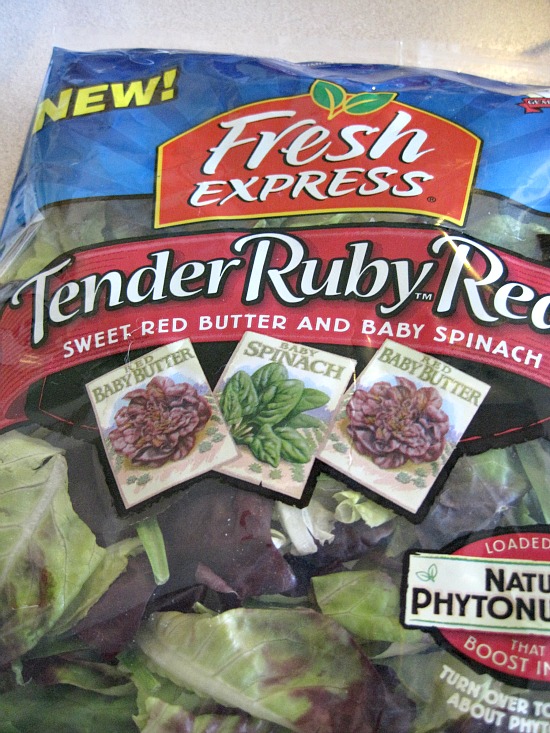 Prepackaged salads are wonderful for camping.  I packed a bottle of purchased Italian Dressing, packed a tomato and used some of the bell pepper and onion chunks.  Voila a delicious and easy salad for a side dish.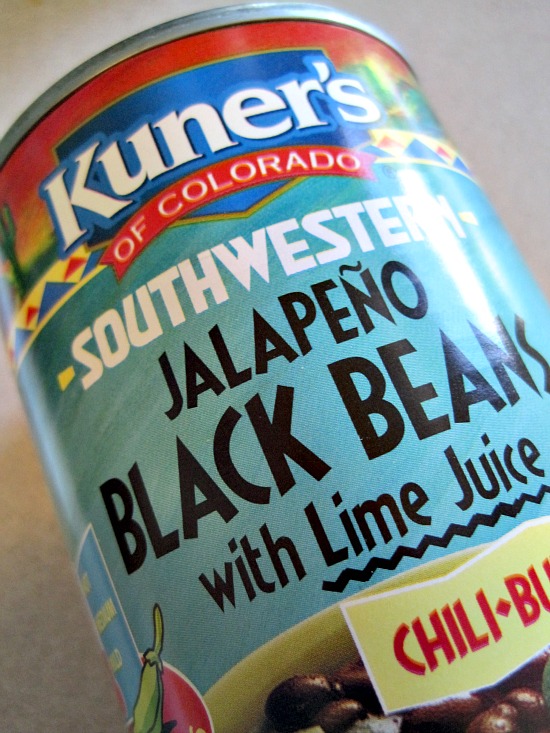 A can of Black Beans with Jalapenos makes a very easy side dish. Just make sure you've packed a can opener.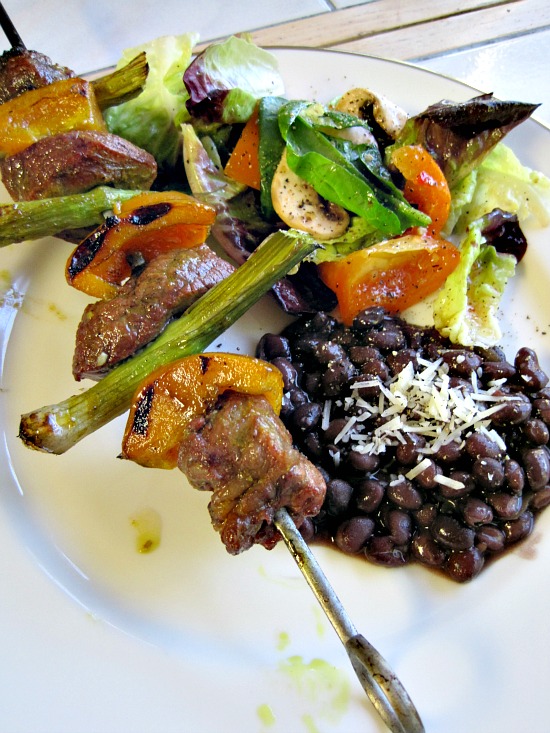 I know, I know, none of it really goes together; curried beef kabobs, Italian style-salad and Mexican beans, but hey we're camping and it was delicious. We enjoyed a bottle of Snoqualmie Merlot.   Serves 2 🙂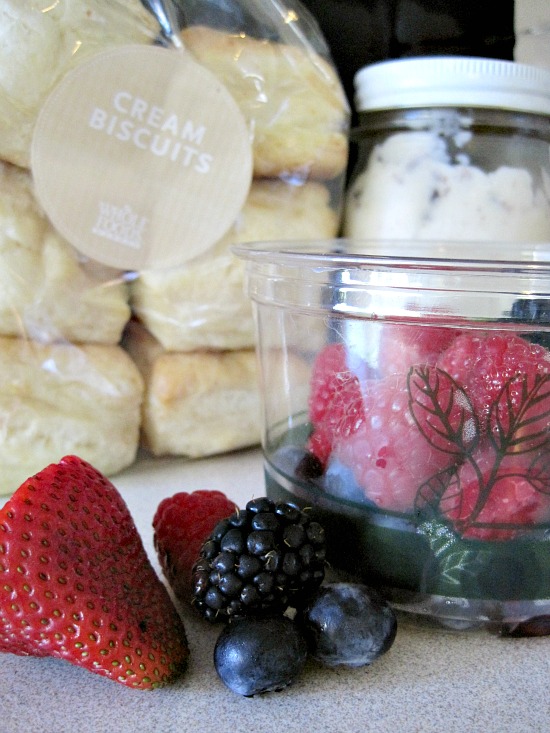 Saturday, June 27:  Plans for Saturday breakfast are Biscuits and Gravy.  Again, preparation at home makes this an easy meal at the campsite.  I purchased slices of smoked bacon at the meat counter at Whole Foods, one breakfast sausage patty, one chicken cutlet and a package of cream biscuits.
I fried the bacon at home and placed in a plastic bag to transport in the cooler.  With a tablespoon of the bacon drippings, I made a creamy gravy.  I like to use canning jars to transport food in the cooler.  I fried the sausage in a separate pan to crumble into the gravy.  Whole Foods sausage just doesn't produce enough fat to make a gravy, but sure does add flavor when tossed in.  At the campsite flour and cut the chicken in half.  Sautee the chicken cutlets in olive oil.  Heat the gravy.  Half the biscuits and layer with a chicken cutlet, a couple slices of bacon, plenty of gravy and serve open faced with a nice helping of colorful organic berries also purchased at Whole Foods.  Not to worry, a long hike will ease the guilt.  🙂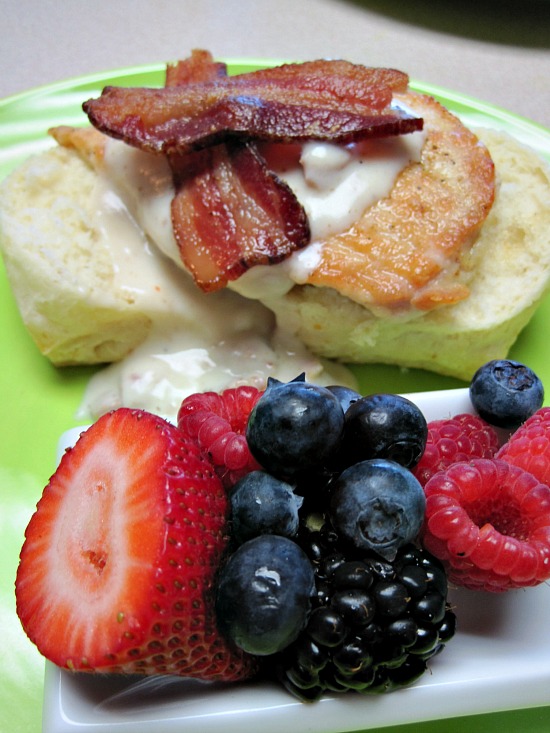 Since we devoured such a large and heavy breakfast, I planned for a light lunch.  We shared a Club Sandwich.  From the deli counter at Whole Foods, I packed some shaved ham and turkey, an avocado and tomato to slice and had already pre-cooked a few slices of bacon.  On your favorite whole grain bread spread some mayonnaise add slices of ham and turkey, top with some sliced avocado and tomato.  At this point pepper the avocado and tomato and then sprinkle with some Italian Dressing.  Top with bacon and place the top piece of bread.  Slice sandwich in half and serve with an assortment of  Whole Foods olives from the olive bar.  We never leave home without them.  Quick, easy and healthy.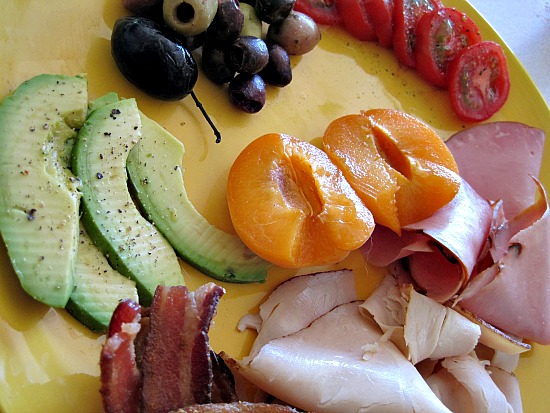 Whole Foods had some great looking apricots, so I halved one and served it on the side.
Saturday Night Dinner is Spaghetti,  a camping food tradition for us. I always make my own Marinara Sauce  in advance at home.  If you don't make your own sauce, grab a jar of your favorite at the store.  Serve with the remaining salad that you tossed together for last night's meal and you've got an easy camping dinner.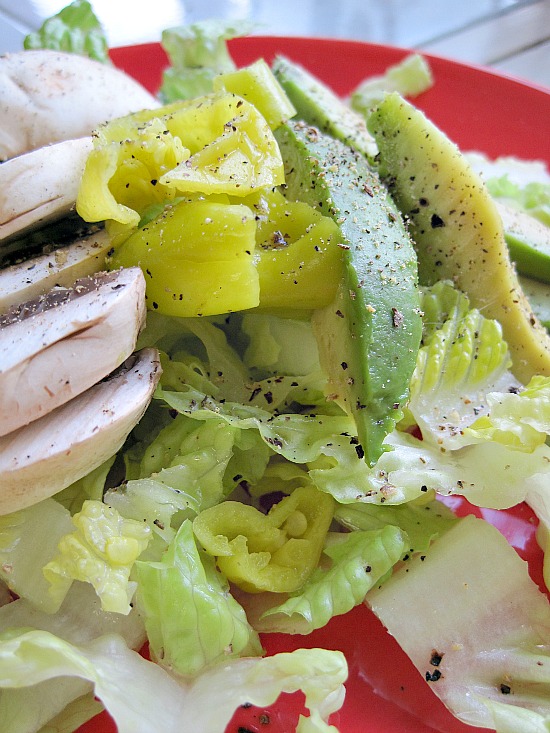 We usually break down camp on Sunday morning to get a head start back to Denver.  I-70 traffic becomes quite heavy in the afternoon.  Breakfast was granola, yogart and berries.
Grocery List, camping for two. 2 days:
Meat:
1 pound sirloin steak
6 slices bacon (half for breakfast sandwich and half for lunch sandwich)
1 round breakfast sausage patty
1/4 pound shaved deli ham
1/4 pound shaved deli turkey
1 chicken cutlet
Produce:
1 large orange bell pepper (half for kabobs and half for salad)
1 bunch green onions (half for kabobs and half for salad)
several button mushrooms
2 tomatoes (1 for salad and 1 for lunch sandwich)
2 avocado (1 for salad, 1 for sandwich)
package of mixed berries
1 package salad greens
Other:
A loaf of whole wheat bread
A package of pre-made biscuits. Or a tube of biscuits to bake before you leave
1 package spaghetti
1 jar spaghetti sauce
1 jar Italian dressing (for salad and for lunch sandwich)
Parmesan cheese
Mayonnaise
Container of mixed olives
Oil for frying
granola
yogurt