Spaghetti made heavenly with a white wine, Parmesan cream sauce, spiked with paprika, cayenne, thyme and garlic. Just add shrimp and you've got a beautiful dinner.
This might just be me, but one of my favorite things to do is go to a store that has a great selection of interesting pasta shapes and pick out something funky.Which is exactly what I did when this recipe idea came to fruition. I wanted something nubby and thick, that could easily be stabbed with a fork. Something with nooks and crannies for a cream sauce to hide and seep into creamy nirvana. Something that would compliment the shape of a perfectly little curled up cooked shrimp.
After about 10 minutes on that pasta aisle, studying the tortellini and the ziti's, that good old box of boring spaghetti screamed "hello creamy cheese sauce with shrimp".  Done, decision made. Those little curly shrimp would look perfect on a bed of spaghetti that I could swirl into any shape I wanted.
Before we get to the recipe, let's talk about buying shrimp. And buying quality shrimp that tastes like shrimp.
 We're big on shrimp around this house, and being landlocked, good quality shrimp can be hard to come by. I feel so fortunate that I was contacted by the folks over at the 
Wild American Shrimp
 a couple of years ago, because they have have the fabulous opportunity to learn what makes a tasty shrimp. Shrimp that tastes like it should. And to stop grabbing for those bags of frozen shrimp from Thailand. The experience of fresh caught and flavorful shrimp from the nutrient-rich waters of the Gulf of Mexico is all I will buy now. Flavor just like I remember from the wonderful dishes I had in New Orleans. Simply stated, superior in flavor and texture.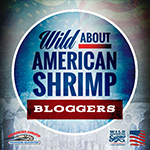 Every Shrimp has a tail, but wild-caught American Shrimp have a story rich with flavor, history and adventure. It's about hard-working families who date back to when shrimp were harvested on wooden sailing vessels and peeled by hand. It's a story of American jobs and livelihoods and an industry's resilience against tough times.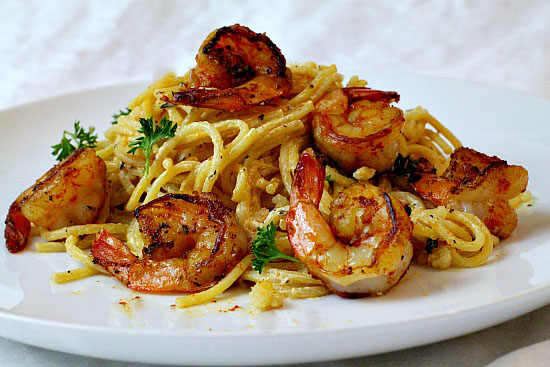 You're probably asking, where can I buy wild American shrimp? You can have their Gulf shrimp shipped directly to your doorstop or take a look at their website for a list of local shops where you can purchase American shrimp. Nationally they indicate you'll find it at Walmart, Sprouts and Whole Foods. There is also lists of regional markets and on-line sources who will ship direct to your door.
This post contains affiliate links for your convenience.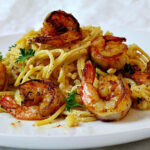 Sauteed Shrimp over Creamy Spicy Spaghetti
A wonderful shrimp and pasta dinner recipe. With just enough heat to spice things up.
Course:
Main Course Pasta
Ingredients
1

pound

Spaghetti

1/4

cup

extra virgin olive oil

divided

1/4

cup

hot water from cooked pasta

1/2

small

onion

diced

3

cloves

garlic

minced

1

teaspoon

paprika

1

teaspoon

cayenne pepper

1

teaspoon

dried thyme

1

teaspoon

salt

1

pound

shrimp

peeled and deveined

1/2

cup

dry white wine

2

cups

half and half

1

tablespoon

fresh lemon juice

1/8

cup

fresh parsley leaves

chopped

1/2

cup

Parmesan cheese

grated
Instructions
Cook the pasta in a large pot of boiling salted water until al dente, about 8 minutes. Drain, reserving 1/4 cup of the cooking liquid. Return to the pot and toss with the 1/8 cup olive oil and reserved cooking liquid. Cover to keep warm.

In a large sauté pan, heat the remaining olive oil over medium heat. Add the onions and cook, stirring, until soft, about 5 minutes. Add the garlic, paprika, cayenne, thyme, and salt. Cook, stirring for 1 minute. Add the shrimp and cook until nearly pink. About 1 - 2 minutes. Remove shrimp to a plate, cover to keep warm.


Add the white wine and cook over high heat until nearly all evaporated. Reduce heat to low and add the half and half, lemon juice and cook, stirring occasionally, until slightly reduced.

Add shrimp back into the mixture and cook 1 minute. Reserve a few of the shrimp to garnish the top of each serving.


Add the cooked pasta to the above and toss to coat with the sauce. Cook until the pasta is warmed through, about 1 minute. Remove from the heat and add the Parmesan Cheese. Serve with more grated Parmesan, small pieces of parsley, and some of the extra shrimp to garnish.
Recipe Notes
You can make this recipe a bit simpler by adding all of the shrimp to the white wine/lemon mixture after it's slightly reduced and cooking the shrimp until nearly done.  Then follow the rest of the directions, adding the pasta and keeping warm for 1 minute. You just won't have any of the paprika colored shrimp to garnish on top of the pasta.