These meatballs are rich and deep in flavor with ground beef, veal and pork, cream and honey. Marcus Samuelsson's Swedish Meatballs are authentic and a treat.
Every culture has its version of the mighty meatball and with the arrival of Ikea in Denver a few years ago, I've been given the impression that Sweden is the king of meatballs.
Not wanting to depend on a prefab, assemble yourself furniture store to set my bar for the Swedish Meatball standard, I decided to consult a famous Chef.  And with two side by side ss's in his last name, I trusted Chef Marcus Samuelsson's recipe to be authentic and very special.
Before Christmas we watched the Lidia Bastianich Christmas special in which she invited several celebrities to share their Christmas meal memories and traditions. Chef Marcus Samuelsson was on the show and his segment was dedicated to his family's Christmas tradition, Swedish Meatballs.
With many of the classic ingredients that we relate to Swedish and Scandinavian food culture, these meatballs are rich and deep in flavor with ground beef, veal and pork, cream and honey. Decadent! Cream and lingonberry preservers make a unique and unforgettable sauce. Pickled cucumber adds a powerful compliment and served with mashed potatoes and a dollop of lingonberry preserves on the side, smooth, simple and refined. My favorite thing about these meatballs? There's pickle juice in the meat mixture.
Note: I found lingonberry preserves at Whole Foods, and I've also seen them at Ikea.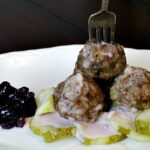 Marcus Samuelsson's Swedish Meatballs
Ingredients
For the Meatballs

1/2

cup

to 3/4 dry bread crumbs

1/4

cup

heavy cream

2

tbsp

olive oil

1

medium red onion

finely chopped

1/2

lb

ground chuck or sirloin

1/2

lb

ground veal

1/2

lb

ground pork

2

tbsp

honey

1

large egg

Kosher salt and freshly ground black pepper

3

tbsp

unsalted butter

For the sauce

1

cup

chicken stock

1/2

cup

heavy cream

1/4

cup

lingonberry preserves

2

tbsp

juice from Quick Pickled Cucumbers

Kosher salt and freshly ground black pepper
Instructions
Prepare the meatballs: Combine the bread crumbs and heavy cream in a small bowl, stirrin with a fork until all the crumbs are moistened. Set aside.

Heat the oil in a small skillet over medium heat. Ad the onion and saute for about 5 minutes, until softened. Remove from the heat.

In a large bowl, combine the ground beef, veal, pork, onion, honey, and egg, and mix well with your hands. Season with salt and pepper to taste. Add the bread crumb-cream mixture and mix well. With wet hands (to keep the mixture from sticking) shape the mixture into meatballs the size of a golf ball, placing them on a plate lightly moistened with water. You should have about 24 meatballs.

Melt the butter in a large skillet over medium high heat. Add the meatballs, in batches if necessary, and cook, turning frequently, for about 7 minutes, until browned on all sides and cooke through. Transfer the meatballs to a plate, and discard all but 1 tablespoon of fat from the skillet.

Prepare the sauce: Return the skillet to the heat, whisk in the stock, cream, preserves, and pickle juice, and bring to a simmer. Season to taste with salt and pepper. Add the meatballs to the sauce, reduce the heat to medium, and simmer for about 5 minutes, until the sauce thickens slightly and the meatballs are heated through. Serve hot with mashed potatoes, preserves, and Quick Picked Cucumbers.
For the quick pickled cucumber (1 1/2 cups):
1 tbsp

kosher salt

1 1/2 cups

water

1/2 cup

white wine vinegar

1 cup

sugar

1

bay leaf

2

allspice berries

1 English cucumber
1. Slice the cucumber as thin as possible (use a mandoline or other vegetable slicer if you have one. Put the slices in a colander, toss them with the salt, and let stand for about 30 minutes.
2. Meanwhile, combine the water, vinegar, sugar, bay leaf, and allspice in a medium saucepan and bring to a boil. Remove from heat and let cool.
3. Rinse the salt off the cucumbers, and squeeze out as much moisture as possible. Put the cucumbers in a medium bowl and add the pickling solution; they should be completely covered by the brine. Cover and refrigerate for 3 to 6 hours before serving.
Looking for more Meatball Appetizer Ideas?  Take a look at these baked meatballs with a rich red wine sauce: