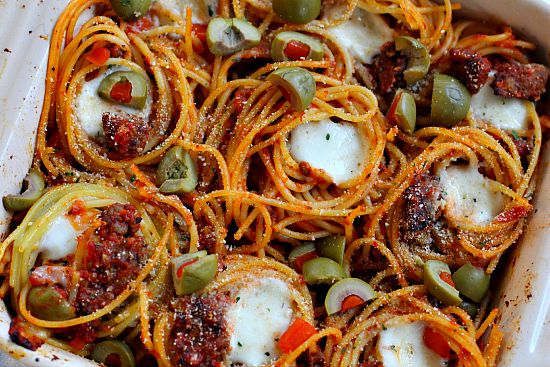 Spaghetti Nests with Mezzetta Napa Valley Tomato and Sweet Basil Sauce. Below you'll find a $500 give-away for your own #fallforflavor Pasta night.
Thanks once again to my favorite food in a jar, Mezzetta. For as long as I can remember, I've always reached for their jars of olives and pickles, but did you know they also make pasta sauces? Spaghetti is one of my favorite and easy weeknight meal thanks to that aisle of jarred sauces. My little secret is to buy the sauce and then doctor it up with a good Italian sausage and a sprinkle of fennel seed. That's it…and everyone raves. However, I don't make that easy version often because of the ingredients listed on the labels on those jars…lots of sodium, high fructose corn syrup and some you can't pronounce.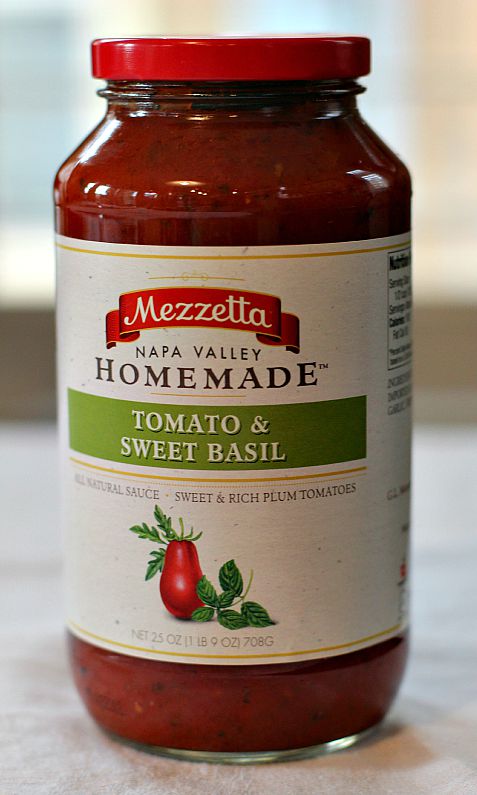 Mezzetta states on the front of their label "all natural" and they mean it. I can now feel safe about serving this jarred sauce to my family. Real food. Take a look at the ingredients listed: No added sugar, California plum tomatoes, imported olive oil, fresh onions and roasted garlic, fresh basil, sea salt and spices. 
• Real Farmers. Committed to farming the highest quality ingredients, without compromise.
• Real Family. Family owned and operated for over 80 years.
• Real Recipe. Made in the Italian tradition from our Napa Valley kitchen.
• Real Good. Pull up a plate and taste the difference.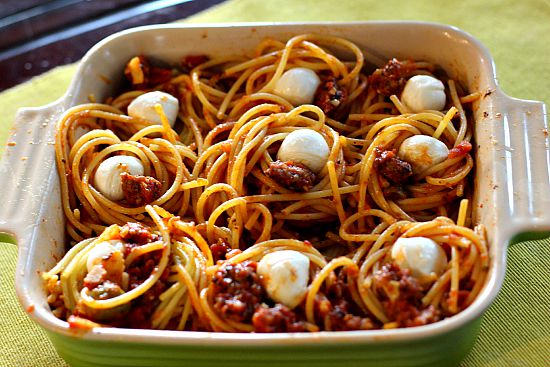 For this project, I decided to put a twist on my easy stove top spaghetti and make baked spaghetti nests. Here are my little swirls of goodness ready for the oven. I made my sauce as described above and cooked the spaghetti very al la dente. In a large bowl, I mixed one egg and the pasta sauce and then poured in the spaghetti to coat. Using a spoon and fork, I twirled the spaghetti into little nests and placed them in the baking pan. I pushed little balls of fresh mozzarella into the center of each nest, sprinkled with some Italian bread crumbs and some  Mezzetta Green Olives for zing and baked them.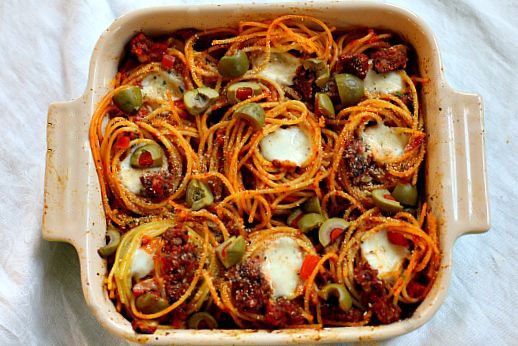 Out of the oven and ready to dig in for the perfect pasta night dinner.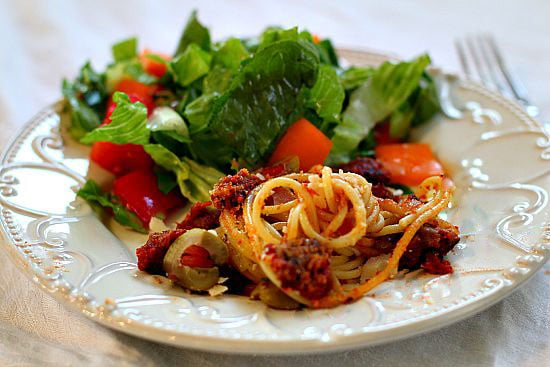 One little nest with a fresh salad and I felt indulgent but guilt free.
You can enter to win your very own Perfect Pasta Night Cooking kit from Mezzetta.  All you need to do is visit this link to enter. There will be one Grand Prize Winner who will take home six Napa Valley Pasta Sauces Dried Pasta, an Apron, a Grocery Tote, a Chef's Hat, a Cheese Grater, a Recipe Card, and a $500 Grocery Gift Card!  There will also be ten Runner-Up Winners who will receive six Napa Valley Homemade Pasta Sauces and a Recipe Card.
Spaghetti Nests
A twist on spaghetti, these little pasta nests are an easy and fun weeknight dinner.
Ingredients
1

pound

spaghetti

1

egg

1

25-ounce

jar Mezzetta Tomato and Sweet Basil Tomato Sauce

1

pound

Italian Sausage

1

tablespoon

dried fennel seed

1

container

mini fresh mozzarella balls

pint

2

tablespoons

Italian bread crumbs

10

green olives

sliced in half
Instructions
Preheat oven to 350 degrees. In a large sauce pan cook the spaghetti according to package directions, minus two minutes, so it's very al la dente.

In the meantime, in a large fry pan over medium heat, fry the Italian Sausage until cooked through. Drain off any grease and then stir in the entire jar of the Mezzetta pasta sauce and the fennel seed. Cook until just reheated.

In a large mixing bowl, add one egg, beaten. Drain the spaghetti and add to the bowl with the egg and mix well. Add the sauce and stir gently.

Using a large serving spoon and a fork, twirl the spaghetti into nests and place in a 9 x 13" baking pan sprayed with non-stick spray.

When all the nests are in place, push one of the mini mozzarella balls into the enter of each. Sprinkle with Italian bread crumbs and sliced green olives.

Bake until nice and steamy. 30 minutes.
Spaghetti Nests…They're whats for Dinner.