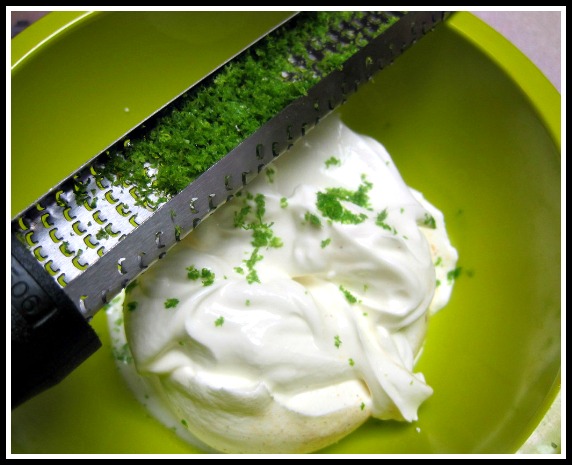 Buffalo Chili with lime crema, flavored with chipotle and lime flavored sour cream.  A delicious riff on a traditional dish.  I'm starting off this post with a photo of the Lime Crema.  This mixture of sour cream, lime zest and lime juice is key to the uniqueness of this chili.  Michele, who originally posted this recipe and judge at the chili cookoff contest noted that she was unimpressed with the stand-alone flavors without this Crema.  I agree, it is a fabulous addition.
I saw this recipe over at Cooking with Michele and couldn't resist giving it a  try as this took 2nd place in a chili cookoff  here in Denver.  I also found this recipe on another food blog, weeknightgourmet.com who indicates the recipe comes from Bon Apetite.
Anyway, the combination of ingredients just sounded too interesting to pass up. So if you're looking for something different here's a new Chili Recipe for you.
Chipotle Bison Chili with Lime Crema
Adapted from Nora Neureiter, Second Place Winner of the 2009 Leyden Street Chili Cookoff
Serves 12
3 pounds ground bison (I used two pounds. You can use ground beef, as well.)
2 tablespoons extra virgin olive oil, optional (see instructions)
Salt and pepper
3 cups chopped onions, about 2 medium onions
6 garlic cloves, finely chopped (I used four large.)
1/2 cup chili powder
2 14-ounce cans beef broth
1 14-ounce can crushed tomatoes with juices
1/2 cup stout or dark beer (Didn't have any stout, so used plain old Coors.)
4 minced canned chipotle chiles (These things are H-O-T, so I removed veins and seeds.)
2 tablespoons yellow cornmeal
2 15 1/2-ounce cans black beans, rinsed and drained
Salt and pepper, to taste
1 cup sour cream
1 lime, zested and juiced
And my very own secret ingredient addition to this recipe, revealed below.
Heat a large stock pot over medium high heat. If your ground meat is very lean, add 2 tablespoons of extra virgin olive oil to the pot before adding the ground meat. Season with a little salt and pepper and cook until meat is completely browned, using a spoon to break up meat. Remove cooked meat to a bowl with a slotted spoon.
Add onions and garlic to the meat drippings and cook until softened, about 5 minutes. Return beef to the pot and add chili powder, broth, tomatoes, beer and chiles. Bring to a boil, reduce to low, cover partially, and cook until very thick, about 1-2 hours.
When chili is thick, stir in cornmeal and add black beans. Let simmer together for 10 minutes before serving. Combine sour cream with lime zest and juice of one lime and serve chili in bowls with a spoonful of lime cream on top.
To serve, ladle a large dollop of Lime Crema in the middle of your chili, and you know me well enough to know that life isn't complete with a sprinkling of chopped Cilantro.
My secret ingredient is two Kiefer lime leaves. I added these when I added the tomatoes and broth and fished them out before serving. I think it added a subtle sweet lime flavor to the overall dish.
This recipe is a keeper and DEElicious.  Enjoy.