Staying in on New Year's Eve? That means a very special dinner is in order. These Pan Seared then Roasted Veal Chops with Red Grapes are an easy and elegant way to celebrate.
Celebrating New Year's Eve is a blast, and there really isn't any better way to observe the occasion than with some extraordinary cuisine and festive beverages.
Let's Talk About Celebrating New Year's Eve
Can you believe 2018 is upon us? I can't remember the last time we went out on New Year's Eve. We choose to spend the evening at home, just the two of us with an extremely special dinner menu. The appetizers and sides seem to change every year, but one thing that stays the same is veal. It's a tradition for us, whether in Osso Buco style or these Veal Chops with Red Grapes. Throw in a beautiful bottle of wine and the evening is complete.
Quality products … Quality Products … Quality Products
If the chef's at Culinary School said it once, they said it a hundred times. Always purchase quality food products. And, I like to eat veal guilt free, so I purchase veal from a source where I'm guaranteed quality. Guaranteed free grazing grass fed animals, which produces a more tender meat and a healthier, tastier product.
This criteria comes with a pretty price tag, but when there's a special meal, and a special cut, please don't turn towards a cheaper piece of meat. Veal Chops are usually about an inch and a half thick and can weigh about 3/4 pounds each. The butcher has always delivered these long bone rib chops.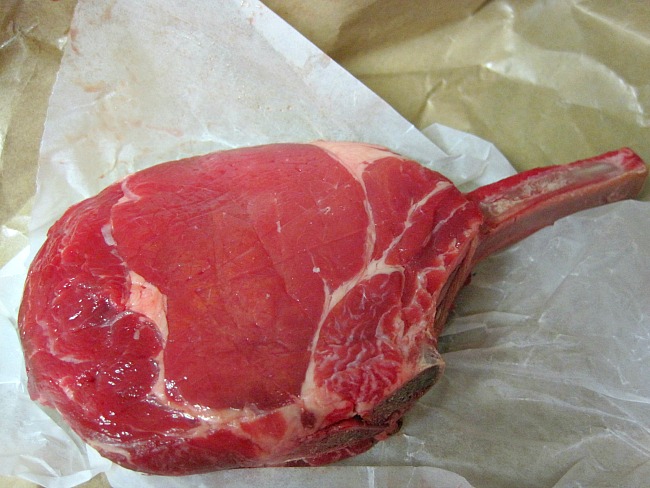 This Recipe Is E-A-S-Y
Fancy and elegant doesn't always mean time consuming and fussy. These chops are simply pan seared and then finished in the oven and roasted into a beautiful tender chop.

Roasting is an easy process with a six step catchy "SSRRSS" rule, starting with season and ending with season, it's easy to remember:
Season
Sear
Roast

R

est

S

lice

S

eason
With an expensive cuts of meat like this, I always rely on a meat thermometer to insure they're cooked properly. The USDA recommends cooking whole muscle veal cuts like veal steaks, roasts and chops to 145 degrees (medium rare), 160 degrees (medium), or 170 degrees (well done).
Wine Pairing For Veal Chops
We chose an Oregon Pinot to serve with the meal. Roots 49 Rows seemed perfect. A velvety merlot would also be a good choice.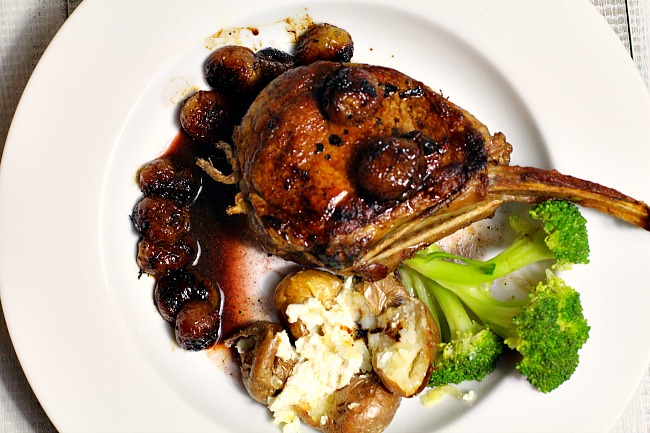 Recipe for Roasted Veal Chops with Red Grapes
So with all that said, let't take a look at this elegant and beautiful recipe for bone-in veal chops. I served this with smashed new potatoes and simple steamed broccoli. Some Glazed Carrots would also be a beautiful side dish bringing a splash of color. And if you're looking for more ideas, take a look at the lineup of recipe ideas below.
And if you've never had roasted grapes, you have not lived. Simply tossed with sherry vinegar and sugar, they roast alongside the chops and bring a caramelized sweet and tart garnish to the them.
I hope you give this veal chops recipe a try and if you do, please come back and give the recipe a star rating and leave a comment about your experience. I love hearing from my readers.
And if you have a favorite veal chops recipe, let me know, I'd love to give it a try.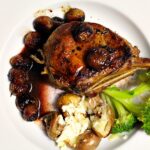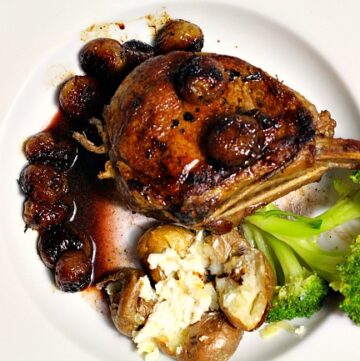 Veal Chops with Roasted Red Grapes
Elegant and delicious. This is a great meal for entertaining.
Ingredients
1

pound

seedless red grapes

3

Tablespoons

sherry vinegar

2 1/2

Tablespoons

unsalted butter

divided

1/2

teaspoon

sugar

Salt and freshly ground pepper

4

1-inch-thick veal rib chops

about 1/2 pound each
Instructions
Preheat the oven to 450°.

Remove grapes from stems. In a bowl, toss the grapes with the vinegar, 1 1/2 tablespoons of the butter and sugar; season with salt and pepper. Turn the grapes onto a sheet pan and roast for about 10 minutes, stirring the grapes halfway through. The grapes should be hot and sizzling.


In a fry pan, over medium high heat, melt the remaining 1 tablespoon of the butter. Season the veal chops with salt and pepper. When the butter has melted, and bubbles have disappeared, add the veal chops and sear on each side until nice and browned. About 4 minutes per side.

Remove the grapes from the oven and push them to one side of the pan. Add the veal chops to the pan. Return the pan to the oven and roast for about 7 minutes. Turn the chops and roast for another 7 minutes. This is just a cooking time estimate. Since chops will vary in thickness, check internal temperature and cook until it reaches 160 degrees.

Transfer the veal chops to a platter, scrape the grapes and juices on top and serve. Serves 4.