I've always been intimidated by cooking a rack of ribs. After all, ribs are the product of expert, smoker savvy, trophy winning Southeastern barbecue gurus with secret rubs and trademarked mops.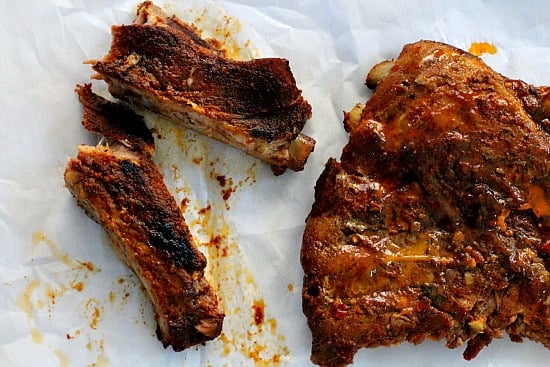 But Yoder Meats has changed all of that for me. I subscribe to their newsletter and on Friday a recipe came through for sheet pan oven tender spare ribs. After studying the instructions, I confirmed that I most certainly, in my oven, in my kitchen, could cook that! And as it turned out, I could and I did.
They were everything I expected out of a rib. Fall off the bone tender, a crispy crunchy edge here and there, and a flavor that I would be proud to serve to my expert rib grilling friends. I now know how to make ribs in the oven.
And aside from wrestling sheets of foil the size of bed sheets, the ruckus was minimal.
In a rib tickling mood? Take a look at this easy recipe where ribs are boiled then grilled Campfire Ribs, Country Style Ribs
Let's take a look.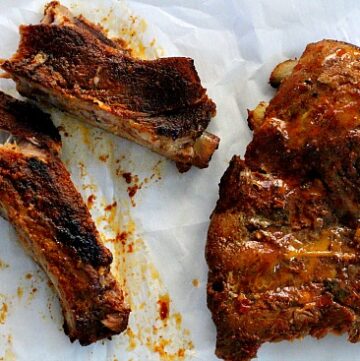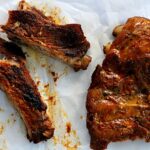 Oven Tender Spare Ribs Recipe
An overnight soak in a flavorful rub, a slow cook in the oven and you've got oven tender ribs without much of a ruckus.
Ingredients
2

racks

spare ribs

1

cup

brown sugar

1/2

cup

fajita seasoning

2

Tablespoons

Hungarian sweet paprika

1

cup

beer

3

cloves

garlic

minced

1

Tablespoon

honey

3

Tablespoons

Worcestershire sauce

1

Tablespoon

Brown mustard
Instructions
Mix the brown sugar, fajita seasoning, and paprika in a bowl.

Rub both sides of the spare ribs with the brown sugar mixture.

Place the spareribs in a 9x13-inch baking pan; cover and refrigerate overnight.

Preheat an oven to 250 degrees F (120 degrees C).

Whisk together the beer, garlic, honey, Worcestershire sauce, and mustard in a bowl.

Set aside.

Tear off 2 large sheets of heavy duty aluminum foil and lay them shiny-side down.

Place a rack of spare ribs on each sheet, meaty-side up.

Tear off 2 more sheets of foil and place them on top of the ribs, shiny-side up.

Begin tightly folding the edges of the foil together to create a sealed packet.

Just before sealing completely, divide the beer mixture evenly into each packet.

Complete the seal.

Place the packets side-by-side on an 11x14-inch baking sheet.

Bake in the preheated oven until the ribs are very tender, 3 hours and 30 minutes to 4 hours.

Carefully open each packet, and drain the drippings into a saucepan.

You may only need the drippings from one packet.

Set ribs aside.

Simmer the drippings over medium-high heat until the sauce begins to thicken, about 5 minutes.

Brush the thickened sauce over the ribs.

Preheat the oven's broiler and set the oven rack about 6 inches from the heat source.

Place the ribs back into the oven and broil until the sauce is lightly caramelized, 5 to 7 minutes.
Recipe Notes
Serve, and enjoy!
Sheet Pan Oven Tender Spare Ribs … It's What's For Dinner