This is a recipe for Dijon and Honey Shrimp which is simply and quickly grilled. The sauce makes a beautiful glaze. An easy and flavorful recipe for grilled shrimp.
My two Webers are definitely front and center stage this weekend. I plan to grill, then I'm going to grill and then I think I'll grill some more. Let's take a look at this grilled shrimp recipe.
First out of the chutes is Dijon Honey Shrimp that's grilled and glazed. I wanted to keep it light on Friday evening, as  lunch that day was a big old heavy ham and Manchego sandwich. So serving up a side of my Pasta Salad and skewers of Glazed Honey Shrimp sounded PERfect.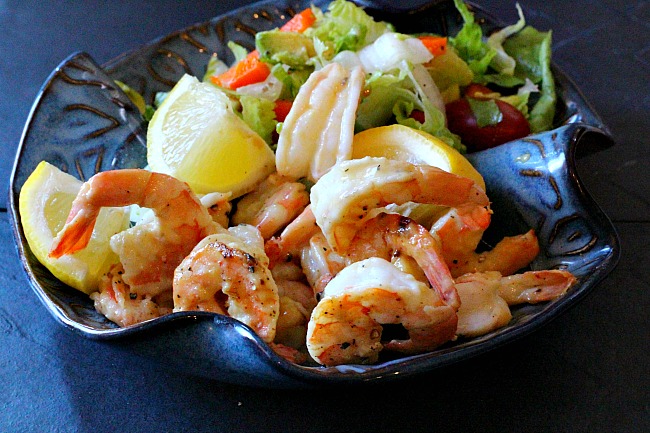 I found a beautiful package of jumbo shrimp which were labeled "Wild Caught Gulf Shrimp". I was surprised to see these available with this oil tragedy, but the seafood counter was just too busy to inquire about their origin. Perhaps from Texas?
Simple please! I find that when grilling shrimp, size and simplicity matter.  We love the delicate and sweet flavor of shrimp and when I find good quality shrimp, don't like to overwhelm them with complicated sauces.
Sometimes just a slather of melted butter lightly flavored with garlic is nice. Or a quick baste with some olive oil in which some of fresh herbs have been added.  We also like a light brush of Caesar salad dressing adding a sprinkle of Parmesan cheese at the end. Always love a squeeze of fresh lemon.
Obviously for grilling, the larger shrimp are more practical.
This is a quick and easy recipe, had it for years, it's my go to "dinner in 10 minutes" entrée. Sweet and tangy and I love the shiny finish that seals in the tender texture of the meat. Please keep in mind, this honey shrimp does not work well using an indoor grill pan. You need the flame and grates from an outdoor grill so the heat can surround the shrimp and the glaze can drip over and off it. A grill pan will allow the shrimp to cook in the liquid of the glaze, and keep it from searing and shining.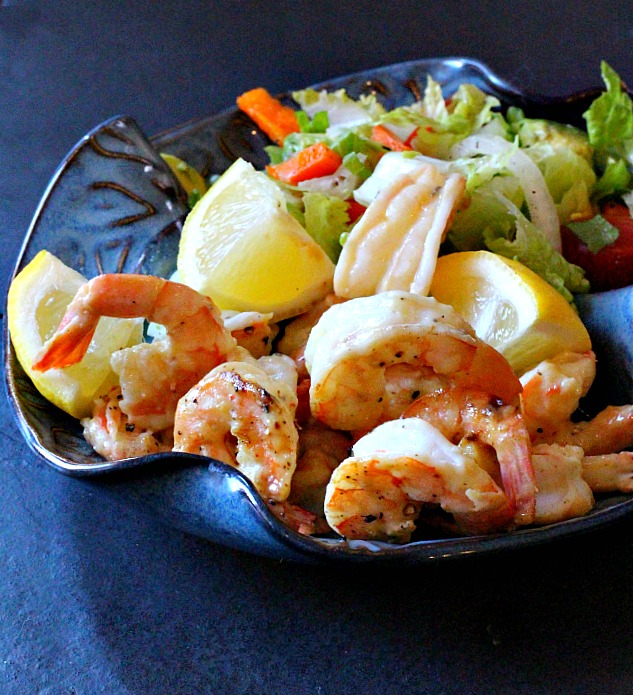 Recipe for Dijon and Honey Shrimp
I hope you give this glazed Dijon Honey Shrimp Recipe a try. And if you do, please come back and let me know how you liked it and give the recipe a star rating.
Your feedback is valuable to me for developing future recipes. And if you have a favorite simple grilled shrimp recipe, let me know, I'd love to give it a try.
Glazed Dijon Honey Shrimp
Ingredients
3

Tablespoons

Dijon mustard

2

Tablespoons

honey

1/4

cup

lemon juice

2

cloves

garlic

minced

2

pounds

shrimp

cleaned and de-veined

salt and pepper to taste
Instructions
In a small bowl, whisk together the mustard, honey, lemon juice and garlic.

Peel and devein shrimp, leaving tails intact. Skewer onto metal skewers or if using wood skewers, soak the skewers in advance in water for 30 minutes. Preheat grill to 350 degrees. Salt and pepper shrimp. Place shrimp on hot grill and brush generously with glaze. Cook two minutes. Turn and cook the other side of the shrimp for two more minutes. Again, slathering with the glaze.

Serve Immediately.
Recipe Notes
Shrimp are more easily managed if you use two wooden skewer sticks per line of shrimp. About 6 shrimp per double skewer. They turn easier. 
1 year ago Sauteed Scallops in Orange Cream Sauce
I'm sharing this recipe with Southern Plate's Meal Plan Monday.