BBQ Chicken Pizza Recipe with Jalapeno. Sweet and tangy BBQ sauce is a wonderful compliment to roasted chicken salty cheese and a that bite of heat from jalapeno peppers. This is a great way to use rotisserie chicken.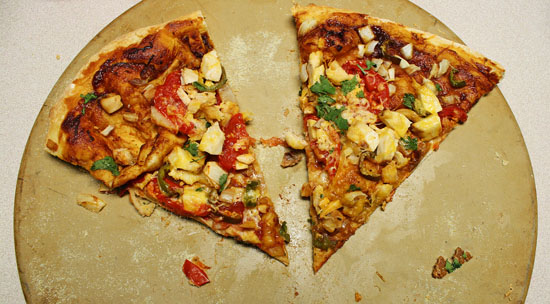 After all these years of taking photos of our dinner before signaling the "all clear" to go ahead and eat…I can't believe we ate almost all of this BBQ Chicken Pizza recipe before it dawned on me to grab the camera. Busy at work for the past couple of weeks, and mentally drained from the flooding that has taken place in Colorado, we needed a quick and easy dinner for a Friday night respite. This BBQ Chicken Pizza with Jalapeno fit perfectly into the plan of comfort.
I've had many emails from readers across the country inquiring if we were involved in the horrible floods that have hit our state. Highlands Ranch received a good share of rain during this monsoon, but the brunt of the heavy flooding storms has been to the West, East and North of our location. We spent our evenings glued to the television watching the destruction and devastation from the comfort of our dry home. Our hearts ached as we watched family after family lose homes, and viewed coverage of some of our favorite pristine foothill getaway destinations destroyed, washed away from canyons. The footage and the story continues to unfold as I write this post. So sobering and horrific.
Last week I treated two clients for lunch at our popular Highlands Ranch eatery, Old Blinking Light. I usually order my favorite Ranch Salad, but on this day, their BBQ Chicken Pizza with Jalapeno jumped off the menu. A mini sized pizza with a side salad, it was a delicious, and of course had me planning to make this one at home.
Being the doughaphobe that I am, I cheated. About 2:00 last Friday, I called our local Italian Restaurant, Romanos, and order a pizza shell, raw, rolled out and naked to be picked up at 5:00. After shelling out the $2.30, I was home at 5:15. Chopping up some leftover rotisserie chicken, red onion, two jalapeño, some tomato and grabbing a bottle of my favorite Curley's BBQ Sauce, dinner was on the table by 5:45. And it was delicious. Just what the doctor ordered.
BBQ Chicken Pizza Recipe with Jalapeno
The sweet and tangy BBQ sauce is a great compliment to the salty cheese and roasted chicken. Adding a bite of heat from the jalapeno and flavored with onion and home grown tomatoes, we devoured this one. The restaurant drizzles with some Ranch dressing, which I didn't have. It makes a great addition to the overall flavor combination.
More Pizza Recipes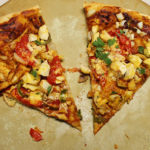 BBQ Chicken and Jalapeno Pizza
Ingredients
1

T

. corn meal

1

medium pizza shell

1/2

C

. BBQ sauce

1/2

C

. cheddar cheese

grated

1/2

medium red onion

chopped

2

medium tomato

chopped

2

small jalapeno

chopped

1

cup

chopped white and dark meat from rotisserie chicken

Fresh cilantro

fine chopped and Ranch Dressing for topping
Instructions
Preheat oven to 425. Sprinkle pizza stone with corn meal. Spread out the pizza dough onto the pizza stone. Evenly coat the dough with the BBQ sauce and then cheddar cheese. Sprinkle on the rest of the ingredients. Bake for 15 - 20 minutes or until everything looks bubbly and cooked. Remove from oven and sprinkle with chopped cilantro and drizzle with Ranch dressing.
BBQ Chicken Pizza Recipe with Jalapeño… It's What's for Dinner.