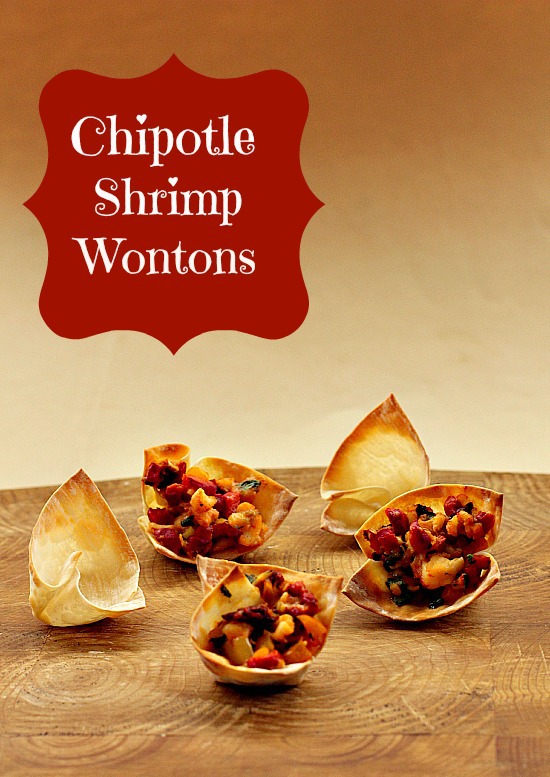 Let's talk strategy. Plowing chips through creamy guacamole and spicy salsa is a notorious activity at Cinco de Mayo parties. Why not add a devilishly clever surprise to your appetizer plans this year…like these Chipotle Shrimp Wontons.
These little cups filled with brightly colored fine chopped shrimp, peppers and onions look irresistible…don't you agree?
"But they'll take hours" you say? Purchased wonton wrappers from the store make these an easy task when pressed into a mini-muffin pan. Don't fuss with them too much. If you press too hard the skins will tear. I used a wooden spoon that was similar in size to the cups of the pan to gently press the wrappers down. Some will make perfect cups, and some will form pretty little folds. They'll all hold the filling and the unique shape of each will make for a unique presentation.
Pop the shells into the oven and bake until just browned. The shell is thin and crispy and sturdy enough to hold the filling.
Let the cups cool and then fill and bake a few more minutes and they're ready to serve. They're filled with cooked chopped shrimp, onion, sweet roasted red and yellow bell peppers, zesty chipotle pepper and creamy cheese…and well, they're delicious and the flavor is savory and exciting. The recipe calls for roasted red and yellow bell pepper. To make this even easier, I used jarred roasted red bell peppers and chopped them.  I didn't roast the yellow bell pepper, but simply chopped it and onion and sautéed them together in some butter until tender. I stirred in the jarred roasted red bell pepper at the end to warm it up.
Garnish with some lime and serve.  And "Ándale! Ándale" dig in, because they'll be gone  Speedy Gonzales fast.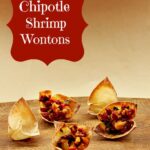 Chipotle Shrimp Wontons
A clever and delicious appetizer for your Mexican Food buffet.
Ingredients
Olive oil or Pam

1-16

ounce

package wonton skins

1/2

pound

shrimp

cooked, peeled and coarsely chopped

1/2

sweet onion

chopped small and sautéed

1

yellow bell pepper

roasted peeled and chopped

1

red bell pepper

roasted peeled and chopped

1/2

cup

chopped fresh cilantro

1

in

chipotle pepper adobo sauce

drained and finely chopped

1/2 - 1

teaspoon

adobo sauce.

8

ounces

Monterey Jack Cheese

grated
Instructions
Preheat oven to 350 degrees. Brush mini-muffin pans with olive oil or spray with Pam. Press wonton skins into each cup. Bake about 10 minutes or until tops are golden brown. Remove from oven and cool slightly.

In a large bowl, combine cooked shrimp, roasted bell peppers, onion, cilantro, chipotle pepper, chipotle sauce and cheese.

Remove skins from muffin pan and while holding each skin in your hand, using a spoon fill with shrimp mixture. Once filled, return each one to their slot in the muffin pan. Bake 7 - 10 minutes or until cheese is melted.

Skins and filling may be prepared in advance and assembled just before baking. Egg roll wrappers will work also. Just cut them into 4 equal squares.

Makes 30 pieces. To make this even easier, I used jarred roasted red bell pepper and just chopped and sautéed the yellow bell pepper and onion in a fry pan.
Chipotle Shrimp Wontons…They're what's for a Festive Appetizer.